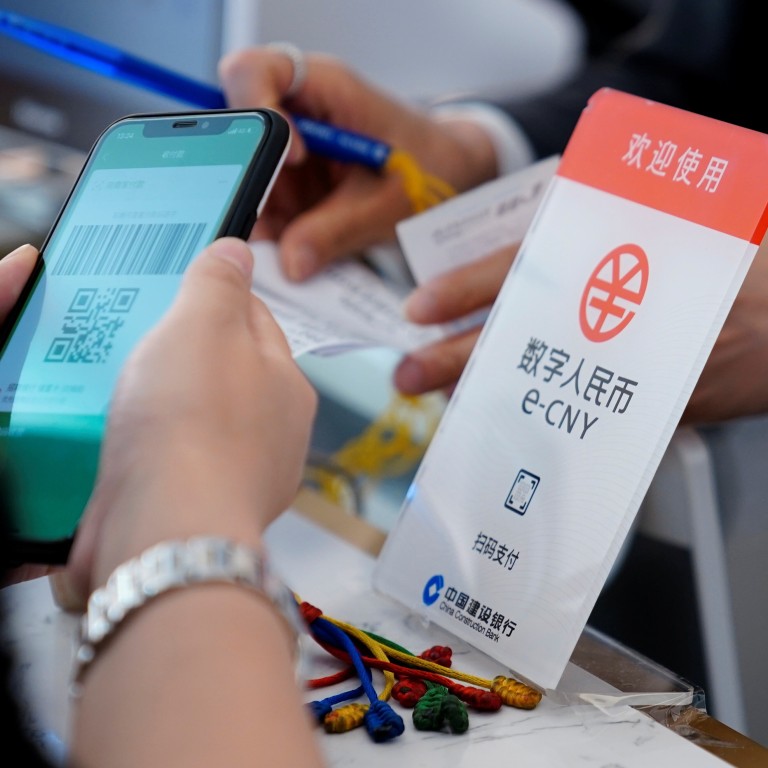 China digital currency: overseas visitors free to use e-yuan at 2022 Winter Olympics in Beijing
During the 2022 Winter Olympics in Beijing, self-service carts, vending machines and stores will issue wearable payment devices that will allow easy use of the digital yuan
Trials of the e-yuan started two years ago, with 34.5 billion yuan (US$5.3 billion) spent so far through 70.8 million transactions
Overseas visitors will be granted access to China's digital currency without the need to open a local bank account during trials at the 2022 Winter Olympics in Beijing, according to a central bank white paper.
The People's Bank of China (PBOC) has yet to confirm a timetable for the full roll-out of the so-called Digital Currency Electronic Payment (DCEP), but confirmed on Friday that 34.5 billion yuan (US$5.3 billion) had already been spent through 70.8 million transactions as part of
ongoing trials of the e-yuan
over the last two years.
"We will continue to steadily push forward with research and pilots for the digital yuan, but we won't preset a timetable [for the launch]," the PBOC said.
During next year's Winter Olympics, self-service carts, vending machines and stores will be authorised to issue wearable payment devices such as gloves, badges and clothes that will allow easy use of the digital yuan.
Earlier this month, deputy PBOC governor Fan Yifei confirmed that the Winter Olympics in 2022 would be the next key trial, adding that the central bank had "the confidence to continue increasing the scope of the trials".
China began research into the sovereign digital currency in 2014 and has been running pilot programmes for the digital yuan in 10 regions, including Shenzhen, Suzhou, Chengdu, Shanghai and Hainan.
The digital yuan has so far been tested across a vast range of scenarios, including paying utilities bills, catering services, transport and retail.
But in China, there are still many steps to overcome before the digital currency can be formally rolled out, including the need to revise the Law of the People's Bank of China to give the digital yuan legal status, as well as the need to further examine its potential impact on domestic monetary transmission and financial stability.
"The digital yuan is technically able to be used for cross-border payments. However, at the current stage, it is mainly used to serve domestic retail payments," the PBOC white paper said.
"We aim to create a digital yuan and a stable, reliable, efficient and innovative financial infrastructure to support China's digital economy development, strengthen financial inclusiveness and improve monetary and payment efficiency."
The white paper also provided new information about the digital currency's ability to replace cash and the planned two-tier structure with the PBOC and China's commercial banks.
The central bank also said that the next step in the development of the digital currency would be to choose certain areas to pilot a wider blanket use of the digital yuan to build a currency ecosystem.
"We'll have an all-around safety test and appraisal in terms of passwords, financial information security, data security and business continuity, to ensure its operation," the white paper added.
This article appeared in the South China Morning Post print edition as: visitors to get trial access to e-yuan, central bank says