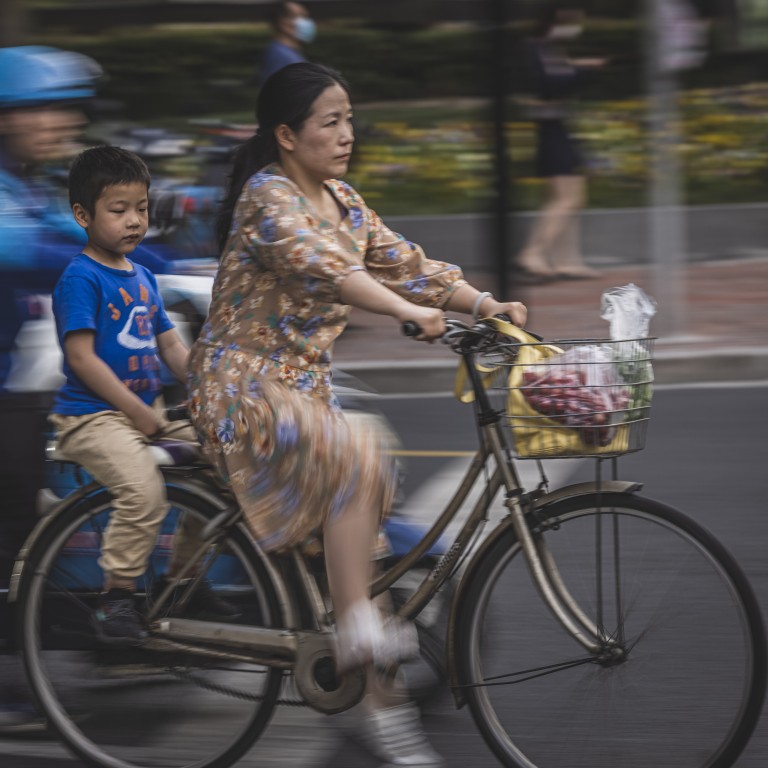 China's working mothers struggle with career setbacks and discrimination, finding 'balance is a false premise'
China has done away with its decades-long restrictive child policies, but women are finding limitations still exist via workplace challenges and career impediments
Only 5 per cent of working mums and 12.7 per cent of working dads say they want more children, according to a report
This is the fourth in a series of stories on China's job market, looking at its history, the role of migrant workers, inequality and the future for its graduates entering the workforce.
Like women in workplaces the world over, struggling to juggle their careers with motherhood, many of those who choose to have children in China are finding that the decision comes with immense challenges – often considerably more than their male counterparts face.
In addition to the
high cost of living
, including housing and education expenses, a number of structural and social barriers in Chinese society continue to challenge women in their quest to level the corporate playing field, particularly when children are brought into the equation.
These overarching hurdles have such an outsized influence on equality in Chinese workplaces that the nation's three-child policy – introduced in May – is of little consequence to a great number of women who do not consider it a viable option to have multiple children, if any.
The new policy was introduced to boost the country's declining birth rate, and it loosened up decades of restrictive child-bearing policies by
encouraging married couples to have more children,
with additional baby bonuses and support measures announced last week.
But most working parents seem to be less enthusiastic about their new reproductive freedom than the government had hoped they would be.
Some 76.9 per cent of working mums and 65.5 per cent of working dads said they are uninterested in having a second child, let alone a third, according to a report published in March by Zhaopin, one of the top job-recruitment companies in China. Only 5 per cent of working mums and 12.7 per cent of working dads said they were willing to have more children.
The consequences of childbirth also tend to be more pronounced for Chinese women working in the private sector, compared with mothers who have more stable careers in the public sector.
In particular, because of the more competitive and fast-paced work cultures of tech companies, married women who want children are often thwarted in the early stages of their careers.
In China, for married yet childless women, there is tacit but well-known discrimination in the job market, with many would-be mothers working in the tech sector delaying their reproduction plans indefinitely out of fear of losing a competitive edge at the office or being weeded out for low productivity.
"The first question HR asked me was if I was married, the second question was if I had plans to have babies next year," said Annie Hao, associate director at a global public relations firm in Beijing, recalling a job interview a few years earlier with an internet company.
Having worked for only international companies, Hao was taken aback by the personal inquiries, but her experience is far from unique.
More than half of Chinese women have been asked about their marital status and family plans during job interviews, according to Zhaopin's report, while less than a quarter of men were asked the same questions.
"These questions also impose a mental burden on the candidate, because I was considering pregnancy at the time," Hao said.
The pay the internet company later offered was far less than Hao's expectations, as she felt it did not reflect her skills and experience. She said she was almost certain she was given a lowball offer because of the likelihood she would become a mother.
Maternal leave and benefits are also taboo topics in the early employment stage. Hao said she waited to inquire about her current company's policies until after she was pregnant.
Those who do have children while working face other social and structural problems.
Some could have their promotion opportunities deferred, and others have seen their career aspirations upended.
According to Zhaopin's report on Chinese women in workplaces, 11.4 per cent of those polled said they lost promotion opportunities due to pregnancy and childbirth, while only 2.1 per cent of men were similarly affected by having children.
Hao, who now has a one-year-old, waited to get pregnant at her current company until after she had secured and transitioned into a more senior position, because a pregnancy would have pushed her promotion evaluation to the next appraisal cycle, and she feared her career could have been set back for years.
Estelle Mok, a Guangzhou-based mother of an 18-month-old child, stayed at home for her whole pregnancy and for nine months after giving birth, then successfully re-entered the workforce. But she faced new hurdles in doing so.
In China, the traditional domestic division of labour expects women to shoulder more, if not most, of the child-rearing responsibilities.
And to that end, Mok said it was unfair that her husband shoulders fewer childcare responsibilities.
"For working mums, balance is a false premise," Mok said. "More often than not, it's a choice between where you need to compromise and where you need to make sacrifices. Complete balance is hard, or even nearly impossible, in my opinion.
"The career setbacks, the compromises between work and our child are non-existent for him … he even got a promotion and a raise recently."
Some 14.4 per cent of women said their career progression is held back by the additional attention that childcare demands, while 7.8 per cent of men struggle for the same reasons, according to the Zhaopin report.
The report also found that employed mothers work an average of 8.9 hours a day, versus 9.3 hours that the average father works. And at home, working mothers spend 1.7 hours on family and chores while working fathers spend 1.6 hours.
Some parents also point to a lack of policies and education that would encourage working fathers to help out more at home.
"If my husband could receive some parental benefits, such as a more flexible schedule, or be able to leave an hour early, then he would be able to contribute more at home," Hao said. "He is doing exactly what he was doing before our baby was born, so sometimes I am forced to undertake more. Because if I don't do it, no one will."
Hao's situation is a common example of mothers who feel they have been forcibly pigeonholed into spending more time at home with children, as domestic roles for men have not become normalised.
During her attempt to rejoin the workforce as a new mum, Mok said she was told during a job interview with an internet company that she should choose work that was easier, more stable and less stressful.
"Maybe she was right," Mok said of the interviewer, "but I happen to have career ambitions. I don't want to give up my goals just because of motherhood."
Many women, however, have resigned themselves to the fact that having children in China often means putting career ambitions on hold.
"I always planned on motherhood, so I didn't have any choice," said Qian Zhang, who works in advertising in Beijing and is expecting a baby soon.
"Childbirth will inevitably put my career on hold for a couple of years. I mentally prepared myself for the shift in focus to family when I decided to have a baby."