Coronavirus: Nanjing Delta outbreak threatens China's summer spending, adding new pressure to slowing economy
China faces a further slide in consumer spending after authorities imposed lockdowns to control the Delta outbreak that began in Nanjing and has spread to several provinces
Some analysts fear the outbreak could also slow factory activity unless authorities can quickly quash its rapid spread around the country
The new Delta variant outbreak that started in China's Nanjing could heap further downward pressure on the nation's slowing retail spending and may worsen factory activity, possibly exacerbating an anticipated economic slowdown in the latter part of the year, analysts said.
The world's second-biggest economy, already on alert for an impending economic crunch, now faces a bigger slide in consumer spending due to slower tourism and travel caused by lockdowns to control the
outbreak
, which has spread to several provinces. Retail spending is traditionally higher in summer when people take holidays.
"August is the peak season for summer consumer activities, we expect this round of new cases will have a greater impact on service industry consumption," said Citic Securities in a note.
Consumer spending has borne the brunt of the economic fallout from the pandemic.
While China's total retail sales of consumer goods in the first half of the year
increased by 23 per cent
compared to the year before, they were coming off a low base, and analysts say spending might have peaked.
Xu Xiaolei, a marketing manager at China's CYTS Tours, told the Global Times on Saturday retail spending for leisure and travel would have recovered to near pre-pandemic levels had it not been for the rising infections now spreading to other parts of the country from Nanjing.
"The impact of recent case resurgence on the summer tourism market is grim, with popular scenic spots in central and eastern China expected to see more than 50 per cent plunge in tourism revenue," Xu said.
Similar to the Delta outbreak in Guangzhou between May and June, the Nanjing cluster could snowball and cut into spending, hitting Nanjing's economy first.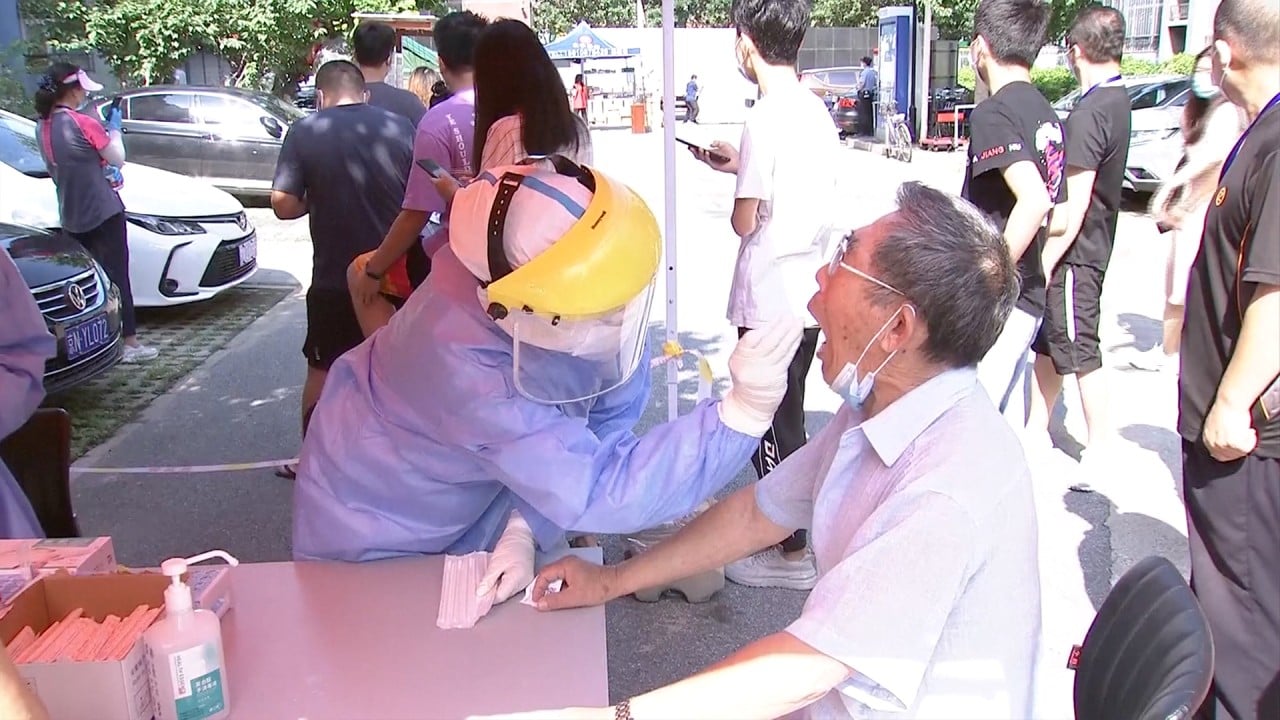 03:18
Mass Covid-19 testing under way across China amid rising infections fuelled by Delta variant
Mass Covid-19 testing under way across China amid rising infections fuelled by Delta variant
The local Guangzhou economy suffered falling consumer spending in dining, transport, retail and services. Its accommodation and dining turnover in June fell by nearly 40 per cent compared to May, while car retail sales also dropped by more than 15 per cent.
In June, the two-year average growth rate of total retail sales for Guangzhou was negative 2.4 per cent, whereas in the first five months of the year, its retail sales grew 4.4 per cent, Zhang Yu, chief economist with Huachuang Securities said in a note.
"If this [outbreak] affects Nanjing by 10 percentage points, it will affect the national growth rate by 0.15 percentage points," Zhang said.
Ting Lu, chief China economist with investment bank Nomura, said China's official purchasing managers' index (PMI) for goods and services could drop further in August due to the Nanjing outbreak.
The Caixin/Markit manufacturing purchasing managers' index released at the weekend showed factory activity among smaller Chinese firms slipped in July to its lowest level since April last year, as demand contracted for the first time in over a year in part because of high product prices.
But the impact of the latest outbreak could still be minimised as infections have not spread to manufacturing-intensive areas, said Iris Pang, chief Greater China economist at ING Economics.
So far, the Nanjing Delta variant has infected more than 400 people across 24 cities. As a result, there are four high-risk areas and 118 medium risk areas in 10 provinces across the country.
By Monday, all 31 provincial-level jurisdictions on the mainland had issued advice urging people not to travel domestically to curb transmissions.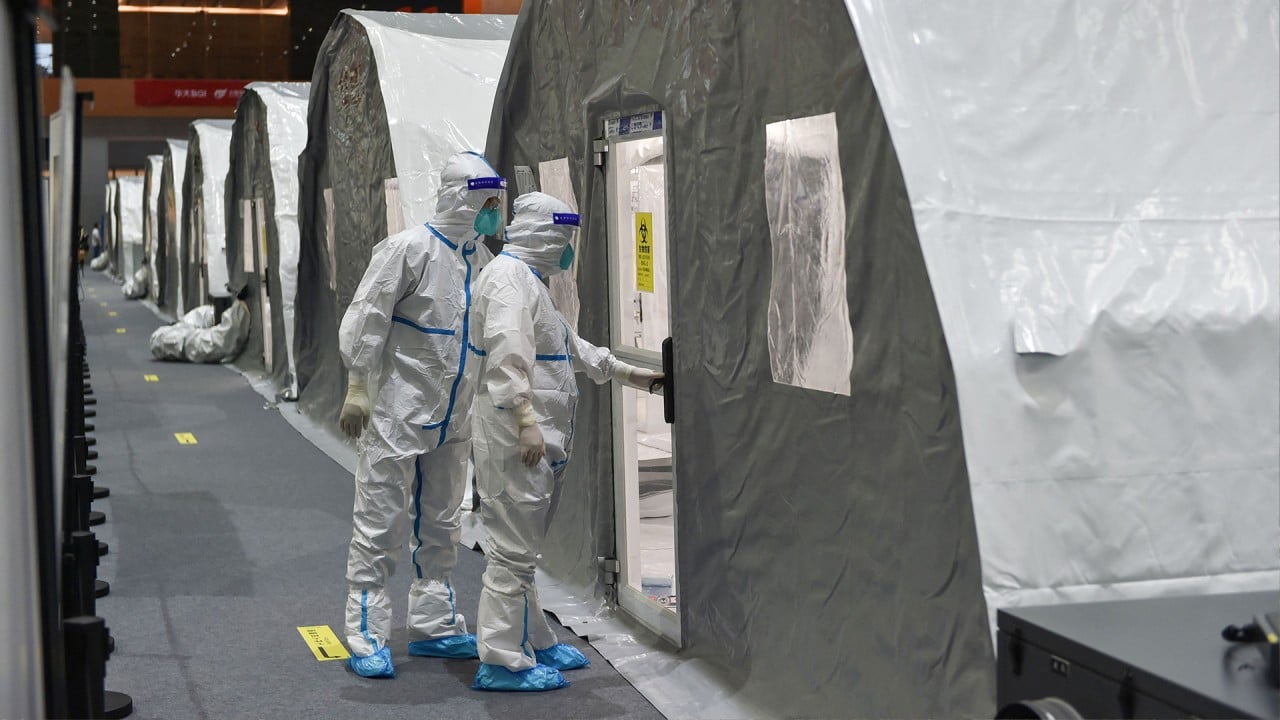 02:37
China under pressure as Nanjing airport coronavirus cluster spreads to 15 cities
China under pressure as Nanjing airport coronavirus cluster spreads to 15 cities
Chinese authorities have ordered the closures of tourism sites and festivals and stopped flights to destinations with spiking cases such as tourist city Zhangjiajie.
Despite the new headwinds, Moody's Analytics economist Xiao-Chun Xu did not anticipate a downgrade of China's economic growth forecast for the second half of the year, as authorities will be quick to quash the outbreak, limiting long-term impact.
"As we saw in the outbreak in Guangdong, Chinese health authorities are highly efficient in virus tracing and containment," Xu said.
"This is in stark contrast to many other parts of the Asia-Pacific region, which is seeing a surge of the Delta strain."
Regardless, the Politburo – the Communist Party's top decision-making body – confirmed last Friday it was sticking with easing to keep liquidity in the economy ample. Benchmark bond yields and an indicator of future rates are both at one-year lows.
Economists now expect more cuts to the reserve requirement ratio (RRR) – which sets the minimum amount of reserves that must be held by banks – before the year ends.