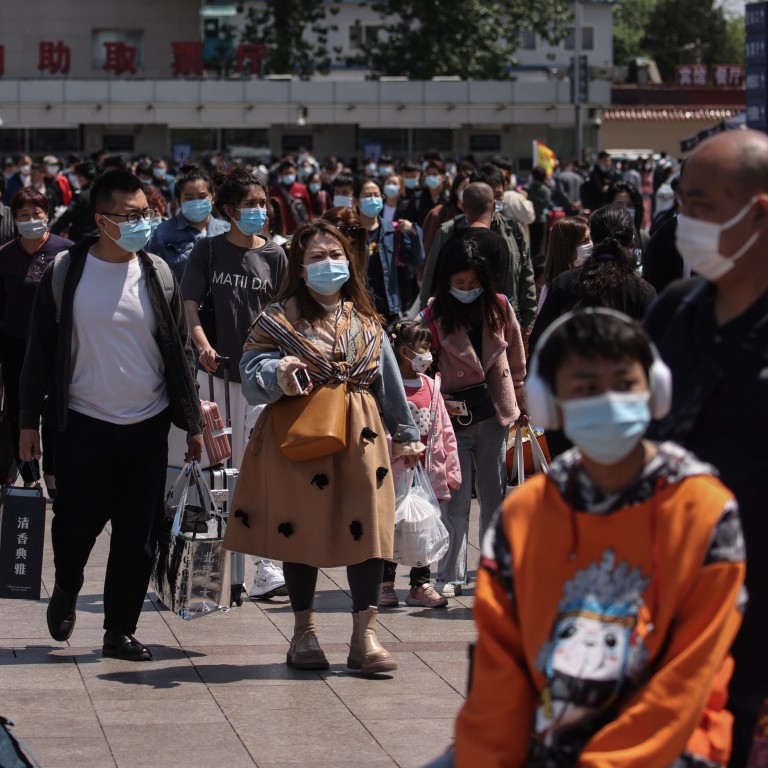 China's summer tourism grinds to halt as coronavirus Delta variant spreads and 'tourists are scared away'
Bookings cancelled and refunds issued as all of China's provinces ask residents not to travel, dealing another blow to domestic tourism industry
But even if there were not interprovincial travel restrictions, some say many people would still be avoiding long-distance travel
Any business recovery that China's tourism operators were hoping for this summer holiday season has been thwarted following the latest outbreak of Covid-19 said to have originated in Nanjing.
In a bid to curb transmissions, all of the mainland's 31 provincial-level jurisdictions had issued notices by Monday advising people not to travel domestically. Some provincial governments singled out only medium- and high-risk regions, while others asked people to avoid all interprovincial travel.
With China's
zero-tolerance approach
to the virus, domestic tourism again looks to bear the brunt of this latest outbreak, just as it did early last year when the country implemented widespread lockdowns after the coronavirus started to spread in the central Chinese city of Wuhan, according to analysts and industry insiders.
"The impact on the tourism industry is definitely the biggest," said Zhang Zhiwei, chief economist at Pinpoint Assets. "It is not limited to those cities that have confirmed cases. It should be said that, overall, travel has become more cautious."
Yu Hui, a hostel manager in Wuyuan, a touristy town in central Jiangxi province, said his hostel had been fully booked for August but now 90 per cent of the bookings have been cancelled.
"Though we don't have any cases here in Jiangxi, tourists are scared away by the current wave because it has spread so fast and to lots of places," Yu said.
Many students and their parents who are concerned about being quarantined if they become infected during trips, as this could delay the students' eventual return to school, have also chosen to cancel bookings, Yu added. Students account for a large percentage of the domestic tourism industry each summer.
In response to the travel restrictions issued by local governments, many airports across China reported a drop in outbound flights on Tuesday, according to figures issued by Fei Chang Zhun, a data-analytics company specialising in the Chinese travel industry.
The state-owned China National Railway Group also offered free refunds to ticket holders on Tuesday.
First detected on July 20 at an airport in Nanjing, the capital city of Jiangsu province, the current outbreak of the highly transmissible Delta variant has since spread to at least 12 provinces.
Zhangjiajie, a popular tourist destination in central Hunan province, has become a hotspot in the current outbreak, with more than a dozen cases traced to the city. In response, local authorities ordered all tourist attractions to close from last Friday.
A tourist group that visited Zhangjiajie on July 22 helped spread the virus to other cities and provinces, including Hubei and Hainan, as well as Wuhan, where no local infection had been detected in more than a year. On Tuesday, Wuhan authorities ordered all 12 million residents to be tested.
The nation's tourism industry, which accounted for 11 per cent of China's total gross domestic product (GDP) in 2019, has continued to struggle and has not recovered to pre-pandemic levels, even though the nation has posted overall economic growth since it started its road to recovery in May last year.
In the first half of 2021, the total number of domestic trips fell 40 per cent to 1.871 billion and total domestic tourism spending also fell by about 40 per cent to 1.63 trillion yuan (US$252 billion), compared with the same period in 2019, according to Ministry of Culture and Tourism.
Wang Dan, chief economist at Hang Seng Bank (China), attributed the tourism industry's slow recovery to the pandemic's prolonged impact on consumer behaviour.
"Even if there were no restrictions on interprovincial travel, many people would still be trying to avoid long-distance travel and dining out," Wang said.
"China's vaccination rate is growing rapidly, but the Chinese government's zero-tolerance position on the epidemic will not change in the near future, so consumption in the next few quarters will still be suppressed," she added.
More than 1.66 billion doses of
Covid-19 vaccines
had been administered in the country as of Sunday, according to official data.
The current outbreak of the Delta variant flags further risks for China's economy's growth, which is already
expected to slow
in the second half of the year, said Zhang from Pinpoints Assets.
"If the speed of the current economic slowdown becomes faster, the relaxation of fiscal policy – that is, the increase in fiscal expenditures – may come earlier," Zhang said.
This article appeared in the South China Morning Post print edition as: Virus spread dashes hopes for Summer tourism revival