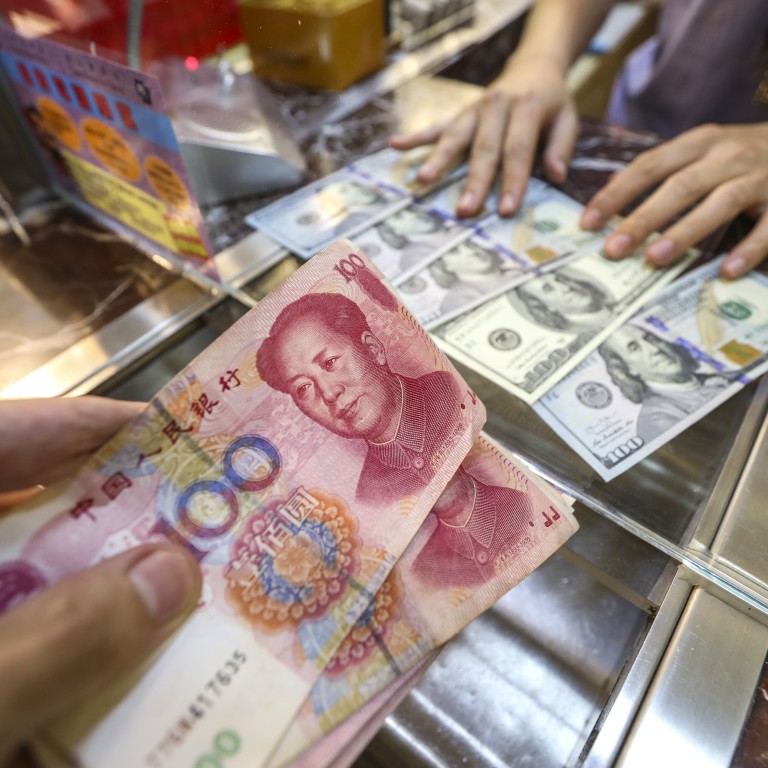 China's 2015 yuan reform sent shock waves through financial markets, now it's 'learning its lesson'
In August 2016, the People's Bank of China devalued the yuan by nearly 3 per cent against the US dollar over two days
This week, it pledged to guide institutions to provide firms with risk management services based on the principals of 'actual needs' for holding foreign currencies
China's central bank has shed some light on its latest foreign exchange policy six years on from a devaluation of the yuan that was meant to be a free-market reform but instead sent shock waves through global financial markets.
The People's Bank of China (PBOC) has pledged to guide financial institutions to provide businesses with exchange rate risk management services based on the principals of "actual needs" for holding foreign currencies and balanced "neutral risk" to prevent sharp currency volatility.
"In the next step, [the PBOC] needs to use currency policy tools reasonably, strengthen macroprudential management of cross-border financing, guide expectations through a variety of reasonable methods so that companies and financial institutions establish the concept of 'neutral risk' to keep the yuan's exchange rate basically stable," the PBOC said in its second quarter monetary policy implementation report released on Monday.
While larger two-way volatility will be the new normal in the
yuan's exchange rate,
the PBOC is expected to step up its management of expectations in the market through moral persuasion and increased communication to prevent one-sided currency appreciation or depreciation.
"When the yuan's exchange rate and market expectations fluctuate greatly, voicing immediate concerns in response to the market and through multiple channels to convey policy intentions prevented overshooting in the foreign exchange market, and protected the stability of the market," the PBOC said.
To dampen market speculation that China will tolerate greater appreciation of the yuan to help
combat surging commodity prices
and imported inflation by launching a full-fledged liberalisation of its capital account, PBOC vice-governor Liu Guoqiang said in May that the existing managed floating exchange rate system remained "an institutional arrangement fit for China at present and in the foreseeable future".
Earlier this year the PBOC also offset yuan-appreciation pressure by using macroprudential supervision to bring about adjustments of cross-border flows by banks and corporations.
New financial regulations were also introduced to encourage more yuan outflows while curbing borrowing that is repatriated onshore.
"Having learned its lesson from the [2015 yuan reform], increased currency policy transparency has helped anchor sentiment in the yuan significantly," said Ken Cheung Kin-tai, chief Asian currency strategist for East Asia at Mizuho Bank.
After its shock decision on August 11, 2015, to devalue the yuan by nearly 3 per cent against the US dollar over two days, the PBOC imposed harsh capital controls, squeezed interest rates and burned through nearly US$320 billion of its foreign currency reserves to quell market panic and the risk of sparking a stampede out of the yuan.
In June this year, the
yuan's value against the US dollar
depreciated by 1.4 per cent as advanced economies made progress in coronavirus vaccinations, and focus turned to the US Federal Reserve's possible tapering of its quantitative easing programme and interest rate hikes. This led to appreciation of the US dollar against major currencies.
But China's trade-weighted basket index, which measures the yuan's value against a number of foreign currencies, continues to
fluctuate near a five-year high,
reflecting the yuan's resilience and providing Beijing with confidence to let the yuan become more market driven and increase its flexibility.
Year-end US dollar-yuan exchange rate (2011-2020)
| Year | Closing price | % change |
| --- | --- | --- |
| 2020 | 6.5272 | -6.26% |
| 2019 | 6.9632 | 1.23% |
| 2018 | 6.8785 | 5.71% |
| 2017 | 6.5067 | -6.31% |
| 2016 | 6.9450 | 6.95% |
| 2015 | 6.4937 | 4.64% |
| 2014 | 6.2057 | 2.51% |
| 2013 | 6.0540 | -2.83% |
| 2012 | 6.2303 | -1.03% |
| 2011 | 6.2949 | -4.53% |
Source: Bloomberg
The strategic importance of
yuan internationalisation
is much more pronounced today because of ongoing US-China tensions and potential financial decoupling.
It aims to boost the international use of the yuan to reduce China's dependence on the US dollar system and is opening its capital account in a controlled way to allow greater capital flows through market access programmes such as the Bond Connect, Stock Connect and Wealth Management Connect scheme with Hong Kong.
It has also expanded the quotas for the Qualified Domestic Institutional Investor and Qualified Domestic Limited Partnership programme.
While the PBOC has stopped its regular direct intervention in the foreign exchange market, the central bank said it will still involve itself in expectation management and adjustment of foreign market liquidity conditions if necessary. In principle, the PBOC will continue to keep the yuan's exchange rate stable at its reasonable equilibrium.
This article appeared in the South China Morning Post print edition as: Beijing increases currency policy transparency to ensure yuan stability