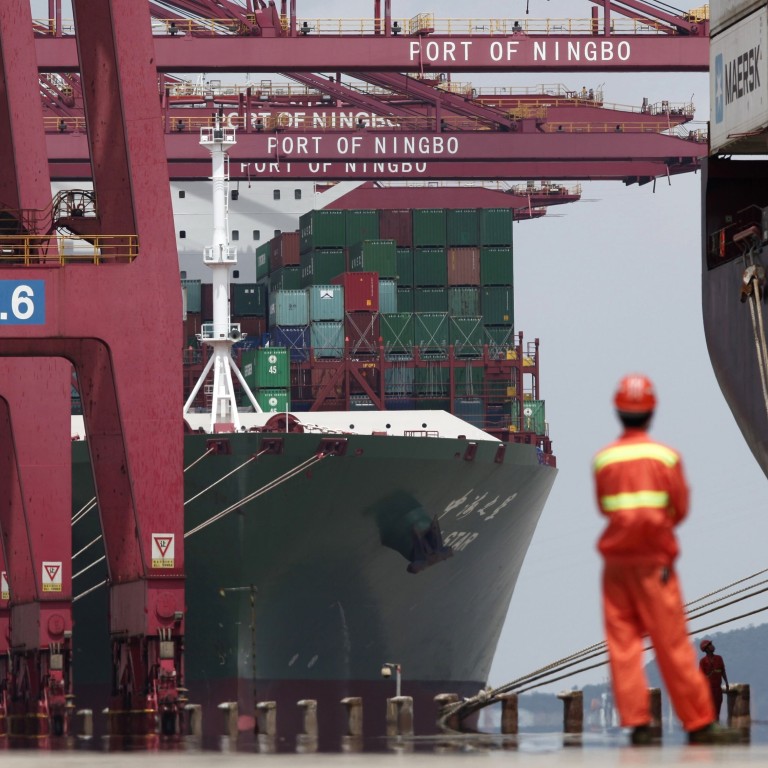 China coronavirus infection closes shipping terminal at massive Ningbo-Zhoushan Port as container rates soar
Operations suspended indefinitely at critical terminal servicing North America and Europe, but rest of Ningbo shipping port remains operational
'Significant problems' for container movement in critical shipping region may be seen ahead of peak holiday season, analyst warns
The world's largest shipping port by cargo tonnage has shut down one of its key terminals following a confirmed case of Covid-19, putting further strain on the global shipping industry and disrupting supply chains.
The news came as container shipping rates from China and Southeast Asia to the east coast of the United States hit a record high of more than US$20,600 per 20-foot equivalent unit (TEU) – the standard measure for freight container volume – according to the Freightos Baltic global container freight index.
On Wednesday, a 34-year-old employee at the Meishan Terminal of China's Ningbo-Zhoushan Port tested positive for the coronavirus despite being fully inoculated with two doses of the
Sinovac vaccine
. It was an asymptomatic infection.
Port authorities quickly locked down the Meishan area – including the terminal and bonded warehouse – and suspended its operations indefinitely, according to a statement released by the local government in Ningbo, Zhejiang province.
However, the Ningbo-Zhoushan Port, which is also the world's third-busiest port in terms of container traffic, remains open, and Meishan's shipments can be redirected to other terminals, according to industry insiders.
The average wait time for ships at the Ningbo port was around one to three days, as of Thursday, according to Akhil Nair, vice-president of global carrier management and ocean strategy at Seko Logistics.
"They will divert as many services as possible to other Ningbo terminals, but there is still the expectation that congestion will start to form," Nair said. "The average wait time is expected to increase back to what we saw in Yantian, which was seven to nine days."
Lars Jensen, CEO of liner consultancy Vespucci Maritime, also said the Meishan terminal closure could have a similar impact on the Ningbo-Zhoushan Port that Yantian experienced when it was closed for more than three weeks.
"Significant problems, both for export cargo as well as for the movement of empty containers into the region, would then ensue," he wrote in a LinkedIn post on Wednesday.
However, the deputy director of the Ningbo Centre for Disease Control and Prevention, Yi Bo, said the worker may have contracted the virus from his interactions with foreign crewmembers of cargo freighters that he had boarded at the port. Video surveillance showed he had close contact with crews.
Meishan is one of the busiest terminals at the Ningbo-Zhoushan Port, servicing main trade destinations in North America and Europe. In 2020, it handled 5,440,400 TEUs of container throughput, or around 20 per cent of the total container throughput at the Ningbo-Zhoushan Port, according to official statistics.
In the first half of this year, the Ningbo-Zhoushan Port handled the most cargo throughput among Chinese ports, at 623 million tonnes, and overseas trade comprised 46 per cent of that total, according to the Ministry of Transport.
China's supply chain and port operations have remained vulnerable since the onset of the pandemic in late 2019.
Even before the coronavirus case at the Meishan terminal, congestion had worsened considerably at the Ningbo-Zhoushan Port and Shanghai Port since July 21, according to the latest weekly report issued on Sunday by Sea-Intelligence, a container shipping industry data provider. The report attributed the backlog to more coronavirus-related restrictions in China.
The disruption in Ningbo could exacerbate existing delays in global shipping, as the impact on productivity at the port is likely to have a knock-on effect, Nair said.
"While the congestion is rampant around major global ports, currently all attention is on China," he said, "because its ports are so large in scale, and exports starting from there would impact the overall global supply chain."
Congestion in critical shipping routes involving Chinese ports has worried traders in recent months, with fears that goods will be delayed ahead of the busy year-end holiday period, including Christmas, according to shipping and logistics service platform Project44.
"We're seeing a lot of variation in delay times between months, and routes such as US west coast versus east coast ports, making supply chains particularly challenging for shippers to manage," he said.
For China-EU maritime traffic, delays increased from an average of about half a day in July 2020 to 2.18 days in July 2021, Project44 said.
As of June 2021, median ship delays in key Shanghai-Hamburg and Shenzhen-Hamburg routes reached 8.44 days and 7.86 days, respectively. And for ships travelling from Tianjin to Antwerp, Belgium, the median delay was 11.42 days in June.
China, which had recovered well after the initial waves of Covid-19, became a main exporter of goods to other parts of the world still under lockdown, or which had not recommenced manufacturing.
But it is now battling its most serious outbreak since the virus was first brought under control in Wuhan, with more than 1,000 local cases confirmed since July 20.
Under China's zero-infections policy, coronavirus cases trigger stringent lockdowns, with all close contacts undergoing mandatory quarantine.
Additional reporting by Su-Lin Tan