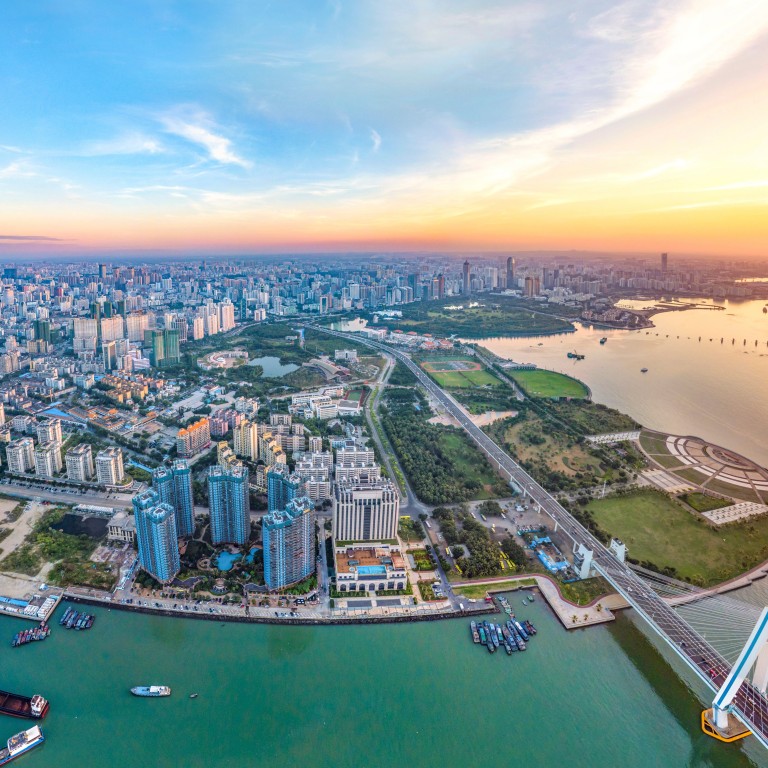 China travel: affluent jet-setting tourists stuck in China are fuelling surge in demand for luxurious domestic destinations
Resorts and travel agencies hope to cash in with high-end travellers who won't be leaving China in the foreseeable future amid the pandemic
Analysts see a growing reservoir of pent-up spending power among travel-starved tourists, and it has triggered a boom in upmarket tourism products
Luxury resorts in China's southernmost tourism destination have an opportunity to cash in on stymied international travel as affluent domestic holiday-goers seek out tropical shores to tide them over until they can again return to their jet-set lifestyle abroad.
But in the first half of 2021, each domestic traveller spent an average of just 872.27 yuan (US$134.50), the ministry said.
This reflects a growing reservoir of
pent-up spending power
, and analysts say China's
travel-starved tourists
– comprising mostly middle- and upper-middle-class consumers– have triggered a boom in high-end tourism products domestically.
As a result, China is seeing some developers rush to cash in with new luxury resorts and affluent offerings.
"Upmarket tourism in China has been awakened with a large number of high-end tourists staying in the country," said Liu Jianbin, CEO of Shangchuanba, a premium cruise service agency.
Travel agency Trip.com said bookings for private travel services through its service increased by 260 per cent this past spring. And tourism revenue for all of Hainan saw a 67.1 per cent increase in the first half of 2021 compared with pre-pandemic figures from the first half of 2019.
However, China's rising demand for quality resorts and destinations is raising questions about domestic tourism standards, while calling attention to limited high-end travel options.
"The level of hospitality service in China can't match that of mature international destinations," said Jiang Xinwei, senior tourism analyst at consulting firm Analysys, adding that travellers could also find better value for their money in places such as Southeast Asia.
Even Sanya's offerings are limited. For instance, five-star resorts at Haitang Bay east of the city do not allow guests to swim on private beaches due to dangerous waves.
Still, the influx of wealthy tourists in the island city highlights the shortage of premium domestic resorts, according to Zhou Mingqi, founder of tourism consultancy Jingjian Consulting.
Liu at Shangchuanba concurred.
"In places such as Thailand or Indonesia, you feel as though their servers smile sincerely, instead of acting," Liu said. "The experiences in China have done a good job of copying the formats from the best, but are lacking in core content and need more time to be enriched and perfected."
The quality of hospitality services needs to be accumulated and improved over time, he added.
"You see a lot of young servers in China, whereas lots of doormen and servers are older abroad. Maybe they've worked in the same resort for decades, and that is a precious asset," Liu said.
In addition, new luxury resorts keep emerging in places such as Sanya, resulting in high turnovers of quality staff, according to Liu.
As the nascent sector develops, travellers have to put up with inevitable growing pains.
They have few luxury hotels to choose from, for example. These types of affluent accommodations in China are limited to a few popular destinations such as Sanya, Yunnan province, and the Yangtze River Delta (including Shanghai and the provinces of Jiangsu and Zhejiang), and they are normally booked full months ahead due to high demand.
Complete and integrated chains of tourism services and activities are hard to find, while lots of other popular destinations are notorious for ripping off customers, are packed with tourists during public holidays, and are overly commercialised. This offers little pleasure to the discerning Chinese traveller.
For now, many local providers are hard-pressed to find ways to replicate the overseas luxury experience.
Guan Wenlu, COO of Dear Voyage, a Chinese travel agency that largely focused on high-end outbound travel before the pandemic, added that travellers are seeking a "quality experience", regardless of whether their destination is international or domestic.
"As long as you can fulfil their needs, they don't need to go abroad," Guan said.
Bereft of access, many outbound travel agencies such as Dear Voyage are drawing on domestic resources.
Guan said without relying on luxury hotels and check-ins at internet-famous spots, Dear Voyage promotes in-depth theme tours, such as private trips to the grasslands of Hulunbuir in Inner Mongolia, and the Ili grasslands in
Xinjiang
province.
Tourists journey to the depths of the prairie and enjoy the expanse of the open country away from crowds. Drivers and guides help set up the tents and camping grounds, cooks prepare exquisite meals. Tourists get to sing and dance with the locals around a bonfire, immersing themselves in nature and ethnic cultures.
"The authentic experience makes up for the lack of amenities," Guan said. "After travelling all over the world with our high-end clients, we know what they are looking for. They liked African safaris in the past, and now they enjoy these domestic sceneries, too."
Liu's Shangchuanba agency, whose name means "Let's get on board", also designed all-inclusive luxurious Yangtze River cruises with full amenities and services in line with global luxury cruise standards. And it comes at a price. Liu said a 15-day voyage from Chongqing to Shanghai can cost as much as 120,000 yuan (US$18,500) a person, and these are booked months in advance.
Analysts say more and more luxury hotels are being built in China, while domestic tourists are discovering hidden gems. Chinese people can also enjoy elaborate Japanese or French cuisine made by native chefs without travelling abroad.
Offerings like these point to a surge in top-notch tourism infrastructure in China, but the high-end Chinese consumer's appetite to travel and explore the world has not disappeared, it's just being temporarily sated at home. Analysts say those who have the means will travel overseas again as soon as it becomes practical to do so.
"Leaving the country brings a sense of ease, which is hard to experience if you are travelling in a familiar environment," Analysys' Jiang said.
"A strange country puts an individual in a completely different condition and mindset, and brings a cultural freshness."