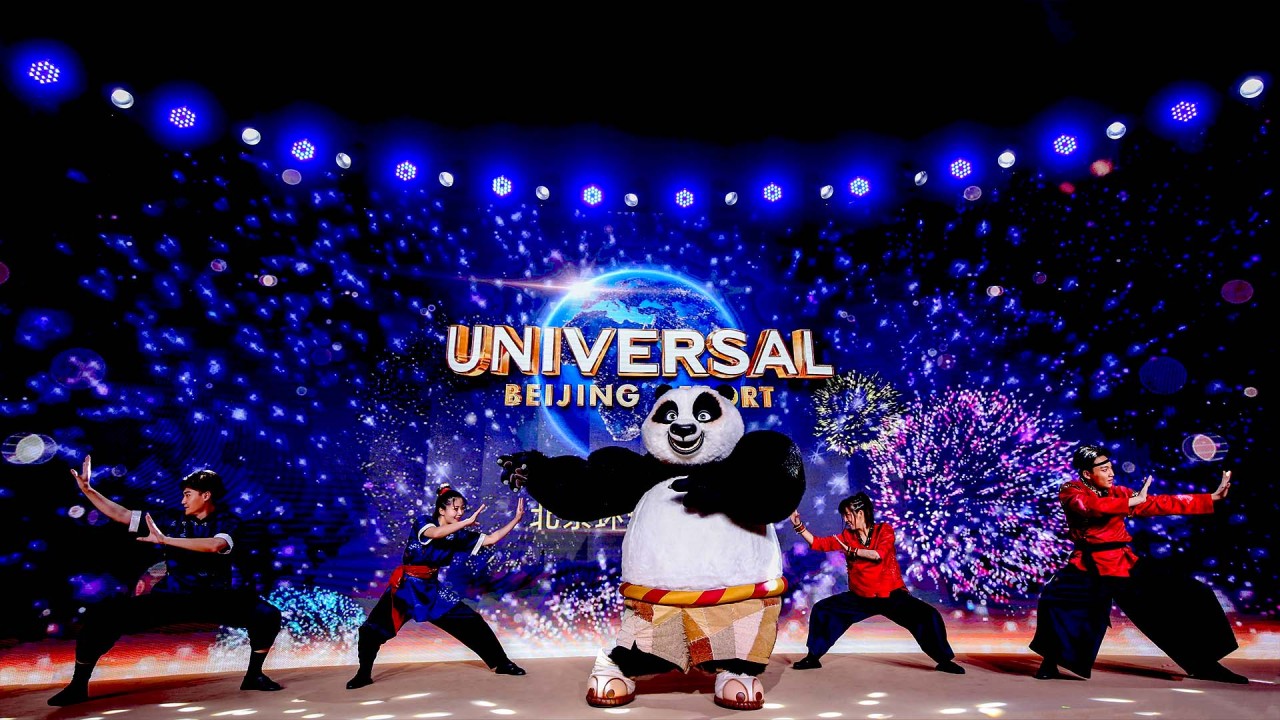 01:26
World's largest Universal Studios in Beijing set to open to select guests in China
World's largest Universal Studios in Beijing set to open to select guests in China
Can Harry Potter give Universal Studios the edge in China up against coronavirus, rising patriotism?
The 50 billion yuan (US$7.7 billion) project in Beijing is the first Universal Studios theme park in China and the fifth resort worldwide
The opening was delayed due to the coronavirus, with phase one expected to open in the 'near future'
"I'm too old for this, but young generations will certainly like it," said 57-year-old Peng as an empty roller coaster car passed nearby on another test run ahead of the opening of China's latest theme park.
A few years earlier, Peng had been relocated to a nearby neighbourhood as compensation after his farmhouse was demolished to make way for the construction of Universal Studios Beijing – the fifth resort of its kind after Hollywood, Orlando, Japan and Singapore.
As Peng admits, he is not the target audience for the 50 billion yuan (US$7.7 billion), 120 (297 acre) theme park that
began construction in 2015
and will be home to a replica of the castle from the Harry Potter films, a Transformers Metrobase and Minion Land.
Peng and his family were compensated with four new flats and a cash payment after making way for the development, but after taking a job as a cleaner at the park, Peng retains a connection to the area even though he admits the park "has changed local life a lot".
Universal Studios Beijing is located around 32km (20 miles) from downtown Beijing, and despite its opening being delayed due to the outbreak of the coronavirus, the hope is that it will give the company a solid footing in the capital city of the world's most populous country.
According to a Weibo post last week, the park will open in the "near future", with local media reporting a "stress test" for business partners, employees and their family members started on Friday.
Official confirmation appearing to have edged closer after the Universal Resort stop was marked on the Beijing underground train map in mid-July.
But with Covid-19 having had an obvious "significant" impact on the theme entertainment industry globally, according to Beth Chang, executive director of AECOM Economics, Universal Studios Beijing is set to open at time of uncertainty with attractions even in cities and countries where the virus is largely contained generally capped at 30 to 50 per cent capacity.
"Anytime an internationally branded, high quality theme park opens in China, it serves as a new benchmark for higher quality operation, better guest experience as well as price premium," she said.
"We believe that the market is ready for Universal Beijing Resort."
02:18
Hong Kong Disneyland to reopen after closing for almost five months amid pandemic
Hong Kong Disneyland to reopen after closing for almost five months amid pandemic
Despite various construction and social distancing restrictions, as well as financial challenges associated with the coronavirus, China's theme park industry actually expanded in 2020 as 12 new theme parks opened for a second year in a row, while nine parks closed or suspended operations, according to AECOM.
"Most of the parks in the pipeline tried to keep to their schedules as much as possible," added Chang, who co-authored the company's "2021 China Theme Park Pipeline Update" with economist Rachel Li
"If you work in this market long enough, you understand that the Chinese government is determined to keep the economy going. If a park has already told the government that it will be opening by a certain time, then it needs to open."
Disneyland's project in Hong Kong, which opened in 2005, closed for several months last year due to the coronavirus and reported a
net loss of HK$2.66 billion (US$342 million)
in the 2020 financial year that ended in September, with border closures halting the flow of tourists from mainland China.
"Opening in the pandemic time is a bit risky, but China has a huge domestic market," Simon Lee, a senior lecturer at the Chinese University of Hong Kong.
Beijing and nearby Tianjin should be able to provide enough visitors to the theme park locally, unlike Disneyland in Hong Kong, which suffered as two thirds of its visitors were from overseas.
"The pandemic situation will go eventually and may only have mild impact, e.g. lengthen the payback period [for the investment in the project] a bit," added Lee.
China has largely moved on from the coronavirus, with over 200 million people fully vaccinated, including more than 70 per cent of Beijing residents, albeit with some small localised outbreaks across the country.
Last year, the number of tourists visiting Beijing dropped 56 per cent to 180 million, according to official figures, with revenue down 46 per cent from pre-virus levels to 289 billion yuan (US$44 billion), offering some suggestion there is room for growth.
Universal Studios represents some direct competition for Disneyland in Shanghai, which was launched in 2016 targeting the country's 400 million middle class consumers.
But it is the 15-year-old Happy Valley Beijing, which is just 17km away and on the same underground train line that is seen as the real direct competitor for visitors.
Operated by the state-owned Overseas Chinese Town Enterprises, Beijing is one of seven parks Happy Valley operates in China, with the group overtaking Universal Studios to move into third place on the 2019 Theme Index, which is jointly released by the Themed Entertainment Association and AECOM to offer an insight into the global market.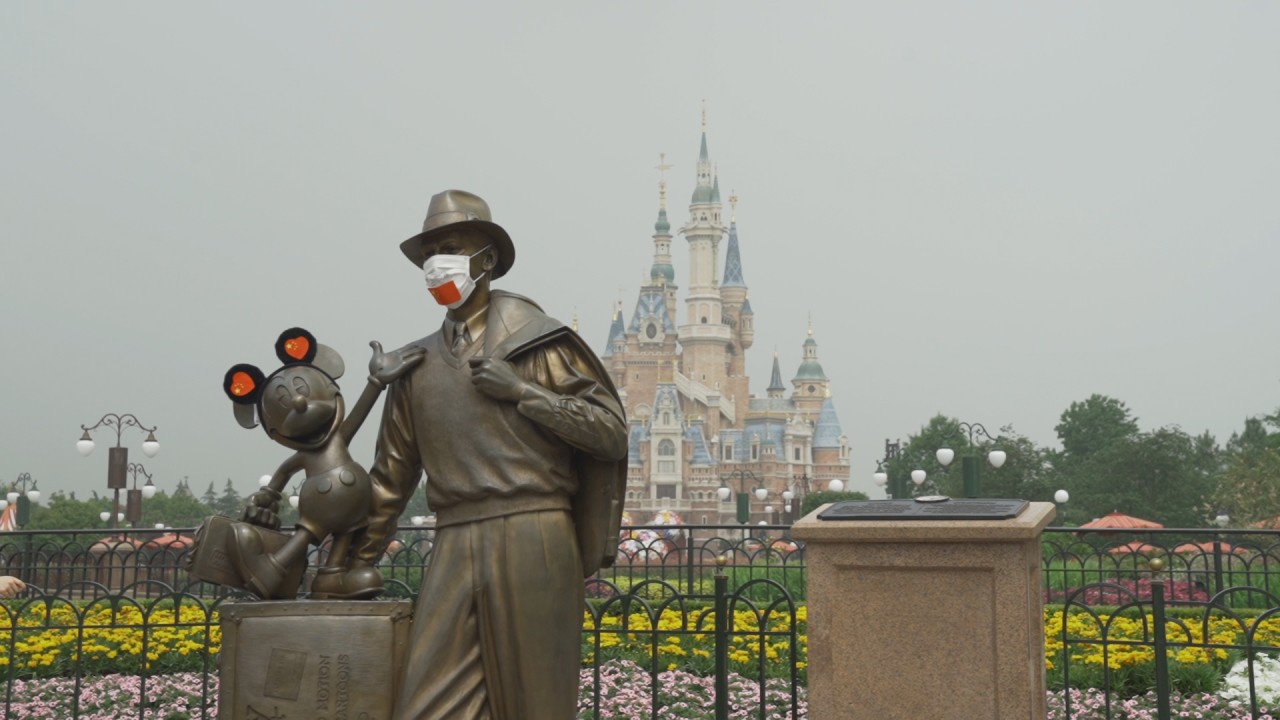 02:24
Shanghai Disneyland reopens with coronavirus precautions
Shanghai Disneyland reopens with coronavirus precautions
In 2019, Happy Valley's combined visitors numbers rose by 9.4 per cent year on year to 54 million, including 5.16 million in Beijing, compared to 51.24 million for the four parks currently open under the Universal Studios brand.
"It might be only a small group who know Universal Studios, but you know how many fans there are for Harry Potter, dinosaurs or Transformers? Wow, that's certainly huge," said former tour guide and now amateur video blogger Ji Yanshuo.
"It covers such a wide range of time and age. Many Chinese people got to know Transformers as early as the 1980s, while films like Minions and Kung Fu Panda were popular among kids."
The five films in the Transformers series generated more than 5 billion yuan (US$7.7 million) in box office revenues in China, while Jurassic World and Jurassic World: Fallen Kingdom drew in a combined 3.1 billion yuan in revenue, according to data from film information website Maoyan, after they were released in China in 2015 and 2018 respectively.
A rescreening of Harry Potter and the Philosopher's Stone last summer also brought in 200 million yuan (US$31 million) of revenue.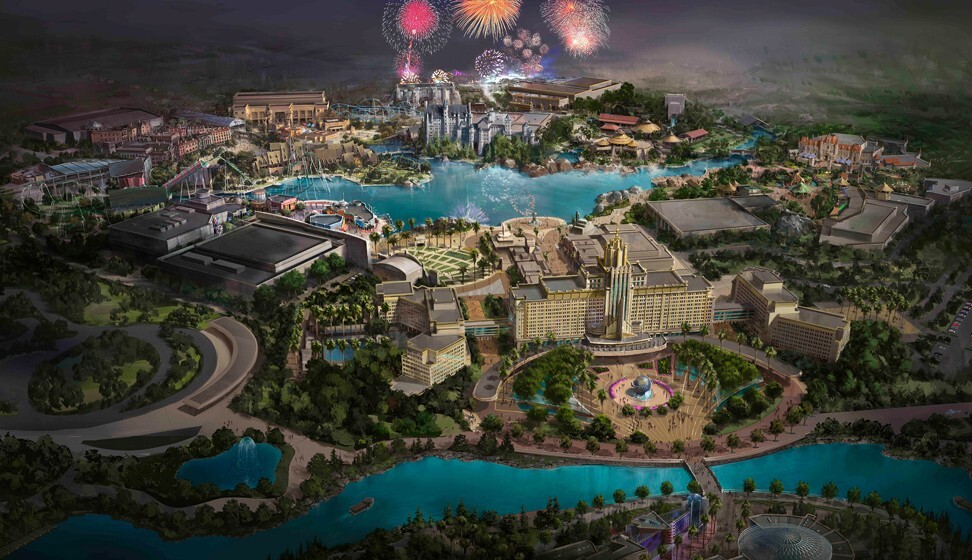 Scynge Xing, though, is among those reluctant to visit the new park, even after she visited the Hollywood and Orlando resorts six years ago.
"It may be interesting to those who have never been there, but not for me," said the 28-year-old Beijing-based multimedia artist. "I'm not a big fan of it … All of them are industrial products."
But Xing did admit that the park will still likely be a success due to "the huge population base".
Xing is part of a younger generation who feel proud of traditional Chinese culture and made-in-China products, a trend that has boosted producers of traditional attire and home-grown consumer brands.
Generation Z born – between 1995-2010 – is the main demographic seen to be embracing Chinese brands and traditional culture, according to a report from iiMedia Research in May.
This is set to push the fan base of traditional Chinese garments up by a third to 6.9 million this year, and sales up by 59.7 per cent to 10 billion yuan (US$1.5 billion).
"Starting from home appliances and garment, Chinese products will see growing competitiveness over foreign brands and even build their global advantages in 5-10 years," the iiMedia Research report said.
Concerns, though, remain that Chinese consumers will reduce their spending habits amid post-coronavirus uncertainties, such as job prospects and high debt.
"Many believe that consumption growth this year won't return to pre-pandemic levels," Ping An Securities chief economist Zhong Zhengsheng said earlier this month. "Urban resident's tendency for precautionary savings rose quickly."
China's retail sales,
which include spending on consumer durables and catering, rose by 12.1 per cent year on year to 3.76 trillion yuan (US$582 billion) in June.
Concerns were raised on Chinese social media when a receipt for 1,972 yuan (US$303) was circulated, showing a milkshake priced at 98 yuan (US$15), a hamburger at 128 yuan and spaghetti carbonara at 196 yuan at Toothsome Chocolate Emporium & Savory Feast Kitchen inside Universal Studios Beijing. The final bill eventually came to 1,101 yuan due to heavy discounts offered as part of the trial, but this still raised questions over high prices.
The Beijing municipal government, which holds a 70 per cent stake in the project, have high hopes for the park, promising tens of thousands of jobs, tens of billions of yuan in revenue, while also lifting the leisure and cultural business to a new level.
Lydia Price, a professor at the China Europe International Business School, said China's entertainment market is far from saturated, and growing consumer incomes will drive demand for years to come.
China has more than 200 theme parks, a vast majority of which are located in the three economic belts centred in Beijing, Shanghai and Guangzhou.
The three leading Chinese operators – Overseas Chinese Town Enterprises, Fantawild Holdings and Chimelong – held a combined 58.1 per cent share of the market in 2018, compared to just 5.7 per cent for Shanghai Disneyland, according to Tianfeng Securities in March.
Other foreign theme park giants are also joining the competition. Merlin Entertainments, the world's second-largest theme park operator in terms of attendance, has already announced plans to build a Legoland project in Shanghai, which is expected to be operational in 2024.
With a first Legoland project set to open in China in Sichuan in 2023, the company announced at the end of July that it will also start building the world's largest Legoland resort in Shenzhen at a cost of 4.7 billion yuan (US$735 million), with construction set to take four years.
Shanghai Disneyland, which received 83 million visitors and generated 40 billion yuan in revenue in its first five years, announced earlier in July that it would increase admission fees by around 10 per cent from next year. It also announced that its eighth theme park, Zootopia, would soon be unveiled for the Chinese market.
However, Price warned that foreign-franchised parks must keep up with China's changing demographics and create more Asian characters and stories, as "sensitivities grow about stereotyped Western representations".
"Universal and Disney are grandmasters at this game … They should be able to repeat that process in China," she added.
This article appeared in the South China Morning Post print edition as: Can another theme park make a splash in China?