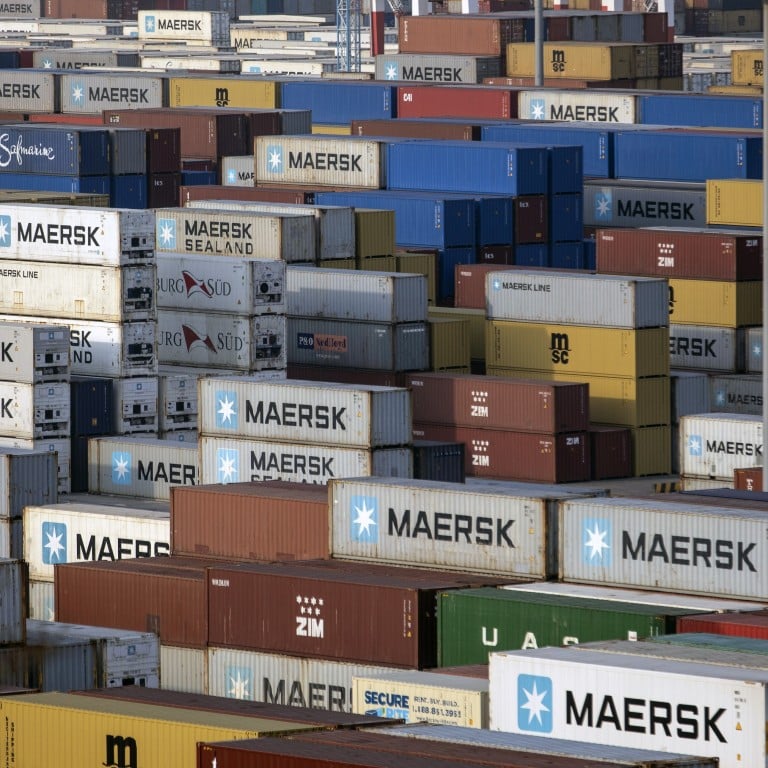 Explainer
US-China trade war timeline: key dates and events since July 2018
The US-China trade war began in July 2018, eventually leading to tariffs on some US$550 billion of Chinese goods and US$185 billion of US goods
A phase-one trade deal was signed in January 2020, although relations have not significantly improved under the administration of US President Joe Biden
This article has been updated. Click here for the latest version. 
The
US-China trade war
began in July 2018 under the administration of then-US president Donald Trump, eventually leading to tariffs on some US$550 billion of Chinese goods and US$185 billion of US goods.
A phase-one trade deal between the two sides was signed in January 2020, although relations have not significantly improved under the administration of US President
Joe Biden
.
06/07/2018: US-China trade war begins
US places 25 per cent duties on around US$34 billion of imports from China, including cars, hard disks and aircraft parts.
China retaliates
by imposing a 25 per cent tariff on 545 goods originating from the US worth US$34 billion, including agricultural products, automobiles and aquatic products.
23/08/2018: US imposes 25 per cent tariffs on a further US$16 billion worth of Chinese goods
24/09/2018: US places tariffs on US$200 billion worth of Chinese imports, China responds
01/12/2018: Xi, Trump call a truce in the trade war at the G20 summit
10/05/2019: US increases tariffs on US$200 billion worth of Chinese goods
US-China trade war timeline since July 2018
15/05/2019: US adds Huawei to 'entity list'
31/05/2019: China announces plans to establish 'unreliable entity list'
01/06/2019: China increases tariffs on US$60 billion worth of US products
29/06/2019" Xi, Trump again agree to a trade war truce at G20 summit in Japan
05/08/2019: US designates China as a 'currency manipulator'
13/08/2019: US announces various planned levies have either been delayed or removed
23/08/2019: China announces fresh tariffs on US$75 billion of US products
01/09/2019: US tariffs on more than US$125 billion worth of Chinese imports begin as expected
11/09/2019: US agrees to briefly delay new tariffs on US$250 billion worth of Chinese goods
11/10/2019: Trump says 'substantial phase-one deal' reached, new tariffs delayed
15/01/2020: China, US sign the phase-one trade deal
14/02/2020: China halves additional tariffs on US$75 billion worth of US products
12/05/2020: China announces a second batch of trade-war-tariff exemptions
14/05/2020: China allows imports of barley and blueberries from the US
01/09/2020: Dozens of US imports from China are granted short extensions
14/09/2020: US issues restrictions on import of Xinjiang cotton and apparel products
15/09/2020: Beijing extends exemptions on 16 US products for another year
02/12/2020: US to block import of cotton goods produced by China's leading supplier in Xinjiang
02/12/2020 US president-elect Biden tells says he will not make any 'immediate moves to lift tariffs
18/02/2021 US Treasury Secretary Yellen says that tariffs on China will be 'kept in place'
27/05/2021: Liu He, Katherine Tai speak in the first trade talks since August 2020
02/06/2021: Liu holds 'candid' exchange on issues of concern with Yellen
10/06/2021: China commerce minister Wang speaks with American counterpart
15/07/2021: US no intention to resume the highest-level bilateral forum
19/07/2021: Trade deal didn't address 'fundamental problems', Yellen says