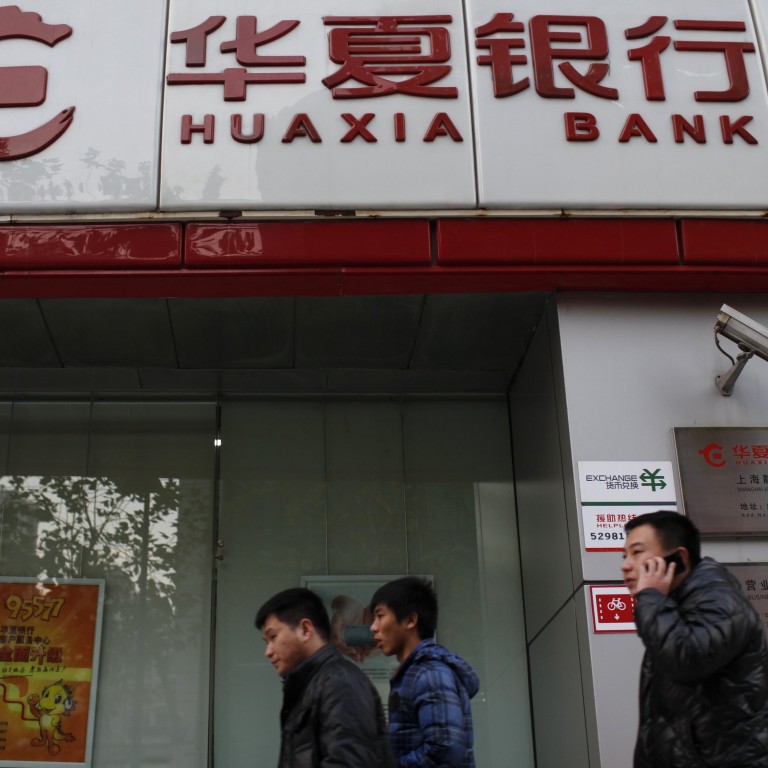 Huaxia joins Chinese banks halting forex services amid currency volatility concerns, but move leaves customers anxious
Tightening of services comes months after Huaxia was fined US$15.2 million for not properly warning clients about the potential risks of investment products
Analysts point to regulator concerns over yuan volatility, as 'significant investor losses could potentially become a source of social instability'
A tier-one state-owned lender that drew Beijing's ire earlier this year for running afoul of rules and regulations has abruptly announced it will halt its foreign exchange trading business – the latest such curbing of services by major Chinese banks this year.
Huaxia Bank attempted to downplay concerns and confusion that arose after it pulled its original announcement posted online on Monday and issued a revised statement on Tuesday.
In its first statement, the Beijing-based bank said it would stop offering personal foreign exchange sales and purchases from December 1 "in response to changes in market conditions". This set off a panic among customers who thought they would no longer be able to convert their yuan into foreign currencies, which was not the case.
On Tuesday, Huaxia removed the reference to changing market conditions and said, instead, that the temporary changes were due to the bank implementing "optimisation" upgrades. It also clarified that it was halting the changing of freely convertible foreign currencies into other foreign currencies – such as buying US dollars in exchange for Japanese yen – but that the move would not affect the conversion of yuan into foreign currencies and vice versa.
Huaxia did not say when it might reinstate the halted services.
The move comes as China's currency regulator, the State Administration of Foreign Exchange, has been
conducting a rare survey of banks
and companies on how they manage their currency exposure and on how they use hedging tools, signalling that authorities are girding for currency volatility, Reuters reported in late August.
Ken Cheung Kin-tai, senior Asian foreign exchange strategist at Mizuho Bank, said that related business services are being tightened at Chinese banks because of expectations of potentially sharp currency volatility, as the US Federal Reserve and other major central banks wean economies off massive pandemic-era stimulus.
"The [Chinese] government probably sees deteriorating fundamentals that would cause sharp currency volatility in the rest of the year," Cheung said. "So, it is making preparations to limit the impact on Chinese individuals and their investment products.
"Significant investor losses could potentially become a source of social instability."
In May,
Huaxia Bank was fined 98.3 million yuan
(US$15.2 million) for failing to comply with disclosure on its wealth-management products and for giving its clients inadequate warning about the potential risks of investment products. It joined other banks that the China Banking and Insurance Regulatory Commission said broke all sorts of rules and regulations. The commission also vowed then to step up pressure to maintain financial stability.
Huaxia's move this week makes it the latest Chinese commercial lender to suspend its personal foreign exchange trading business amid expectations of greater geopolitical tensions and
currency volatility
.
Since the beginning of this year, more than 20 banks – including Industrial and Commercial Bank of China, Postal Savings Bank of China, and China Merchants Bank – have made various adjustments to their personal foreign exchange and precious-metal-trading businesses, according to the China Securities Journal, which is published by Xinhua.
These adjustments include suspending account openings, raising trading requirements, raising risk-tolerance standards, limiting position levels, and bulk agreement terminations.
Staff at China Merchants Bank in Beijing's Xicheng district said it had not been opening foreign exchange accounts for new customers since late July, nor was it offering new products, due to increasing international political and economic uncertainties, China Securities Journal reported.
The yuan's value has been holding steady against the US dollar, trading in a tight range between 6.45 and 6.50 in the last three months.
An employee at Bank of China also said that it had suspended some of the bank's precious-metals and foreign exchange business. In addition, products related to options and foreign exchange trading that have relatively high investment risks will continue to be tightened for individual customers.
A plunge in international oil prices to their lowest level in 20 years in April last year caused huge losses for Bank of China's customers who had invested in a structured financial product dubbed "Crude Oil Treasure".
More than 60,000 customers were estimated to have invested in Crude Oil Treasure at the time, and the banking regulator ordered Bank of China to strengthen its risk control and product management following a public backlash for not terminating oil futures contracts in a timely way to avoid huge losses for its customers. The episode exposed deficiencies in the risk control and product management of China's 22.2 trillion yuan (US$3.43 trillion) worth of wealth-management products.
Kevin Lai, chief economist at Daiwa Capital Markets, said that China's sweeping regulatory crackdown – targeting the education sector, e-commerce platforms and even Chinese celebrities – was aimed at preventing capital flight from Chinese individuals and at shoring up foreign exchange reserves to ensure the yuan's stability.
"[Beijing thinks it] needs to safeguard its foreign reserves, commodities and food supplies in case it needs to fight a war or [protect itself from] more sanctions or embargoes," Lai said. "Such situations would cause a sharp decline in the yuan's exchange rate and accelerate capital flight, which would make everyone think the yuan will fall further and lead to market panic."
This article appeared in the South China Morning Post print edition as: State-owned lender halts forex trade amid volatility