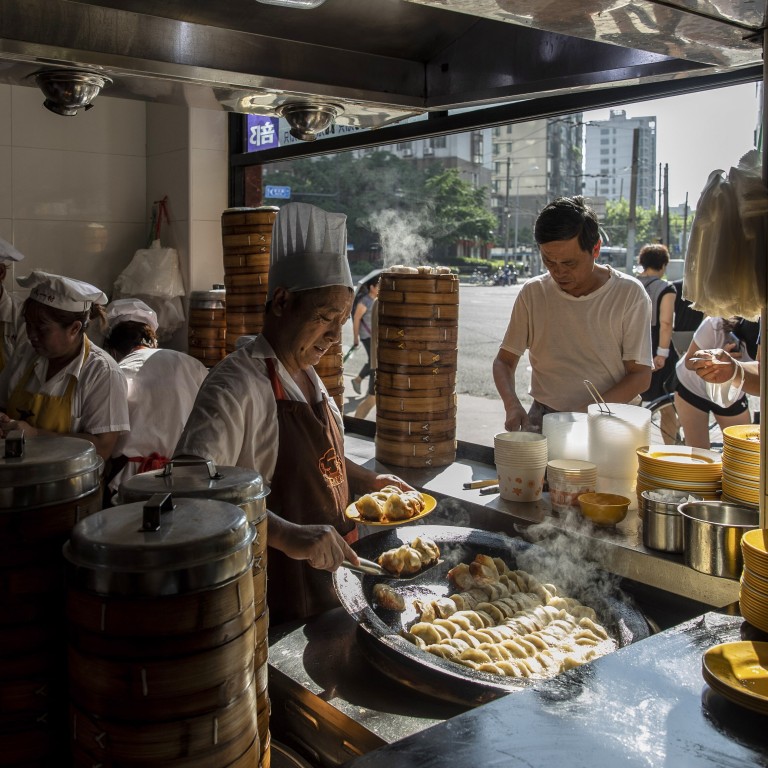 China vows 'protection' of small businesses, with US$46 billion worth of new loans on tap
China is again granting financial institutions billions in cheap capital to be loaned out – a strategy employed last year when 1.8 trillion yuan worth of such 'relending funds' were offered
Move is in line with Beijing's 'cross-cyclical' economic policy offering support for essential parts of the economy rather than massive stimulus
In yet another sign that its economic strategy is focused on the long game, Beijing has vowed to provide 300 billion yuan (US$46.4 billion) in new loans to the nation's small and self-employed businesses – many of which are in
desperate need of help
.
Rather than going all-out with loose fiscal stimulus measures, this move reinforces the central government's "structural" and piecemeal support for specific and essential parts of China's economy as it heads into what economists say is a likely slowdown in the coming months.
"The key to economic and employment stabilisation lies in the protection of small and medium-sized enterprises," the State Council, China's cabinet, said after its executive meeting on Wednesday. "We need to take further measures to protect market entities and jobs and ensure that growth in a reasonable range."
Small and medium-sized enterprises, which employ more than 80 per cent of the urban workforce, continue to struggle during the prolonged pandemic, especially after recent outbreaks of the Delta variant resulted in further lockdowns and made consumers more apprehensive about spending.
Smaller businesses have seen their revenues recover very slowly and are particularly susceptible to rising production costs and bad debt.
Beijing's release of 300 billion yuan in cash for new loans serves as a relending tool – referring to the loans that the central bank grants to financial institutions. This strategy was widely utilised last year to save virus-hit businesses, with 1.8 trillion yuan (US$278.5 billion) in cheap capital being injected by the central bank.
Together with the government's interest subsidies and credit guarantee, this move allows local banks to extend more and cheaper loans to businesses that need it most, the State Council said.
However, this delivery of cash to China's smallest businesses still depends on banks actually making loans to those businesses. Last year, despite Beijing's efforts, banks had little incentive to lend to small, struggling businesses. As a result, many small firms were forced to turn to shadow bankers for loans at much higher interest rates than regular lenders.
But such loans are just one tool that the People's Bank of China is using to fix the country's economic problems, though the central bank has shown little appetite for across-the-board monetary loosening, looking instead to more tapering in monetary easing.
China's headline economic growth slowed to 7.9 per cent in the second quarter, year on year, after hitting 18.3 per cent in the first quarter, albeit against a very low base comparison as lockdowns crippled China's economy in the first quarter of last year.
The Ministry of Finance said over the weekend in its semi-annual fiscal policy report that there has not been enough fiscal spending this year, and it has fallen short of expectations.
January-July fiscal spending, which is associated with infrastructure construction and public procurements, grew only 3.3 per cent from January to July – the second-lowest increase in 30 years. Meanwhile, only 1.35 trillion yuan worth of local special-purpose bonds were issued – less than 40 per cent of the projected annual total.
Xu Wei, a researcher with the Development Research Centre of the State Council, also warned of the downward pressure. "It is necessary to increase the proactive fiscal policy support at an appropriate time," he said in an online article.
"Beijing may maintain its policy mix of targeted tightening and universal easing," Ting Lu, Nomura's chief China economist, said at its China Investor Forum on Tuesday.
However, "the ongoing monetary and fiscal-easing measures appear insufficient to reverse the growth downtrend, as the drag from a cooling property sector is too strong to be fully offset," he added.
This article appeared in the South China Morning Post print edition as: Beijing offers 300b yuan to small companies in need