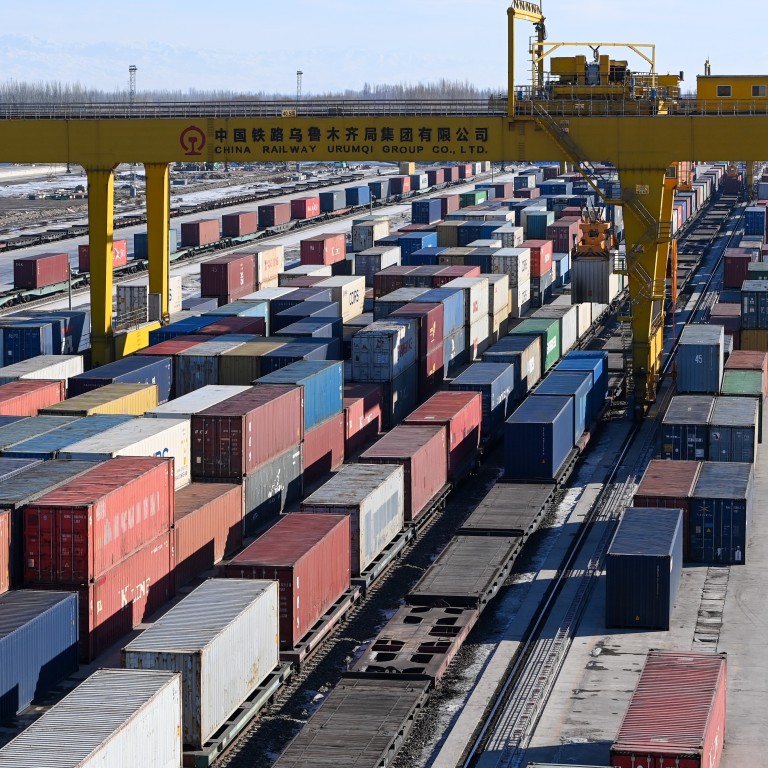 China's August trade surprises as imports and exports defy analysts' expectations
China's exports grew by 25.6 per cent in August compared with a year earlier, up from 19.3 per cent growth in July
China's imports grew by 33.1 per cent last month, year on year, up from 28.1 per cent growth in the previous month
Chinese exports have surprised by growing 25.6 per cent in August from a year earlier, totalling US$294.32 billion and beating expectations that they would post another slowdown in August after July's subdued performance of
19.3 per cent growth.
The latest figures also beat Bloomberg's surveyed expectations among economists of a 17.3 per cent rise.
In the same month last year, exports rose by
9.5 per cent
as the impact of the coronavirus eased, meaning the latest figures started from a higher base than in previous pandemic-depressed months.
Imports also did better than expected, lifting by 33.1 per cent in August from a year earlier to US$235.98 billion.
They improved from the 28.1 per cent growth in July and exceeded expectations in the Bloomberg survey that called for a 26.9 per cent gain.
The growth rate was boosted by a favourable base effect, with imports falling by 2.1 per cent in August last year.
In total, between January and August, Chinese exports rose 33.7 per cent year on year to US$2.1 trillion, while imports rose 34.8 per cent to US$1.73 trillion.
All up, China's total trade surplus rose to US$58.34 billion in August, compared with US$56.58 billion in July.
China's economy had staged an impressive recovery from the lows of the coronavirus pandemic, growing by
7.9 per cent in the second quarter of 2021
compared with a year prior, and it grew by 12.7 per cent in the first half of the year versus the same period in 2020.
Up until August, all signs pointed to a slowdown in the
Chinese economy
in the latter part of the year as
earnings at China's industrial firms
slowed for the fifth straight month in July due to elevated raw-material prices and supply-chain constraints from extreme weather, as well as sporadic coronavirus cases.
Among trading partners, the 10 countries of the Association of Southeast Asian Nations (Asean) continued to be China's largest, followed by the European Union and the United States.
China's exports to the 10 Asean countries rose to US$39.49 billion in August, up by 16.59 per cent compared with a year earlier, while imports rose by 26.65 per cent to US$32.78 billion. China's trade surplus with the Asean states dropped 15.99 per cent year on year to US$6.71 billion in August.
In August, China's trade surplus with the US rose to US$37.68 billion from US$35.43 billion in July. China's imports from the US rose by 33.27 per cent to US$14.04 billion in August, while exports rose by 15.52 per cent to US$51.72 billion.