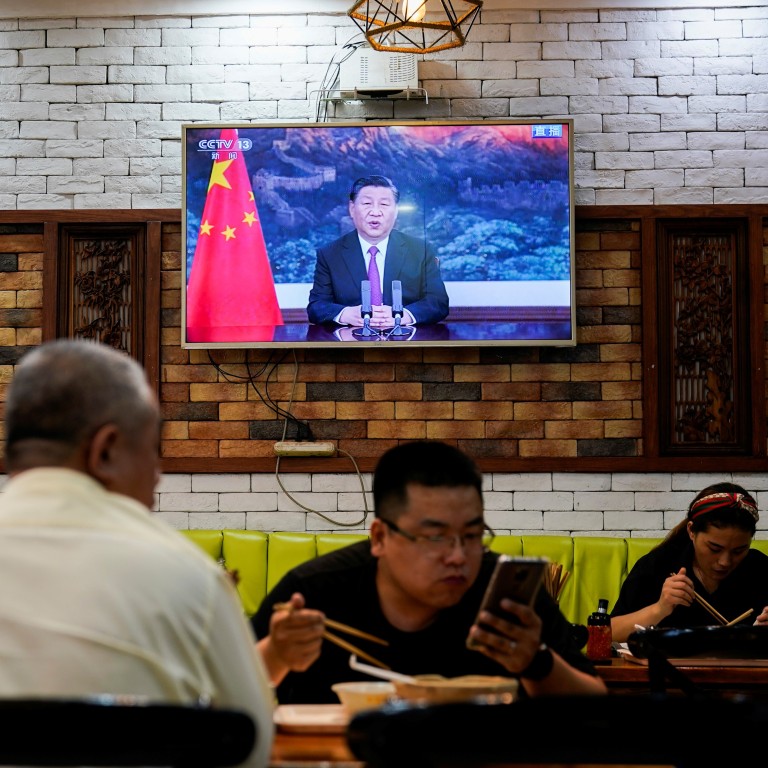 Explainer

|
China's economic buzzwords explained, from 'common prosperity' to 'dual circulation'
China's top leaders have introduced a number of new economic terms like 'cross-cyclical adjustment' and 'chief of industrial chains' in recent years
The buzzwords describe strategies to tackle everything from inequality to industrial chain inefficiency, and point to a new phase in China's development
China is writing a new chapter in its development strategy, and its using a host of terms that do not appear in mainstream macroeconomic textbooks. Here are some of the buzzwords on the lips of the nation's leaders.
1. Cross-cyclical adjustment
The term refers to policy actions across business cycles and first appeared in a July statement from the Politburo, the 25-member decision-making body headed by President Xi Jinping. It marks a shift from countercyclical policies, which are direct fiscal and monetary interventions like stimulus to offset coronavirus shocks and tightening when the economy begins expanding. The switch signals a more long-term approach to economic policy, marked by smaller macroeconomic adjustments.
Cross-cyclical policy entails better coordination of macro policies between this year and next to ensure smooth economic performance, according to the Politburo meeting. Policymakers have been asked specifically to improve the efficiency and effectiveness of fiscal policy and guide the pace of budgeted investment and local bond issuance.
Authorities must consider a variety of factors when setting policy, such as the increasingly uncertain external environment and whether their strategies will promote a stable, moderate platform for long-term growth, Jia Kang, the former head of the finance ministry's research institute, explained in a meeting last month.
Already, various Chinese provinces have saved a portion of their bond issuance quota to ensure adequate investment next year. The People's Bank of China, meanwhile, has pledged to ensure steady credit support during the period.
2. Common prosperity
Common prosperity marks a shift from the decades-old pursuit of rapid economic growth, which lifted hundreds of millions of Chinese out of poverty but greatly expanded the income gap – a potential threat to the legitimacy of the ruling Communist Party.
China will address income disparity through taxes, social security and direct government transfers, with the goal of creating an olive-shaped distribution structure in which middle-income groups account for most wealth.
Authorities will eliminate "unreasonable incomes" and illegal revenue, and encourage wealthy individuals and companies to give back more to society.
Morgan Stanley has estimated China could gradually introduce wealth taxes on capital gains, inheritance and property, and centralise local land revenue to allow for fiscal transfers to less-developed regions.
The pursuit of common prosperity implies more government spending on public services, including elderly care, medical care, housing and social security. The government will also provide more policy support for small and medium-sized enterprises, which employ most Chinese.
The wealthy eastern coastal province of Zhejiang has been chosen to start a pilot programme under the new policy.
3. Dual circulation
"Dual circulation" includes both internal circulation, with a focus on the domestic market, and external circulation, or interaction with the global economy. But it is China's vast domestic market that will play the dominant role, as the world's second largest economy is facing an increasingly unstable and hostile outside world.
Amid resurgent coronavirus outbreaks, the government has had to pay greater attention to "smoothening internal circulation" this year, as domestic consumption remains weak.
Authorities have stepped up efforts to boost consumption and harmonise national resources to tackle technological bottlenecks, such as a shortage of computer chips.
4. Chief of industrial chains
The system was first adopted in September 2019 by the eastern province of Zhejiang, the country's fourth largest provincial economy and a major exporter. After the Central Economic Work Conference set a goal of strengthening control over industrial chains, it was quickly extended to more than a dozen provinces including Guangdong, Shandong and Hebei.
The "chief of industrial chains" must harness government resources, such as finance and credit support, to help companies in designated industries and consolidate China's position as the "factory of the world" amid new external uncertainties. It is part of Beijing's broader push to climb up the global industrial value chain and ensure economic security.
5. Houses are for living in, not speculation
Although the policy was introduced in December 2017, it is often reiterated in major economic pronouncements from the government and has profoundly changed the country's real estate market. Beijing has outlined a series of macro-control measures in recent years, from blanket purchase and pricing restrictions, to tightening mortgage requirements and clamping down on illegal financing.
The property market has been one of the main pillars of economic growth since home ownership was privatised in 1998, resulting in massive real estate investment and boosting upstream and downstream sectors related to the housing sector. Its output accounted for 7.3 per cent of gross domestic product last year.