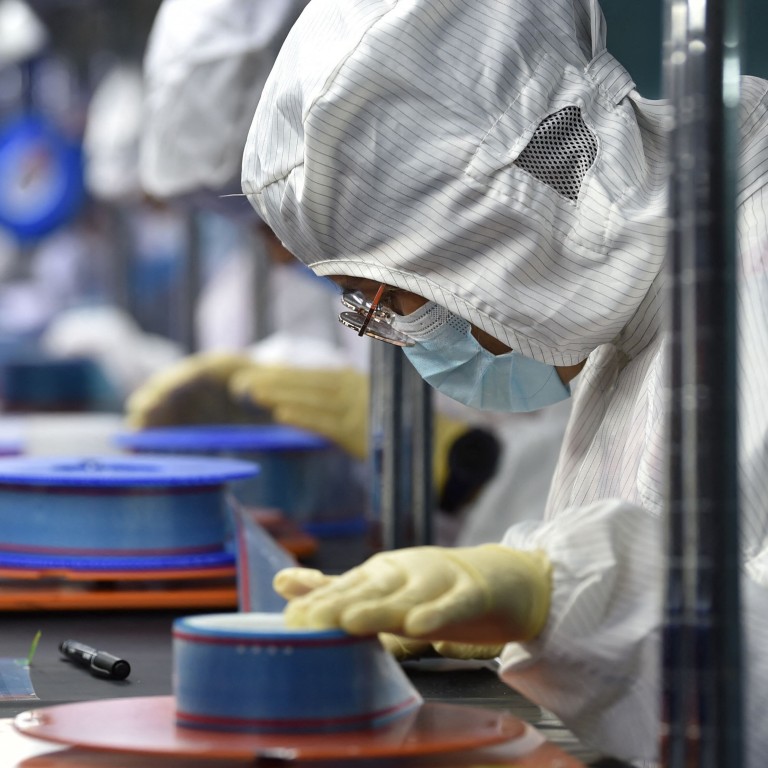 China's economic momentum weakens amid coronavirus controls and property curbs
Weak economic data last month points to a worsening slowdown in the Chinese economy, with some analysts saying policymakers may loosen liquidity
The impact of Delta outbreaks on consumer spending – especially in the services sector – was acute in August and further contractions could be on the way
China is increasingly likely to loosen some liquidity conditions as weak economic data released on Wednesday cast a pall over the world's second largest economy and fresh coronavirus outbreaks add to concern about a slowdown, economists said.
Retail sales growth
slumped in August to 2.5 per cent
, far lower than the 7 per cent estimate in a Bloomberg survey of analysts and an 8.5 per cent increase in July, data from the National Bureau of Statistics (NBS) showed.
Industrial production was also slightly below expectations, growing at 5.3 per cent year on year and slower than the 6.4 per cent gain in July. Fixed-asset investment in the January-August period rose 8.9 per cent compared with a year earlier, below estimates of 9 per cent.
The data is the latest indication of a worsening slowdown in the
Chinese economy
, with some analysts saying policymakers may adjust their macro stance to maintain economic growth, especially in the face of headwinds from Delta variant outbreaks and restrictions on the property sector.
Industrial production and investment rose from a high base last month, but growth rates adjusted for pandemic-related distortions were weak, reflecting soft domestic demand, the effect of property curbs and elevated commodity inflation, economists warned.
The impact of Delta outbreaks on consumer spending – especially in the services sector – was acute and reason for concern.
"The hit to service activity from last month's virus outbreak was even larger than we, and other forecasters, had anticipated," Julian Evans-Pritchard, senior China economist at Capital Economics, said in a note on Wednesday.
"The rest of the economy held up better, although the headwinds facing the property sector appear to be intensifying."
HSBC economist Jingyang Chen said Delta outbreaks had taken a heavy toll on services spending, but had also hit retail sales among catering and restaurant businesses, causing revenue to fall by 4.5 per cent year on year – the first contraction since November last year.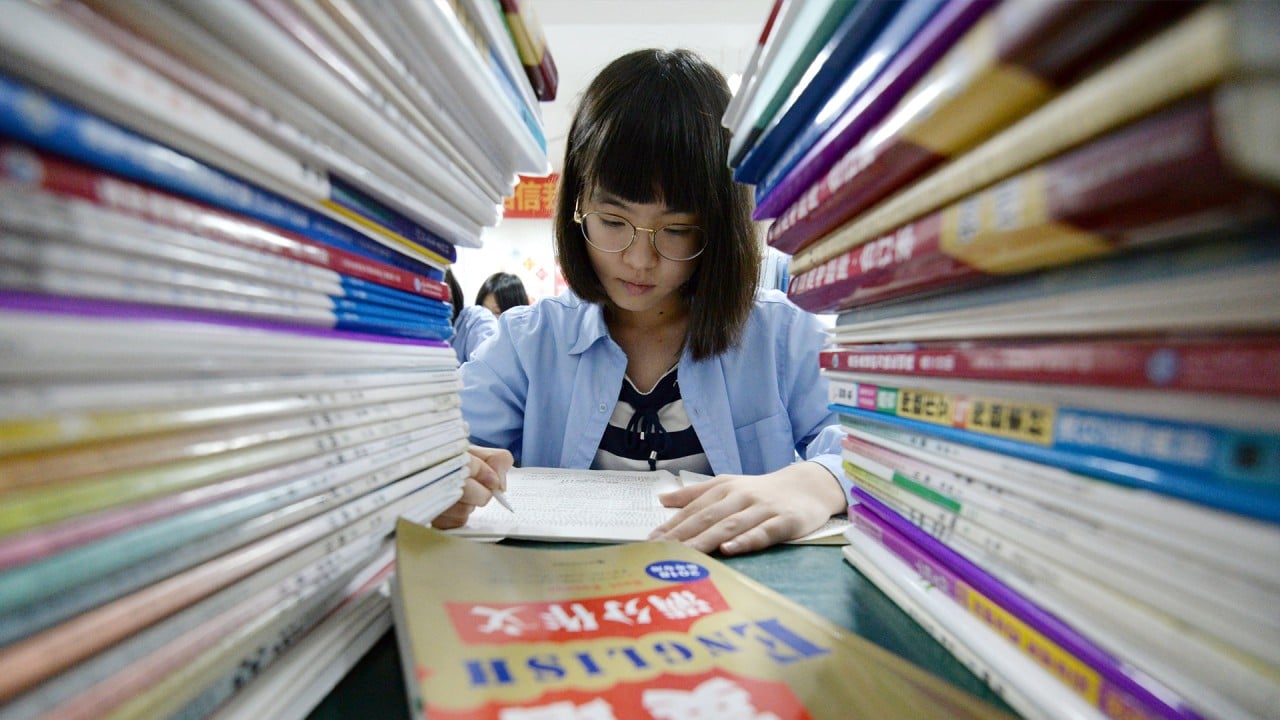 03:22
Crackdown on private tutoring leaves industry, students and parents drawing a blank
Crackdown on private tutoring leaves industry, students and parents drawing a blank
"Meanwhile, many consumer products like clothing, household appliances and daily use goods also saw a pullback … notably, auto sales above the designated enterprise size also fell deeper into contraction."
Further contractions could be on the cards as efforts to contain the latest
outbreak in Fujian
– where the total number of cases has jumped to 165 since it began last week – may disrupt the upcoming Mid-Autumn Festival and National Day holidays, a key period for consumer spending.
"Considering the Mid-Autumn Festival and the National Day holiday are coming, [the outbreaks] may continue to weigh on the consumption growth, there are still some risks," said Shao Yu, chief economist at Orient Securities.
Zhou Hao, an economist at German bank Commerzbank, said it was very hard to envisage how big the hit to consumption would be.
"Consumption is unlikely to return to its previous upwards trajectory after the pandemic," he said.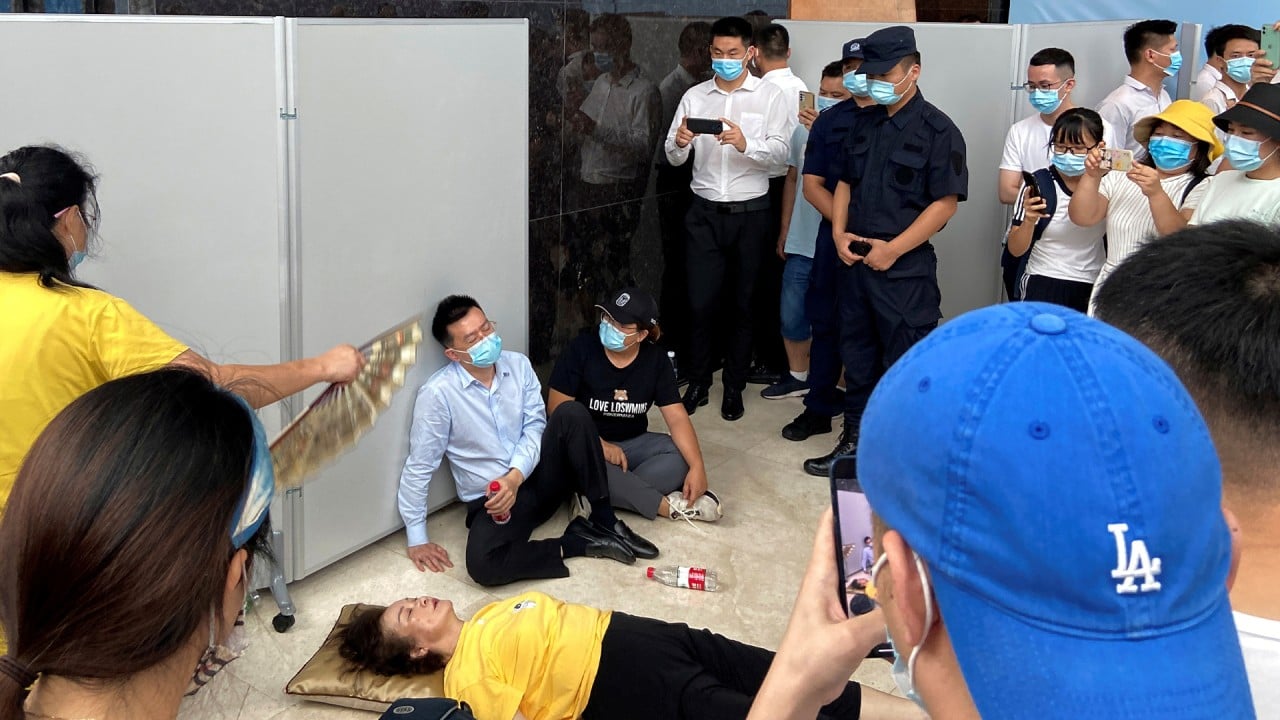 02:28
Angry protest at headquarters of China Evergrande as property giant faces liquidity crunch
Angry protest at headquarters of China Evergrande as property giant faces liquidity crunch
China's weaker industrial production was partly due to continued scrutiny of energy-intensive industries to support Beijing's carbon neutrality goals, said Chen from HSBC.
In particular, output of crude steel, steel, pig iron, cement and coke decreased from a year ago by 13.2 per cent, 10.1 per cent, 11.1 per cent, 5.2 per cent and 5.0 per cent respectively in August, according to NBS data.
It comes amid weakening property investment growth as Beijing tightens financing conditions for property developers, a development highlighted by the regulatory scrutiny facing
China Evergrande Group
.
Hi-tech manufacturing and manufacturing investment were two bright spots for the
Chinese economy
last month, rising 18.3 per cent and 15.7 per cent from a year earlier, respectively.
But with signs of a slowdown growing, some economists expect Beijing to introduce more fiscal and monetary support for the economy.
"We do not rule out the possibility that there will be another comprehensive or targeted cut in the reserve requirement ratio (RRR) to strengthen support for medium and small-sized enterprises," Gary Wan, senior economist at Dah Sing Bank, wrote in a note on Wednesday.
Zhou, from Commerzbank, said August's slump is likely to be this year's economic trough, but expected China's weak economic performance to continue for at least another quarter and the central bank to cut interest rates by 5 basis points in the fourth quarter.
Shao, from Orient Securities, agreed policymakers may provide more support in the coming months.
"In particular, to speed up the issuance of local government debt, or launch some infrastructure in advance of schedule to keep the economic growth rate above 6 per cent," he said.