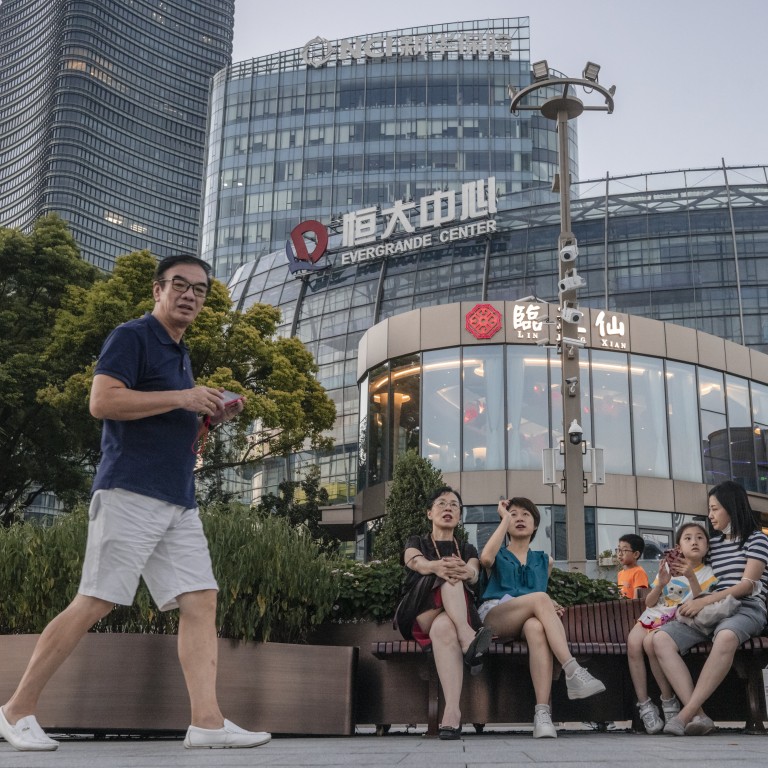 China accelerates infrastructure investment plan as Evergrande woes add to economic slowdown fears
China's cabinet on Wednesday outlined priority areas for investment, including telecommunication networks, satellite navigation and smart logistics
Both international rating agency Fitch and the Bank of America this week cut their forecasts for China's economic growth
Infrastructure investment in telecommunication networks, satellite navigation, the industrial internet, smart logistics as well as transport will increase over the next five years, China's cabinet has announced, with Beijing vowing to stabilise the world's second largest economy amid the latest setback involving indebted developer China Evergrande Group.
"We must strengthen pre-emptive [policy] adjustments and cross-cyclical adjustments, and stabilise market expectations with fiscal, financial and employment policy coordination," the State Council said in an online statement following the meeting chaired by Premier Li Keqiang.
"We'll plan further measures to boost consumption, leverage social capital in investment and maintain the growth of trade to ensure the economy grows within a reasonable range."
International credit ratings agency Fitch on Thursday followed the Bank of America in cutting China's growth estimates due to concerns over weak demand after data last week showed
retail sales growth in August
slowed to 2.5 per cent from 8.5 per cent a month earlier.
The challenges posed by recent coronavirus outbreaks and
high commodity prices
have prompted the State Council to bring forward its plan, having set aside capital and projects to be rolled at the end of the 2021 and the start of next year to ensure smooth economic operations.
"A host of recent indicators have pointed to a sharper-than-expected downturn in domestic demand. While some of these reflect pandemic-related restrictions imposed in July and August, the cooling in the property sector is the key driver behind the forecast downgrades," said Fitch's chief economist Brian Coulton after downgrading China's 2021 growth forecast to 8.1 per cent from 8.4 per cent.
Earlier this week, the Bank of America lowered China's gross domestic product (GDP) growth rate estimate for this year by 0.3 percentage points to 8.0 per cent, citing outbreaks of the Delta variant, tight credit control on property and infrastructure investment as well as decarbonisation policies that are leading to a cut in commodity production.
Morgan Stanley has also warned that China must manage the debt restructuring of China Evergrande and ease its policies in October to contain the spillover into the broader economy, otherwise, it could impact GDP growth by one percentage point in the fourth quarter, according to research led by economist Robin Xing.
Beijing has refrained from massive spending on highways, railways and airports in recent years, as local government debt, including implicit liabilities buried in
local government financing vehicles,
state firms and public-private partnership projects, has risen significantly.
Infrastructure investment, often funded by governments and state-owned banks, grew by only 2.9 per cent in the first eight months of 2021, far below fixed asset investment growth of 8.9 per cent, according to data from the National Bureau of Statistics.
Property investment, which accounted for 28.3 per cent of the total investment, rose by 10.9 per cent in the January-August period to 9.8 trillion yuan (US$1.5 trillion), although the sector is now under pressure from the government to reduce speculation and leverage.
At Wednesday's meeting, China's cabinet approved the 2021-25 plan for infrastructure construction, aimed at increasing domestic demand, promoting economic transformation and increasing growth momentum.
Infrastructure investment could reach 10 trillion yuan over the next five years, according to an estimate by the Industrial and Commercial Bank of China last year.
Zhong Zhengsheng, chief economist of Ping An Securities, said China has sufficient funds available, including 1.81 trillion yuan (US$280 billion) of special purpose bond to issue in the final fourth months of the year, although cautioned that it lacks the quality projects suitable for investment.
Data from the Ministry of Finance showed that spending on infrastructure investment in August was the highest so far this year, although it only accounted for only 26.3 per cent of total fiscal expenditure last month.
"For the next step, China should make more efforts to prepare projects and start construction," Zhong said.
This article appeared in the South China Morning Post print edition as: Beijing accelerates investment plan amid fears over growth