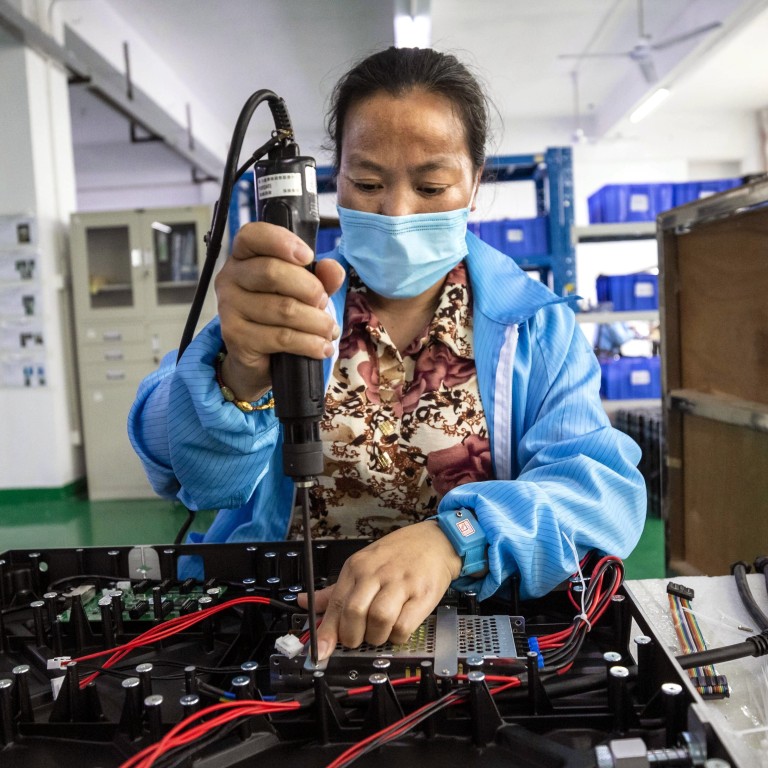 China's Guangdong slashes foreign investment barriers amid challenges from coronavirus pandemic, US tensions
Guangdong has announced new measures to attract foreign firms to the province, including more lenient investment rules
The move comes amid a challenging international business environment made worse by geopolitical tensions and the coronavirus pandemic
China's southern Guangdong province, the nation's biggest manufacturing hub, has loosened foreign investment barriers to attract more multinational companies, echoing Beijing's message that the
country remains open for business
despite pandemic disruptions, rising concern over protectionism and ongoing tensions with the United States.
At the first Conference on Multinational Corporations Investment this week, the Guangdong government said it had relaxed the total assets requirement for foreign companies wishing to set up new regional headquarters there to US$200 million from US$300 million, with removal of the requirements for paid-up registered capital and restrictions the offices must be a sole proprietorship.
The host of subsidies and tax rebates already offered to large foreign companies and investors remains unchanged.
The Guangdong government released a map of 21 advanced strategic industry clusters for foreign investment, including in green petrochemicals, advanced materials, semiconductors, new energy, and biomedical products.
It also announced the appointment of 12 senior executives from Fortune Global 500 companies as Guangdong's first group of "Global Investment Advisers".
Foreign investors at the event supported the measures, saying China remained the most attractive destination for investment during the pandemic, while voicing concerns over recent business challenges including geopolitical tensions, coronavirus lockdowns, the latest
power supply crisis
and raw material inflation.
Myron Brilliant, executive vice-president of the US Chamber of Commerce, said in a virtual address it was regrettable that tensions between the US and China have created uncertainty for foreign investors in both countries and around the world.
"China remains an important growth market for US business, even as we try to address structural and systemic issues," he said, adding certain Chinese policies were challenging and made bilateral cooperation difficult.
02:35
China's ambitious plan to develop it own 'Greater Bay Area'
China's ambitious plan to develop it own 'Greater Bay Area'
"I know there is also concern in China about US policies … The chamber believes that both governments must make the January 2020
phase one deal
a success by fully implementing all aspects of the agreement, including purchases and structural issues."
Tetsuro Homma, representative director & executive vice-president at Panasonic, said China's strengths lay in its well-established supply chains and large professional workforce.
He said he was impressed with the country's high tolerance for trial and error approaches in industrial development and innovation.
"Even developed countries rarely offer the kind of space that China does," he said.
While he acknowledged concern over costs for raw material and labour, he did not think current geopolitical tensions would change multinational companies' appetite for doing business in China.
Klaus Zenkel, vice-president of the European Chamber of Commerce in China, said European businesses in southern provinces continued to face challenges from border closures – which have limited key employees returning from abroad and new talent entering the country – as well as weak transport capacity and high shipping prices.
He also expressed concern about the power crisis, which he said would put off investors who could not adapt production planning to the sudden changes in electricity supply. A more holistic view of renewable energy use and
implementing carbon emissions goals
needed to be taken, he added.
"Opportunities in the [
Greater Bay Area
] are in the green manufacturing sector and also in the new energy sector … European companies have great know-how and could work with China to develop carbon neutral [technology]," he said. "This is a task that cannot be done by one individual country."
He also said there was room for collaboration in robotics and health care.
The chamber made similar comments in its European Business in China Position Paper 2021/2022, which called for European companies to adopt "technology localisation", which may mean integration into systems that are incompatible with their global operations.
Guangdong's foreign direct investment in the first quarter of the year grew at its fastest pace in more than a decade, according to data released by the Ministry of Commerce on Thursday.
As of December last year, 350 Fortune 500 companies had invested in the province with accumulated registered capital exceeding US$180.7 billion, according to official data.