Xinjiang
Get more with myNEWS
A personalised news feed of stories that matter to you
Learn more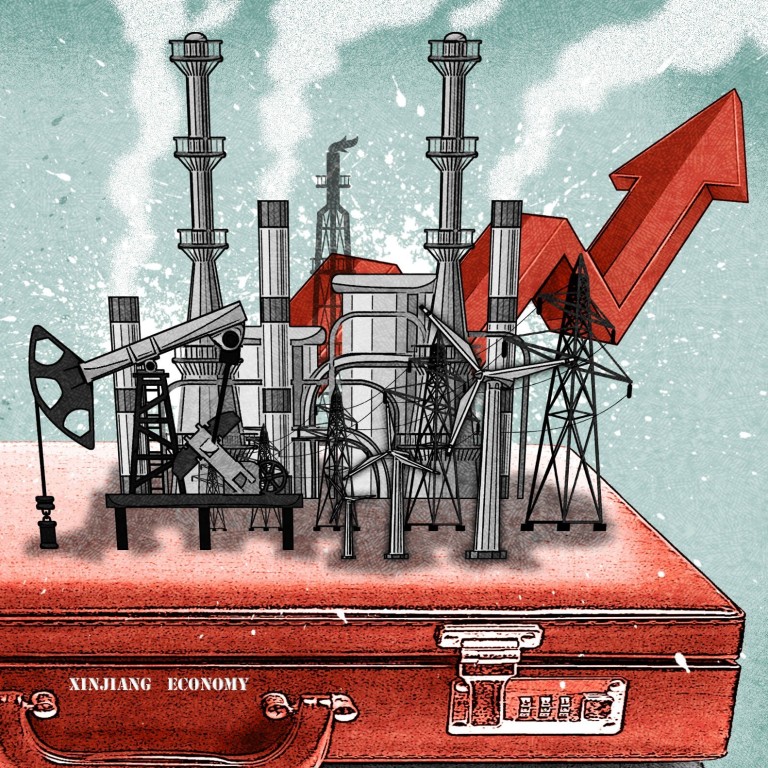 How is Xinjiang's economy holding amid US sanctions, and can China keep supporting its 'great burden'?
The US earlier this year banned cotton and tomato products from Xinjiang over alleged human rights violations and the widespread use of forced labour in the region
Xinjiang remains a major agricultural base, although unlike coastal provinces, its economy does not heavily rely on exports
This is the first in a series of stories looking at China's Xinjiang province and how the far-western region is coping economically under a series of US sanctions over alleged human rights violations and the widespread use of forced labour.
Nine months ago, when the United States banned cotton and tomato products from
Xinjiang
over alleged human rights violations and the widespread
use of forced labour in the region,
cotton farmers in particular in the far-west region feared the worst.
But with the unprecedented coronavirus stimulus packages around the world spurring consumption and increasing demand for cotton, a key material in garments and other textile products, the fallout has not been as bad as first feared.
At the same time, the region's revenue is heavily dependent on the central government, with Beijing required to pour large amounts of money into the region.
The region is seen as being more important for "national and territorial security" rather than for it to become a "very strong economic province", according to Gu Xuewu, the director of the Centre for Global Studies at the University of Bonn in Germany.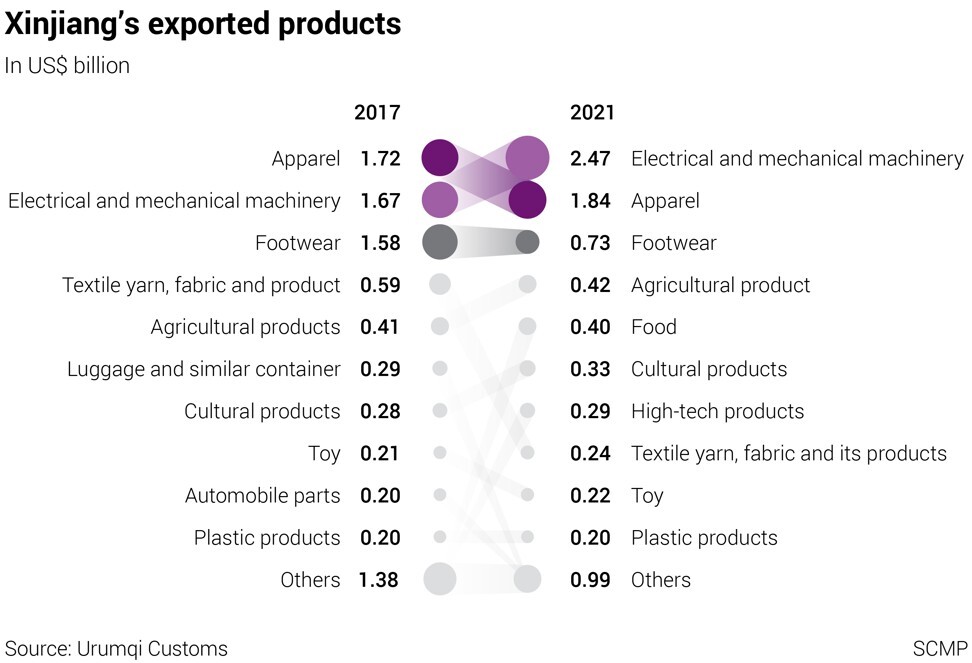 This means Beijing still needs to support
Xinjiang
with money and resources, and is it unclear if this is a sustainable economic model, even if it has been able to benefit from a coronavirus-induced shift in production away from major cotton and textile producers in Southeast Asia and India, increasing demand for Xinjiang cotton
In the first seven months of 2021, China's exports of home textiles – including rugs, bedsheets and curtains – reached US18.44 billion, up 44.8 per cent year on year.
Xinjiang's annual output of cotton is around 5 million tonnes, accounting for 87.3 per cent of the country's total cotton production last year.
A survey in July of more than 90 textile manufacturers across the country by the China Cotton Association showed that factories are slightly reducing their reliance of Xinjiang cotton, increasing the use of imported products, but it still accounted for 86.7 per cent of the total cotton consumption across the country, compared to 9.8 per cent for imported.
Under the new measures, any products entering the US must come with accompanying paperwork to prove to border staff that they are not linked to forced labour, but the complexity of supply chains makes it very difficult to track down the exact origin.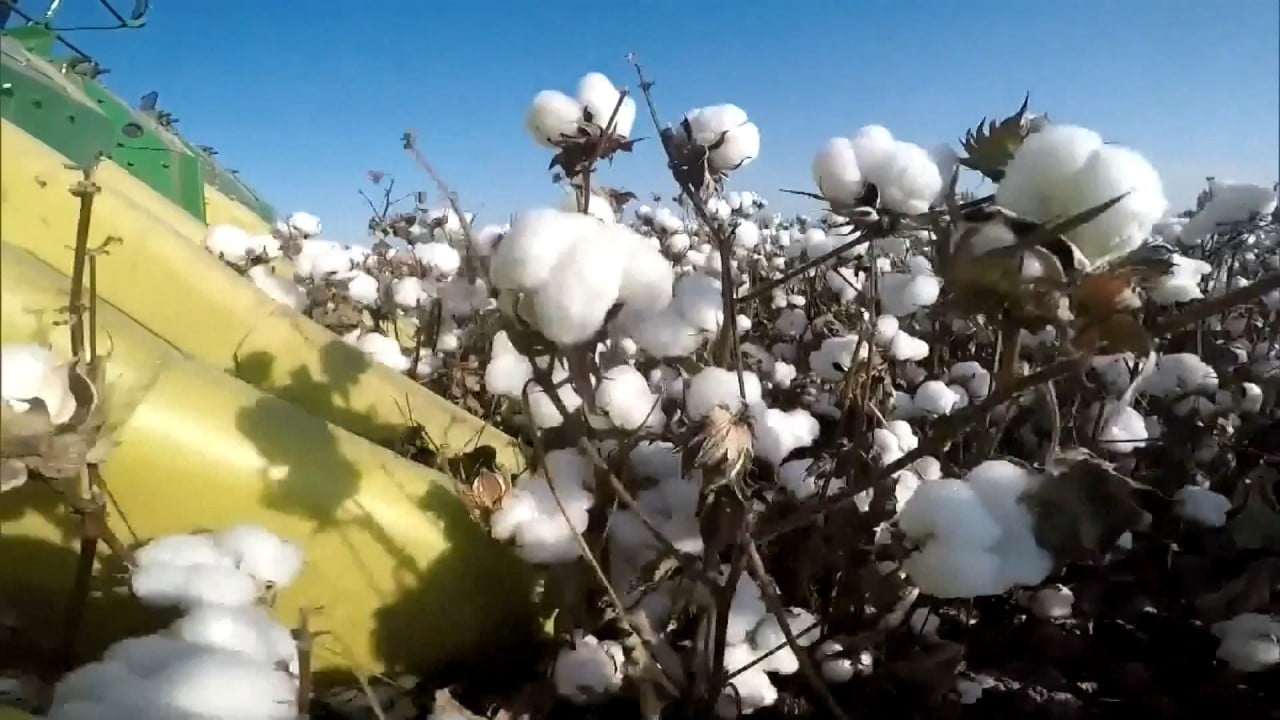 01:08
Xinjiang, China's top cotton producer
Xinjiang, China's top cotton producer
This is due to the fact that Xinjiang does not export much raw cotton or yarn overseas itself, but instead, most is consumed locally or sold to other provinces and then made into cloth, garments or other textile products for both domestic and overseas markets.
Officials in the US looking to enforce the ban have heard from companies pitching a range of cutting-edge technologies, including DNA-based molecular tagging, genotyping and stable isotope analysis to track down the origin of the cotton.
But Mr Zhang, who runs a cotton-processing plant in a county in the middle of Xinjiang, heard about such DNA-based technology around three years ago, and remains sceptical about how widely the technology will be applied.
"Of course I have some concerns about that technology, because that's a potential risk for us. But if the global demand for cotton keeps rising, and there is not enough supply, they must rely on Xinjiang cotton, right?" said Zhang, who asked not to be fully identified due to the sensitive nature of the issue.
"Currently, as long as you have the written proof, products containing Xinjiang cotton can still be sold to the US, unless one day they start to refuse exporters' written proof and strengthen random testing, then things will be different."
Earlier this year, Zhang had been quite worried about his business after the US government ban, but now the outcome is "not as bad" as expected, he expects the price of raw cotton to increase by at least by 20 per cent this year as demand for yarn continues to rise.
Luo Yan, secretary general of the Xinjiang Digital Cotton Research Centre, said the current demand for Xinjiang cotton is quite high, meaning cotton purchases this year are more pronounced as some textile mills from inland provinces have even made direct purchases from Xinjiang.
"The pandemic has partially contributed to the surging demand for Xinjiang cotton, for example, cotton and cotton fertiliser production have been greatly disrupted in India, as a result, they increased purchase from China," she said.
For Xinjiang's tomato farmers, the US import ban was less of a concern, with exports minimal compared to other countries as well as the European Union.
The European Union has so far not banned cotton or tomato imports from Xinjiang, but it is drawing up a supply chain due diligence plan to restrict the flow of goods made
using forced labour into the market,
with a first draft expected later this year.
Xinjiang remains a major agricultural base and primary industries that harvest or extract raw materials still accounted for 14.4 per cent of gross domestic product (GDP) in 2020.
Textiles, food processing and metallurgy dominate industry in the region, but pillar industries – those that are the most important to the economy – are heavily concentrated on energy related sectors such as extraction of petroleum, petrochemical industries and electricity production.
Renewable energy has also developed quickly in the far-west region, accounting for 9.4 per cent of the total energy production in Xinjiang in 2019.
Unlike coastal provinces, Xinjiang's economy does not heavily rely on exports, which accounted for just 6.8 per cent of the province's GDP in the first half of 2021.
But the sanctions do seem to be casting a shadow on foreign investment into the region after it dropped by 34.7 per cent in 2020. Foreign investment into Xinjiang had plunged to decade-lows in 2017 and 2018 before surging by 61.5 per cent in 2019.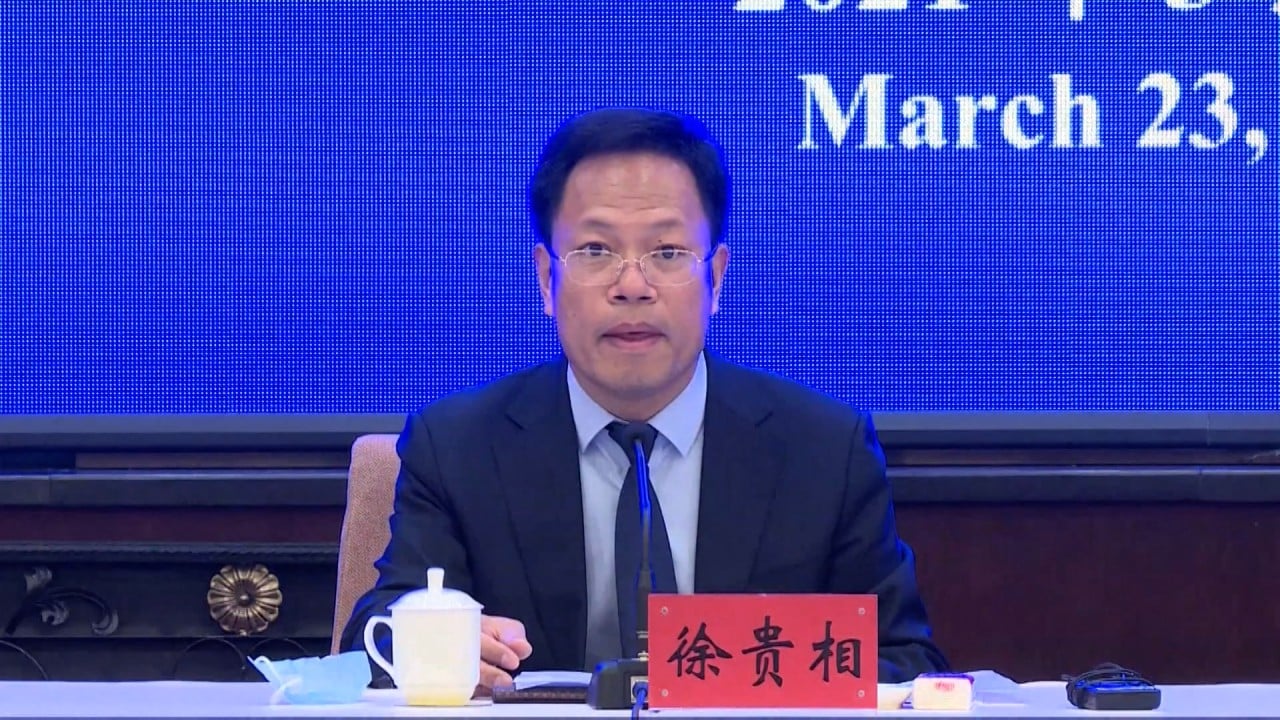 00:43
Xinjiang government condemns Western sanctions against China
Xinjiang government condemns Western sanctions against China
A total of 94 per cent of the foreign investment came via Hong Kong – which analysts said was mostly from Chinese state-owned enterprises – followed by South Korea and the Netherlands.
Around 90 per cent of the total utilised foreign investment flowed into the mining sector, followed by manufacturing, which attracted 5.8 per cent of the investment in 2019.
In 2020, newly signed contracts stood at US$451.49 million, representing a 87.4 per cent decrease from the previous year.
The Xinjiang government, though, stopped releasing foreign investment data this year, with the Statistic Bureau of Xinjiang, claiming the data is "confidential".
But despite investment in factories, roads and other fixed assets rising by 16.2 per cent in 2020 – the fastest growth across the country at more than five times the national average – Xinjiang's economy only grew by 3.4 per cent last year.
In the first half of 2021, fixed asset investment increased by 25.6 per cent – twice the national growth rate – but its economy only grew by 9.9 per cent.
Tourism remains a key industry driving economic growth in Xinjiang, with its share of the local GDP rising since 2014 and reaching 27 per cent in 2019, according to Beijing-based consulting firm chyxx.com.
However, Xinjiang's tourism revenue in 2020 fell by 73 per cent from the previous year due to the impact of the coronavirus.
"You can't look at the region from an economic point of view, because the central government has no expectations for it economically. It is actually a great burden for China, and Xinjiang is all about national and territorial security to the country," said Gu from the the Centre for Global Studies at the University of Bonn.
"Beijing supports the development of Xinjiang through central government transfers and the unique so-called pairing assistance scheme, but the purpose of the financial support is not to have Xinjiang suddenly become a very strong economic province, but for national security and territorial integrity."
From 2014 to 2019, the central government has poured more than 2 trillion yuan (US$310 billion) into Xinjiang, with the average annual rate of increase at 10 per cent, representing more than 30 per cent of the region's total GDP over the six years, according to the official Xinhua News Agency.
In addition, under the so-called pairing assistance scheme that started in 1997, a total of 19 cities and provinces from the country's most developed regions have together transferred 96 billion yuan (US$15 billion) into the region.
Meanwhile, the share of central government subsidies in Xinjiang's public budget expenditure has increased from 60.5 per cent in 2014 to 62.6 per cent in 2019, according to Xinjiang government data.
"As long as the Chinese communist regime and the country as a whole do not have a huge crisis, Beijing will certainly continue this approach, because there is no other better way," added Gu.
In 2011, Zhang Chunxian, the then-party secretary of Xinjiang, said economic development must "go hand in hand" with stability in the country's far-west, and if either was deferred, there would be "great trouble".
By all accounts, the central government was not pleased with Zhang's widely known "soft and flexible" approach in running Xinjiang and he was replaced by hardliner Chen Quanguo in 2016 despite having revived the "strike hard" approach while also inaugurating the "people's war on terror" in Xinjiang in 2014 after dozens of terror attacks occurred in the region between 2013 and 2014.
As terror attacks also spread to other provinces, including Yunnan and Beijing between 2013 and 2014, the central leadership turned Xinjiang's security into a national issue in 2015.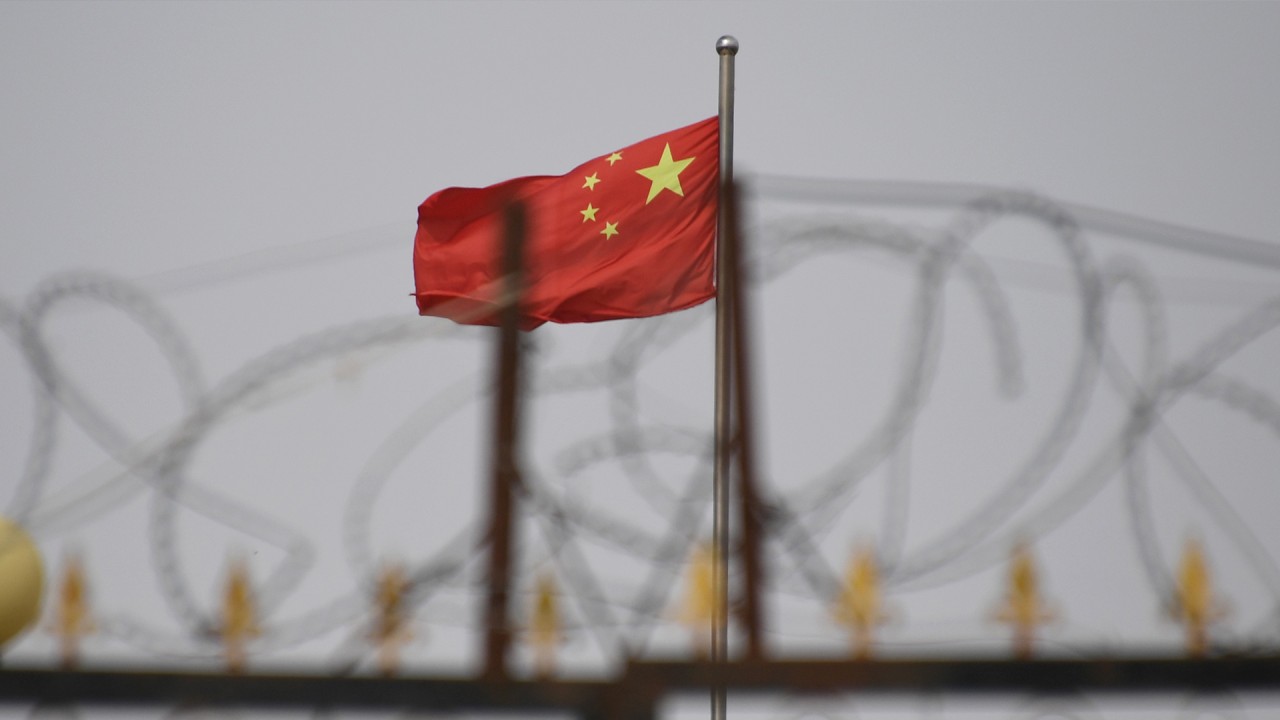 03:36
Beijing hits back at Western sanctions against China's alleged treatment of Uygur Muslims
Beijing hits back at Western sanctions against China's alleged treatment of Uygur Muslims
Also in 2014, the second Xinjiang work forum displaced the prior goal of economic development and enshrined "statibility maintenance" as the core of its policies.
Chinese officials insist that Xinjiang is prospering after launching industrial zones, pouring money into infrastructure and building new cities.
But the rise in Xinjiang's disposable income is much slower than in the rest of China, with the level at around a third of what is seen in the likes of Shanghai and Beijing, said Huang Tianlei, a research fellow with the Peterson Institute for International Economics.
Compared to the other poorer provinces across the country, Xinjiang's disposable income growth is also slower than the increases of 40 per cent, 26 per cent and 27 per cent for Tibet, Qinghai and Gansu, respectively. Qinghai's disposable income overtook Xinjiang's to reach 24,037 yuan (US$3,700) last year, Huang said.
In its latest five-year plan for the region, finalised in June, Beijing stressed the importance of basic manufacturing as it sees factories as the best source of steady, well-paid jobs.
In the name of poverty alleviation, from 2016 to 2020, authorities in Xinjiang transferred more than 2.75 million so-called surplus rural labourers into new jobs each year.
This includes moving workers from the ethnic minority populated south of Xinjiang, which borders central Asia, to the northern part of the province or local factories, and even from Xinjiang to other provinces. Last year, more than 3 million people were transferred to new jobs.
"Sending millions of labourers to the re-education camps for training is actually of little significance, because the training is not designed to adapt to the mainland labour market," said a Beijing-based independent political science expert, who asked not to be named due to the sensitivity of the matter.
"Xinjiang workers working in other provinces across the country are under the strict monitoring of the authorities, which is much similar to North Korea's labour exports to China. Rather than being used to earn labour income, it is an extension of the re-education camps."
Additional reporting by Karen Yeung