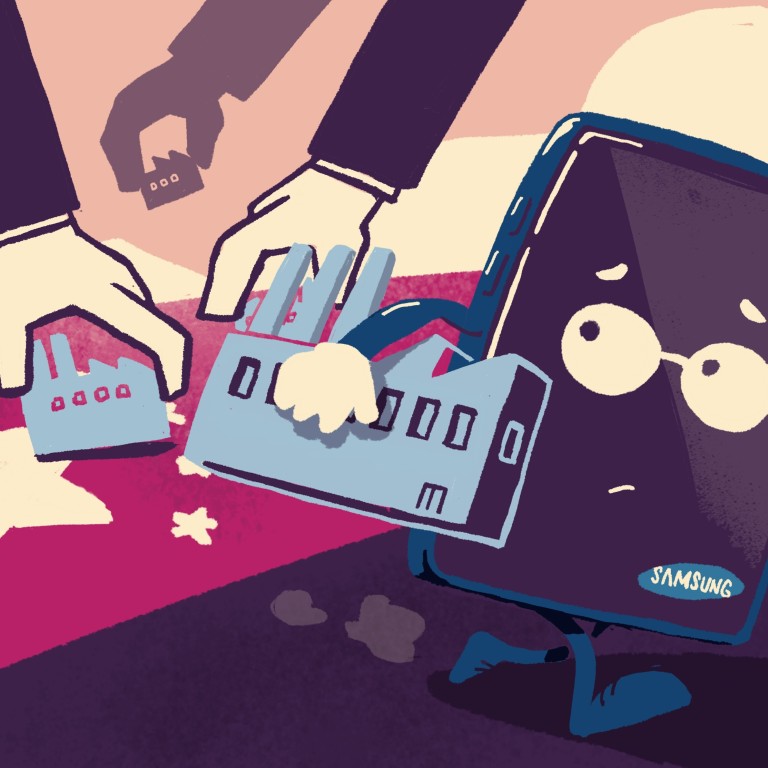 China manufacturing town is again buzzing after being crippled by Samsung's departure in 2019
Two years after Samsung closed its last smartphone factory in China, the abandoned community gets a second chance
Some foreign companies are rethinking or delaying plans to diversify production away from China, despite US tariffs
Li Dong is busy these days decorating his new barbecue restaurant in a northern Pearl River Delta community that is rumbling back to life two years after Samsung closed its smartphone factory that had operated there for almost three decades.
The South Korean electronics giant's decision to relocate its complex to Vietnam in October 2019
devastated the Jinxinda community
in Guangdong province's Huizhou city. It was also Samsung's last smartphone factory in China.
Nearby businesses – from shops to restaurants surrounding the compound – closed their doors, and local property prices plunged.
"Eight out of 10 rooms here were empty at that time, and we were all bemoaning that locals and their livelihoods wouldn't be able to make it without Samsung's factory," Li said. "But now you can see dozens of small and medium-sized restaurants are opening here."
And local landlords of "cramped and simple flats" are no longer hard-pressed to rent out their properties, he said. Instead, they are preparing for the arrival of thousands of workers.
The 120,000-square-metre (1.3 million sq ft) factory that once housed Samsung's operations still stands, but the company's giant blue logo has been replaced with that of TCL Tonly – a Chinese manufacturing services provider in the audiovisual products industry, a subsidiary of China's consumer electronics giant TCL Group that employs more than 75,000 employees globally.
A huge red banner, tens of metres long, stands out prominently, proclaiming: "Officially in production from July 5. Now hiring various positions."
Nearly four months into production, recruiters are still buzzing around like worker bees gathering up pollen.
"As long as you are healthy, you can start working for the factory tomorrow," one woman proclaims, hoping to entice applicants. "There are already 2,000 workers here, and we need more – cleaners, kitchen staff, warehouse keepers, quality inspectors, workers."
The speed at which workers are being hired there, relative to what might be possible in other countries that are still reeling from coronavirus-induced production shutdowns and outbreaks, begs the question of whether Samsung made the right call by shifting production to Vietnam months before most people first heard of Covid-19.
The Samsung factory's departure from Huizhou came at a time when the
trade war
between the US and China was in full swing under former US president Donald Trump. His
administration's trade policy, which used the scale of the US market and tariff policies to negotiate unilateral trade agreements with other countries, sought to make the global supply chain less dependent on China as the world's factory.
Two years on, Trump's trade tariffs remain on the books under President
Joe Biden
, while the coronavirus pandemic and other factors such as sky-high prices of raw materials have also taken a
heavy toll on Chinese manufacturing
.
However, the pace of supply-chain shifts away from China has been significantly slower than expected, and China has used this breathing room to seek more opportunities in trade and foreign affairs.
Whether decoupling benefits
the US bloc or China bloc
, observations on the ground show that supply-chain insiders remain very cautious and hesitant to relocate production, as those determining factors that appeared crucial not long ago are rapidly being overshadowed by new variables.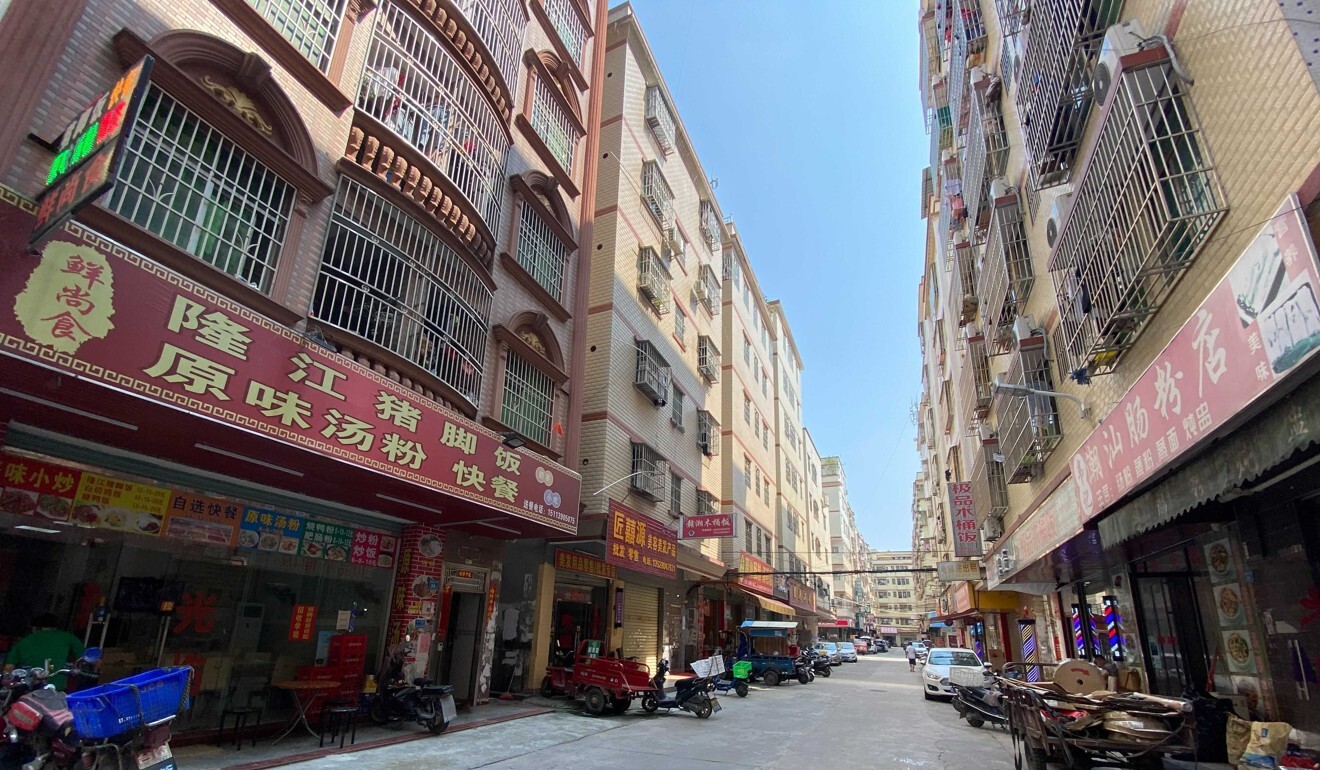 The trend of relocating production will continue in the long run, but at a much slower pace and momentum, according to Liu Kaiming, head of the Institute of Contemporary Observation, which was set up in 2001 and has partnered with many global brands and institutes to supervise working conditions in hundreds of factories across the mainland.
"Although multinational brand clients will require suppliers to prepare at least two production bases in the future – one in China and one outside China – the impact of the pandemic has [entrenched] the global supply chain, and there appears to be no end in sight," he said.
On the other hand, amid an
ongoing automation boom
, labour costs account for less than 10 per cent of the total costs in most industries in China, and the psychological impact of tariffs has also dropped significantly, according to Liu.
All of these factors are slowing down the relocation trend away from China, and they will continue to do so until the next major policy confrontation again forces Western customers to choose where to get their goods from, Liu said.
So far, China cannot be easily replaced by Southeast Asian economies, and China's production has remained robust during most of the pandemic. Last month, Apple supplier Foxconn
rushed to hire 200,000 more workers
at its sprawling manufacturing complex in the central Chinese city of Zhengzhou to produce the latest iPhones, while the coronavirus infection rates in India and Vietnam have affected iPhone production capacity.
"What I know is that the vast majority of those SMEs suppliers who have not yet implemented their relocation plans will cancel their plans," said Gao Zhendong, an investor and consultant who has been helping Chinese manufacturers explore industrial estates in Vietnam in recent years. "This is because those suppliers that relocated large proportions of their production capacity to Southeast Asia in the past couple of years actually have suffered heavy losses due to the pandemic, but those who did not move yet are seeing gorgeous order books."
He specifically pointed to factories he is familiar with in Vietnam, with 300-500 employees. "Their losses are generally up to about 30 per cent – like they made 10 million yuan in profits annually before the pandemic, but are now losing 3 million a year."
A senior executive at a footwear company that has factories in China, India and Vietnam also spoke on the matter, declining to give her name or that of her company due to the sensitivity of the issue.
"The companies that relocated over the past a few years have done so in response to two main factors: one is that international brands were requiring their suppliers to diversify their production capacity, and the other was that the manufacturers thought they were experiencing production problems in China that they couldn't solve, such as rising labour and tariff costs," she said.
"Even though they didn't have a thorough understanding of Southeast Asian countries such as India and Vietnam, they still wanted to give it a go. And at the time, the trend was that a growing number of orders were leaving China and going to places such as Vietnam and India.
"In terms of the unit cost, the last two years have resulted in a big rethink for the manufacturing industry – the Covid-led lockdown, decoupling, skyrocketing raw materials and logistics prices, not just labour costs for the plant. And it keeps changing with new variables. For example, given the current
common-prosperity strategy
in China, we are also closely monitoring and discussing whether this will further affect unit prices."
Some, such as Taiwan-invested Strategic Sports, have completely changed relocation plans. The helmet production company's facility in China's manufacturing hub of Dongguan, Guangdong, is in full swing. And there are plans to expand to a new automated factory in Huizhou – the same city that Samsung left – with 18 automated production lines to meet the rising demand for orders from throughout the world.
It's a significant shift from when Strategic Sports bought land in Vietnam in 2018 and planned to begin production there in the third quarter of 2020, to diversify operations.
"At that time [in 2018], American customers were repeatedly urging us to set up factories in Southeast Asia to increase production capacity outside China, with an eye on cushioning the impact of the continuing increase in tariffs," said Robert He, general manager of Strategic Sports' factory in Huizhou.
But since then, Strategic Sports has seen an increase in orders from the US, Europe, Japan, Korea, Brazil and Australia, He said.
He also noted that Strategic Sports' shipments this year are up 40 per cent compared with 2019. And with the new factory in Huizhou coming on line next year, the entire group will have 50 per cent more production capacity than in 2018, with 80 per cent of the production process being automated.
"Compared with 2018, the urgency of relocating to Vietnam has diminished … for our clients and us," He said. "We believe the US's tariff policy is expected to remain stable for a relatively long time, especially with US inflation climbing sharply."