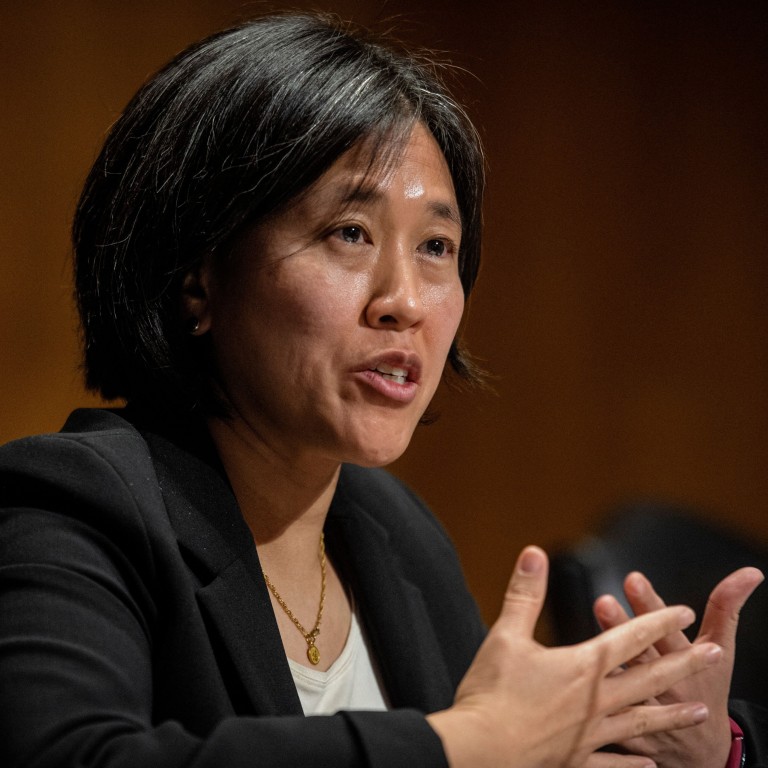 US-China trade: who will 'targeted tariff-exclusion process' help more, Chinese factories or American buyers?
Washington's approval process for tariff exemptions has been called opaque and inefficient under Donald Trump and Joe Biden, and most exemptions have expired
Trade analysts expect the Biden administration to put the interests of US industry ahead of bilateral trade, even if doing so helps some Chinese manufacturers
Some factories and industries in China will benefit from the Biden administration's upcoming "targeted tariff-exclusion process", but US policy is still more focused on supporting American companies than it is on strengthening bilateral trade, according to analysts.
In a speech on Monday outlining Washington's vision for
trade ties with China
, US Trade Representative (USTR) Katherine Tai also said that the Biden administration will "keep open the potential for additional exclusion processes", as some tariffs are causing significant commercial harm to US interests.
This marked Tai's first public statement since assuming her role at USTR on a significant policy area, but
she did not share much information
on what US-China trade policy will look like over the coming year and did not signal a shift in the overall trade policy towards China.
US stakeholders are typically permitted to petition for an exclusion if punitive tariffs placed on foreign products cause domestic commercial harm. Since former president Donald Trump slapped tariffs on imports of Chinese goods, companies have been filing requests to exclude certain Chinese products from punitive tariffs. Although there are three criteria for such an exemption, the process has come under scrutiny for not being transparent enough.
"There was a lot of criticism because US businesses couldn't really use it very well. Only about 13 per cent of exclusion process applications were successful in the past, and most of them have now expired," said Benjamin Kostrzewa, a Hong Kong-based trade lawyer with Hogan Lovells who worked on Tai's team.
Kostrzewa said the USTR has faced pressure from both Congress and also the Government Accountability Office to be less opaque and to have a more efficient exclusions process.
"There will be certain factories and industries in China that will benefit – whether it's products that you can only get in China, or because the supply chain is too complicated and you can't replicate it outside of China," Kostrzewa said.
"So, there may be some limited benefits for Chinese manufacturers, but overall the direction of the policy remains the same, which is to support US industry before bilateral trade."
Stephen Olson, a former trade negotiator with the USTR, said the move towards targeted exclusions reflects the simple fact that punitive tariffs slapped on trade partners can frequently cause as much, if not more, commercial damage to domestic interests.
While reducing or eliminating some tariffs is certainly better than the opposite, it remains to be seen if it will significantly de-escalate tensions between the two countries, said Olson, who is now a senior research fellow at the Hinrich Foundation.
"China is likely to see tariff exclusions as a move to placate US domestic commercial interests, and not as a favour being extended to China," he said.
"Our objective is not to inflame trade tensions with China," Tai said.
She added the phase-one trade deal didn't "meaningfully" address the fundamental concerns that the US has with China's trade practices and their "harmful impacts" on the US economy.
"In recent years, Beijing has doubled down on its state-centred economic system," she said. "It is increasingly clear that China's plans do not include meaningful reforms to address the concerns that have been shared by the United States and many other countries."
"We have a lot of work to do," she added.
On Monday, the Biden administration also offered a glimpse at its China policy following the announcements from senior officials that they will not lift tariffs on Chinese goods and will hold Beijing "accountable" for trade commitments previously agreed upon during the Trump administration.
Kelly Ann Shaw, a former senior trade adviser to Trump and a partner in Hogan Lovells' international trade practice, said this was "one of the most significant updates" on the phase-one trade deal.
"Negotiating with China on phase one and other core issues referenced by ambassador Tai won't be easy. It's a long road ahead for Biden's economic team and industry shouldn't expect near-term results or an easing of the tariffs anytime soon," said Shaw, who was one of the negotiators of the phase-one trade deal.
While Tai's speech offered little insight into what US-China trade policy may look like by this time next year, there appears to be a broad, bipartisan consensus in the US that Washington needs to be tough on China, and that tariffs are a valuable tool in that objective.
"No one has come up with a better approach," Shaw said. "Some might be looking for stronger action on China, but it's impossible to satisfy everyone."
"China will make reforms in ways that it sees as beneficial to itself," Kostrzewa said. "Tai announced that there will be new talks on the status of the phase-one deal, but chances of a phase-two trade deal happening any time soon are very low."