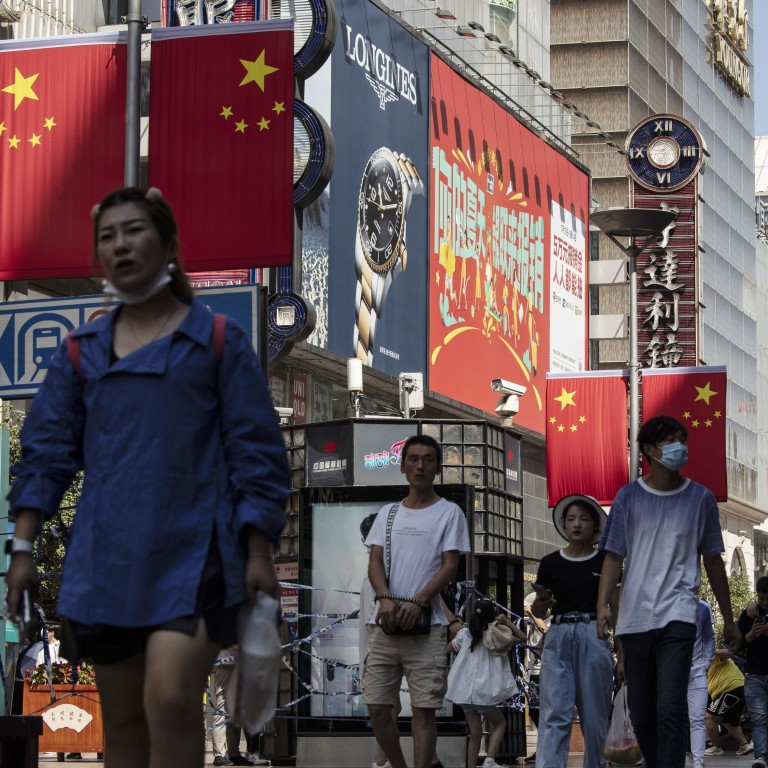 China's 'golden week' travel spending down 40 per cent from pre-pandemic level, and worse than last year's
Local outbreaks of the coronavirus Delta variant across the country scared many consumers into staying home or not travelling as far
Total number of trips was also down compared with last year's holiday period, and they plunged by 30 per cent compared with 2019
Travel and holiday spending during China's just-ended "golden week" national holiday fell against prior years, not just due to travel restrictions triggered by recent coronavirus outbreaks, but because of what industry insiders say is a dwindling desire among consumers to open their wallets amid falling incomes and depreciating property values.
While pandemic outbreaks – and their psychological impact on consumers who fear getting sick – appeared to be the driving force behind the fall in recreational consumption in the week-long holiday that ended on Thursday, many consumers also say they have been spooked by broader weaknesses in China's economy.
Tina Chen, an operations manager in Guangzhou who usually takes an annual holiday during the golden week, abandoned those plans this year. She said she was concerned by increased taxes and headwinds in the property sector that have fuelled a drop in property prices.
Many Chinese middle-class consumers such as Chen say these concerns outweighed the impact of the pandemic on their willingness to spend.
"My monthly salary has not increased in the past three years, but tax-related charges, such as social insurance contributions and personal income taxes, are rising sharply," Chen said. "I feel that my income has shrunk a lot this year, and looks even worse ahead."
Social insurance contributions in Guangzhou, where Chen lives, have risen since July. Contributions by employers and employees have risen by 16 per cent and 17 per cent, respectively. And state revenue from individual income taxes has also increased since last year.
"I just think I must spend less and save more for future mortgage repayments," Chen said.
Overall, travel spending during this year's holiday was 40 per cent lower than in 2019 before the pandemic hit, and 4.7 per cent lower than last year, data from the Ministry of Culture and Tourism shows.
The number of trips taken also fell 30 per cent and 1.5 per cent, compared with 2019 and 2020, respectively.
Going as far back as five years, Chinese travel spending and the total number of trips taken during the golden week holiday had respectively fallen by 13.2 per cent and 19.3 per cent, calculations based on government data show.
Outbreaks of the coronavirus Delta variant, including those that started in Nanjing and Fujian provinces in recent months, were among the major reasons for this year's reduced consumption, said Zou Tongxuan, dean of the China Tourism Academy, a Beijing-based research institution.
And Zhou Mingqi, founder of tourism industry consultancy Jingjian Thinktank, said a drop in per capita spending, including among tourists, could also reflect a broader "economic decline".
"Because travel is an optional expense, when the economy is under pressure, people with lower incomes will spend much less on travel," Zhou said, adding that the pandemic could become the new norm, and that the travel industry could remain under considerable pressure in the foreseeable future.
Reports from several online booking services show holidaymakers have preferred shorter road trips or local trips over long- distance trips this year.
The country's railway system handled 8.3 million passengers during the seven-day holiday, 19.3 per cent down from 2019 and 2.9 per cent down from 2020. And the domestic air travel system handled a total of 9.31 million passengers, a 26.9 per cent decrease from 2019 and 19.7 per cent drop from 2020, according to Ministry of Transport data.
Guangdong province also saw 5 million fewer tourists and a 12 billion yuan (US$1.86 billion) decrease in travel revenue compared with the year-ago holiday period, and an even more severe decline compared with pre-coronavirus 2019.
Guizhou province reportedly pulled in 31.47 billion yuan in travel revenue this year – far less than the 43.41 billion yuan it made in 2019.
There was a similarly dim outlook for Wuzhen, the historic scenic town near Shanghai and Suzhou that used to be packed with tourists during holidays.
"Despite a long-awaited tourist boom during the golden week, the peak [number of tourists] is still down by more than half, compared with pre-pandemic levels," Chen Xianghong, CEO of Wuzhen Travel, the company that operates the tourist town, said on social media on Monday.
There were some outliers, but the downward trend dominated.
Beijing was the top destination during the holidays, thanks to its newly opened Universal Studios. It posted a 15 per cent increase in holiday spending revenue compared with last year, almost returning it to pre-pandemic levels in 2019.
Other big cities such as Shanghai and Xian also posted similar recoveries.
Meanwhile, China's hospitality sector suffered from a quickening growth slowdown from various demand and supply shocks, as well as from Beijing's "zero-Covid" strategy, which could be increasingly costly for the economy, said Lu Ting, chief China economist with Nomura.
"Although we expect retail sales growth to rise slightly in September, driven by the release of pent-up demand following the previous Covid-19 waves from July-August, sluggish golden week data bodes poorly for retail sales growth in October," Lu said. "We expect Beijing to ramp up its monetary and fiscal support, but these will likely be insufficient to reverse the ongoing growth downtrend."
Additional reporting by Su-Lin Tan