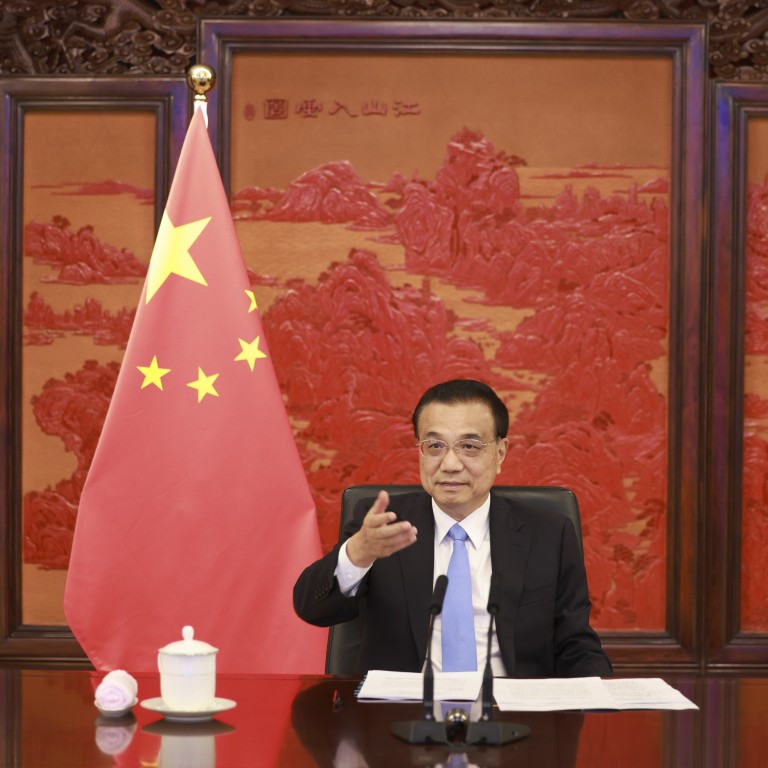 China power crisis: Premier Li warns provinces not to 'jump the gun' by cutting electricity to homes
China's No 2 figure, Li Keqiang, reinforces importance of energy security, but says cutting power is not only way to meet carbon-emission targets
Comments come at a high-level meeting of the National Energy Commission as nation struggles to address a widespread power shortage that is affecting livelihoods and threatening economic growth
Chinese Premier Li Keqiang has reinforced the importance of an "orderly" nationwide move towards meeting carbon-reduction targets, while chastising local provincial governments for cutting off power in a "one-size-fits-all" approach towards meeting those targets.
Li's comments came over the weekend at a gathering of the National Energy Commission that marked the highest-level meeting this year concerning China's coal supply and
carbon neutrality goals
.
Also in attendance were all four of China's vice-premiers, as well as He Lifeng, chairman of the National Development and Reform Commission (NDRC) – the state economic planner that is solely in charge of China's electricity-pricing mechanism.
Li said the provincial governments' scramble to meet
Beijing's emissions targets
in the past two months led to chaos amid widespread power rationing, which has heavily disrupted economic activities and could continue into the freezing winter months.
"Carbon peaking and neutrality … require long-term hard work," Li, China's No 2 figure, was quoted by the official Xinhua as saying at the meeting. "Development remains the key to all of the problems [China is facing], while the supply shortage is now the biggest energy insecurity."
Li has previously made calls to ensure China's energy security.
"We must have all-round considerations and arrangements for the nation as a whole, and [provinces] must not jump the gun.
"We must rectify the local, non-discretionary implementation of power restrictions, production cuts or campaign-like carbon reductions, to ensure a warm winter for people in the northern regions, [while] guaranteeing the stability of industrial chains and the steady development of the national economy."
In the past two months, power rationing has been imposed on more than half the country, including households, and many provinces have rushed to restrict production across energy-intensive industries, including producers of steel and aluminium. China experiences power shortages from time to time, but the severity of this one was highlighted by its impact on residential users.
Following Li's comments, the NDRC on Tuesday announced plans to liberalise the state-controlled power market for industrial and commercial users, allowing them to buy power at market rates, and thereby giving power companies a profit boost while incentivising them to generate more electricity.
Li stressed that energy security was important, but he also said cutting power was not the only way to meet carbon-emission targets. He urged provincial governments to review the transformation of their power mix, including by looking into more oil and gas exploration and methane production.
At the meeting, the National Energy Commission also agreed to make "careful calculations" of China's coal supply and power demand needs.
The decades-long endeavour, estimated to cost more than 100 trillion yuan (US$15.5 trillion), has already affected the local supply of coal and thermal power this year, with a reduction in mining activities.
Zhou Hao, a senior emerging markets economist with Commerzbank, said China is certainly facing some problems with its energy supply, but the country is not alone, as it is part of a global green effort.
"It's more of a political issue than an economic one," he said. "However, it's an opportunity for China to examine how much cost it will face and be willing to take in the pursuit of green development."
Last week, Li also announced that electricity prices would be allowed to rise by as much as 20 per cent against NDRC's benchmarks, compared with a current cap of 10 per cent. The NDRC implemented those measures in the reforms announced on Tuesday.
Additional reporting by Su-Lin Tan