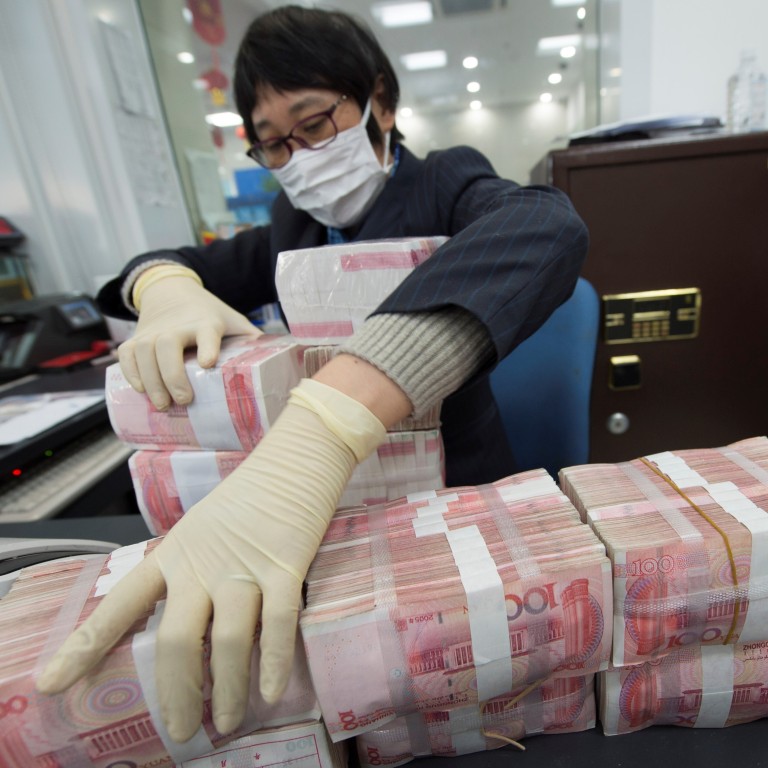 Evergrande crisis weighs on China's credit growth as financing, lending activities cool
Aggregate financing was 2.9 trillion yuan (US$449 billion), the People's Bank of China (PBOC) said on Wednesday, compared to 2.96 trillion yuan in August
Financial institutions offered 1.66 trillion yuan of new loans, up from 1.22 trillion yuan in August, after Economists had projected 1.81 trillion yuan
China's credit growth slowed in September, as weakness in the property market amid the Evergrande crisis weighed on financing and lending activities, despite the central bank's call to stabilise credit expansion.
Aggregate financing was 2.9 trillion yuan (US$449 billion), the People's Bank of China (PBOC) said on Wednesday. That compares to 2.96 trillion yuan in August and 3.47 trillion yuan in September last year.
The median estimate in a Bloomberg survey of economists was for 3.05 trillion yuan in aggregate financing last month.
Financial institutions offered 1.66 trillion yuan of new loans in the month, up from 1.22 trillion yuan in August. Economists had projected 1.81 trillion yuan.
The slump is mainly a result of tightened financing to the property sector and reduced shadow banking activities related to the industry, according to Zhou Hao, senior emerging markets economist at Commerzbank AG.
China's major developers saw their sales plunge in September, after home sales in big cities dropped in August, and while Zhou says the weaker growth was "within expectations," he predicts the PBOC will make a small cut to the benchmark interest rate in October.
The central bank reiterated last month that overall credit growth will become more stable to keep the macro leverage ratio steady, after credit expansion slowed significantly this year in part due to last year's high base.
The PBOC also urged financial institutions to help local governments stabilise the rapidly cooling housing market and make mortgages easier to get for some homebuyers, in a sign that regulators are trying to ring fence the
fallout of China Evergrande Group's debt crisis.
The slowing economic recovery from the coronavirus pandemic is also reflected in weakening borrowing demand.
Overall loan demand declined for the second straight quarter in the June-to-September period to the lowest level since the first quarter of 2020, according to a gauge compiled by the PBOC based on a survey on 3,200 banks across the country.
In September, broad M2 money supply grew 8.3 per cent, faster than the previous month's pace of 8.2 per cent, while the stock of outstanding yuan loans rose to 188.4 trillion yuan (US$29.2 trillion) from 186.7 trillion yuan.
"Broad credit growth continued to slide in September and is now at its slowest pace since December 2005. As PBOC policy turns more supportive in response to strains in the property sector, we think credit growth will level off in the coming quarters. But the usual lags mean that tight credit conditions will remain a headwind to economic activity for a while," said Julian Evans-Pritchard, senior China economist at Capital Economics.
"So far, the dovish signal from the PBOC's surprise
[reserve requirement ratio] cut in July
has not been followed up with much meaningful monetary easing – interbank rates have held broadly steady in recent months. But that may soon change amid mounting concerns about the economic outlook and the property sector in particular.
"We expect policy rate cuts and additional [reserve requirement ratio] reductions before long. If we're right, then credit growth will likely halt its decline in the coming quarters. That said, we think a sharp rebound is unlikely.
"In China, the binding constraints on credit are quantitative. Policymakers want to make it easier for highly-indebted firms to service their debt, but they want to rein in leverage too. It would probably take a much more pronounced deterioration in economic activity before the PBOC embarks on another round of credit-led stimulus."