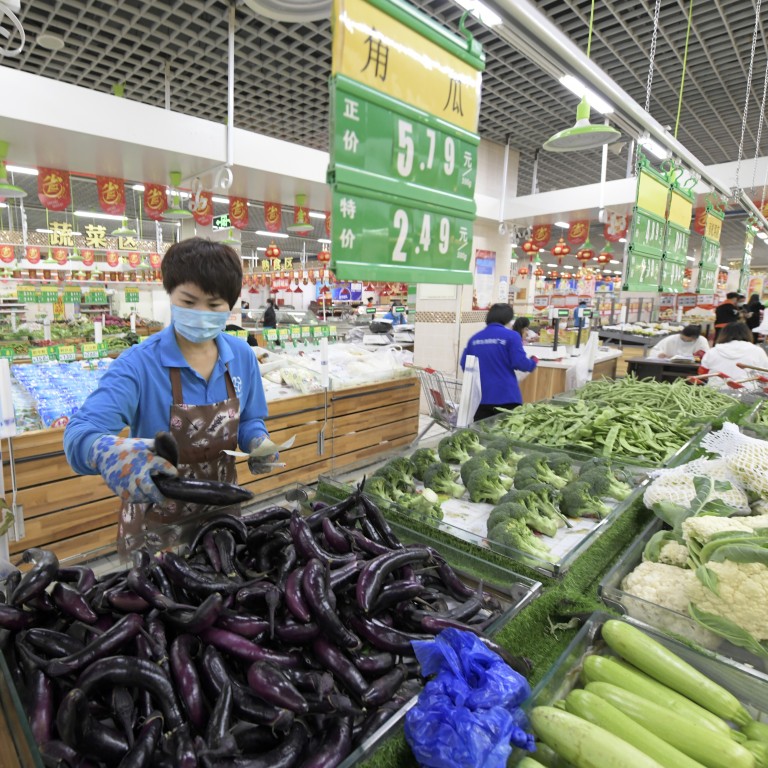 China inflation: factory-gate prices rise at fastest pace on record due to surging coal costs amid power crisis
China's official producer price index (PPI) rose by 10.7 per cent in September from a year earlier, compared with 9.5 per cent in August
The consumer price index (CPI) rose by 0.7 per cent in September from a year earlier, compared with a 0.8 per cent rise in August
**Editors note: since this story was published, China's National Bureau of Statistics (NBS)  updated its database with more historical data. Data before October 1996 had been unavailable until the update pushed the available records back to January 1993. Given the update, the producer price index (PPI) reading for September was not an all-time high.**
Factory-gate inflation in China rose to the highest level on record in September, data released on Thursday showed.
The producer price index (PPI), which reflects the prices factories charge wholesalers for their products, rose by 10.7 per cent in September from a year earlier, up from a
gain of 9.5 per cent in August,
the National Bureau of Statistics (NBS) said.
This was above expectations of analysts in a Bloomberg survey, who had predicted a rise to 10.5 per cent.
The reading in September is the highest since the start of the NBS database in October 1996 after the index hit 10.0 in August 2008 and 10.1 the following month.
The increase was largely driven by a 74.9 per cent year on year rise in the
coal mining
sector in September, up from a rise of 57.1 per cent in August.
"In September, affected by factors such as rising prices of coal and some energy-intensive industries, the price increase of industrial products continued to expand," said NBS spokeswoman Dong Lijuan, who added that among 40 industrial sectors surveyed, 36 saw price hikes.
China's official consumer price index (CPI), meanwhile, rose by 0.7 per cent in September from a year earlier, down from a rise of 0.8 per cent in August, the NBS said.
This was below the Bloomberg survey median, which had predicted an unchanged reading.
"In September, supply and demand in the consumer market were basically stable, and prices were generally stable," added Dong.
But China's energy crisis
is now adding further pressure, with economists warning that Beijing's decision to allow electricity prices to rise to ease the worsening crisis will add to inflation pressures at the same time the economy is slowing.
The State Council, China's cabinet, said last week that power prices will be
allowed to rise
by as much as 20 per cent against a benchmark, double the level of the current cap, a move that would make it profitable for electricity producers to boost supply, while also curbing users' demand.
Nomura Holdings' chief China economist, Lu Ting, estimated the impact on CPI could be about 0.4 percentage points, while Michelle Lam, greater China economist at Societe Generale, projected a 0.1 percentage point increase in CPI.
But the effect on PPI could be bigger, given higher costs for energy-intensive industries. Analysts led by Sun Binbin at Tianfeng Securities said in a report at the weekend that the power hikes could result in a 1 per cent rise in PPI and 0.5 per cent increase in CPI.
"The pressure for manufacturers to pass on price increases downstream is increasing," said Bruce Pang, head of macro and strategy research at China Renaissance Securities Hong Kong.
Factory inflation is likely to remain elevated in the coming months, with the full-year increase in PPI likely to reach over 9 per cent, he said. In 2020, China's full year PPI decreased by 1.8 per cent compared to the previous year, while in 2019, it decreased by 0.3 per cent from a year earlier.
The worsening inflation outlook comes alongside a deterioration in economic growth this year given sluggish consumer demand, tighter property curbs and worsening energy shortages.
Consumer inflation has been benign so far this year having fallen to minus 0.3 per cent in January from a year earlier, in part thanks to falling pork prices and greater competition among downstream businesses.
China's core consumer inflation rate, excluding volatile food and energy prices, rose by 1.2 per cent in September compared with a year earlier, unchanged from August.
Food prices fell by 5.2 per cent from a year earlier in September, down from a fall of 4.1 per cent in August.
Non-food prices rose by 2 per cent in September, year on year, up from a reading of 1.9 per cent in August. The price of pork – a staple meat on Chinese plates – fell by 46.9 per cent compared with a year earlier in September.
Additional reporting by Bloomberg