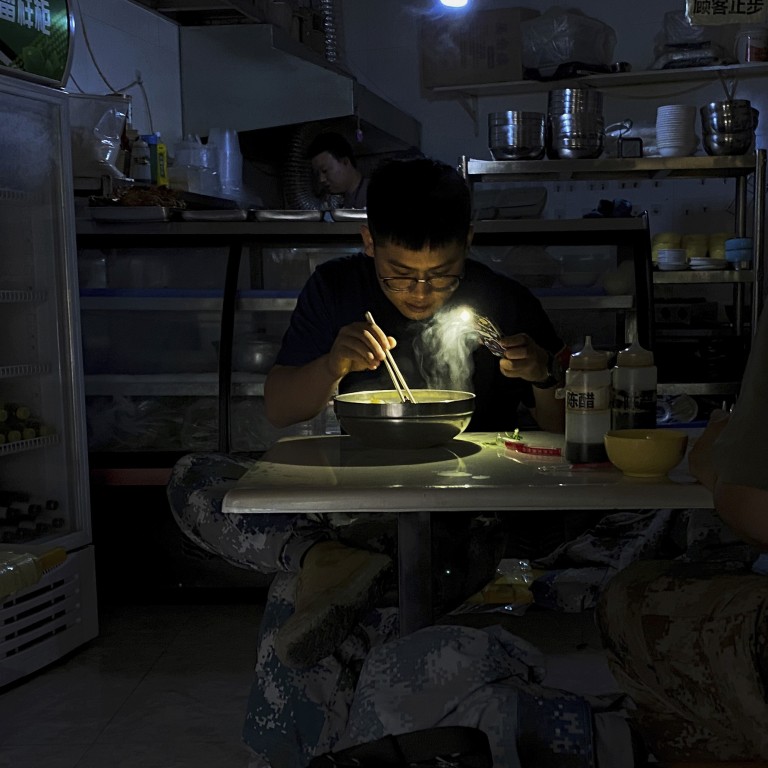 How China's power crunch creates chaos, uncertainty in hardest-hit northeast rust belt
Residents are pleading for more to be done as businesses shut down and authorities vow to address the problem
After poor planning by local governments and grid operators, a severe shortage of coal continues to fuel questions about when rolling blackouts will end
A decision by the regional grid operator to suddenly cut off his power late last month sent a Dandong fishmonger into a panic, mulling whether he would have to give away his seafood before it went bad.
The outage was relatively brief for Mr Wang – a few hours – but for a business owner whose livelihood depends on freezers, power outages can have an immediate and dangerous impact.
"I had to sell all my seafood at much lower prices on the next day," Mr Wang lamented from his coastal hometown in the northeastern province of Liaoning.
The power situation was even worse for his uncle, a farmer living in a village on the outskirts of Dandong. On two separate days during the weeklong National Day holiday earlier this month, electricity was cut off in the village from 6am to 10pm.
While more than half of China's provincial jurisdictions have imposed strict power-rationing measures to address a critical energy shortage that has swept the nation, the crisis in the nation's northeast has been more debilitating. Other parts of the country have mostly adopted planned electricity cuts, with advance notice given to industrial users.
But for millions of households across northeastern China, including the Wangs, the unpredictability of the blackouts since last month has made it difficult to prepare for them or mitigate their impact, wreaking havoc on their lives.
The northeast branch of the State Grid, China's state-owned electric utility corporation, said it had no choice but to adopt rolling blackouts in the northeastern provinces of Liaoning, Jilin and Heilongjiang to prevent the grid from collapsing.
"When rolling blackouts take place, the electricity of an entire section, which generally covers a town, is usually cut off for five to six hours, regardless of whether it's for traffic lights or whatever else," said a Liaoning-based employee at the State Grid who spoke on condition of anonymity.
A severe shortage of coal is the main reason for the energy crisis in the rust belt region, while poor planning by local governments and grid operators is also to blame, according to industry insiders.
Although the coal shortage is a nationwide problem, it is even more prominent in the northeast, which is one of the coldest parts of the country and relies heavily on coal for both electricity and warmth in the winter months.
In the northeast, the chaos from power cuts may have been amplified because of outdated "sequence tables" that the grid operator uses to more precisely control power rationing, according to the State Grid employee. Because they had not been updated, this resulted in simultaneous blackouts that affected both critical and non-critical power users all at once, the source explained.
"Since then, local authorities have been updating [those systems] to avoid cutting off lines that contain important loads, such as metal plants and hospitals, where an outage could cause major property damage or casualties," he said.
Meanwhile, power generation from wind farms – another increasingly important source of power for the northeastern region – has taken a hit due to a lack of wind, according to local authorities.
But the bulk of the region's power still comes from burning thermal coal, which saw its price skyrocket to record highs in recent weeks amid surging demand. The State Grid employee said power plants had been losing more than 0.1 yuan (1.6 US cents) for every kilowatt of electricity generated. A 100 watt light bulb uses 0.1 kilowatts per hour.
Meanwhile, Liaoning's coal situation has improved, according to the National Development and Reform Commission (NDRC), which said on Monday that the thermal coal inventory in the region was at 2.36 million tonnes, up from 1.89 million tonnes in mid-September.
Apart from the dearth of coal, insufficient restrictions on industrial power also contributed to the depletion that has spilled over to households and resulted in perhaps the worst series of blackouts the region has seen in at least two decades. After many angry and confused residents took their complaints to social media in late September, local authorities sped up the restrictions on some specific energy-intensive industries.
Posts with the hashtag #northeastpowercut continued to appear this week on Weibo, China's Twitter-like social media platform.
"Wasn't it said that the household electricity wouldn't be restricted as much as possible? Why is the power cut again …" asked a Weibo user in Heilongjiang.
Another user in Jilin wrote: "Can they at least issue some kind of advanced notice [of power cuts]? No more surprise attacks, please."
This article appeared in the South China Morning Post print edition as: Power crunch at its worst in Northeastern rust belt