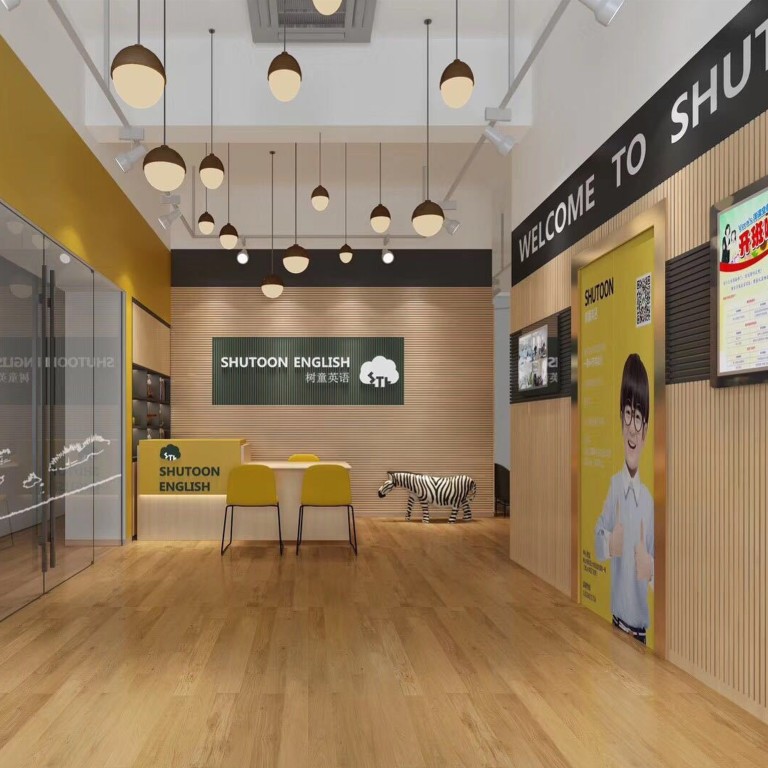 China's education crackdown sparks lawsuits against defunct institutions, while some tutors keep teaching in secret
Beijing brought the hammer down on for-profit education providers over the summer, and the shock waves continue as more companies are closing their doors
Some investors are also facing massive losses after spending millions in hopes of cashing in on China's once-lucrative education industry
Many private English teachers who remain in China are keeping a low profile amid
China's ongoing crackdown
on off-campus education, and a number of private institutions remain stuck in an operational quagmire – saying they are unable to refund customers or provide back pay to employees and teachers.
Several middle-class families from across China, including in provinces such as Guangdong, Sichuan, and Hubei, have filed lawsuits through local courts against a 22-year-old ESL (English as a second language) chain that suddenly closed several branches in the past few weeks, leaving parents angry and out large sums of prepaid tuition.
Shutoon English International and its more than 230 schools across China are buckling under China's new regulations. In one of the complaints read by the Post, hundreds of parents in Guangzhou are suing the founder of the brand and other executives, demanding refunds ranging from around 10,000 yuan (US$1,550) to more than 100,000 yuan for each child.
Since the central government's ban on off-campus tutoring, many Children have been unable to attend Shutoon's classes. Meanwhile, investors who have backed the brand say their finances are in trouble.
"Just one branch in Guangzhou's Yuexiu district involves 1,500 students and more than 30 million yuan (US$4.7 million) in unrefunded fees," said Zhang Rong, who has an eight-year-old daughter.
Shutoon was unavailable for comment on Friday.
Other educational institutions
have also been crippled
by the government's crackdown, leaving them unable to continue offering services or repay customers. OneSmart International Education Group said on Tuesday that its board of directors was suspending all of the company's education programmes and learning centres in China, primarily due to challenges posed by the recent changes in China's regulatory landscape and the resulting operational difficulties facing the company.
And in late August, the China-based operations for Wall Street English – one of the world's largest English-tutoring firms, with about 3 million alumni and annual enrolments of roughly 180,000 students – filed for bankruptcy. The company is now owned by Baring Private Equity Asia and Citic Capital, which sold the China division to Wall Street English's founder, Luigi Tiziano Peccenini, last year.
One investor in Shutoon said he spent 2 million yuan to open a centre in Guangdong earlier this year. He said he was enticed by Shutoon's ambitious plan to open 1,000 schools nationwide and launch an IPO within five years, particularly as up to US$10 billion yuan in venture capital poured into China's ed-tech sector last year alone. The massive cash flow spawned hundreds of start-ups, apps and ed-tech platforms providing everything from K-12 tutoring to elementary mathematics, language skills and music.
But Shutoon's ambitions came to an abrupt end this summer.
The State Council, China's top administrative body, announced its crackdown on the private tutoring industry
in late July
– forcing these companies to register as non-profit organisations, banning approvals for new companies, and making it illegal for them to receive foreign investment.
It also banned tutoring on weekends, public holidays and school holidays. In addition, in August, China's education authorities terminated 286 cooperative programmes between Chinese and foreign universities as part of a routine assessment of collaborative arrangements with foreign institutions, including City University London, New York University and the University of Hong Kong.
Most of the private education institutes and schools had been hiring a large number of foreigners as English teachers – online and offline. According to official statistics from the State Administration of Foreign Experts Affairs, more than 400,000 foreigners were working in China's education industry in 2017.
But many who remain have lost their jobs – including part-time and full-time positions – and even their work visas that allowed them to stay in China. Massive lay-offs are taking place in China's private education sector. Those who have shed staff include New York-listed Gaotu Group, formerly known as GSX Techedu; New Oriental Education and Technology Group; TAL Education Group; ByteDance; Zuoyebang; and Yuanfudao.
On Facebook, which is banned in mainland China but accessible with a VPN, a public group with more than 30,000 members – called Hired Online ESL Teachers with Job Reviews – saw several posts related to tutors who have worked in China, some for years.
"For many of us, our journey with Chinese students may be over. But let's celebrate the work we've done! How many classes have you taught to the Chinese market," one person wrote in a post that received a flurry of replies.
"3,490 classes in 849 days to 619 students," one said.
"15,274 classes to 2,839 students in 1,499 days," another wrote.
The Post contacted several qualified ESL teachers who are still helping students in China, but none were willing to comment, for fear of backlash.
Indeed, the black market for tutoring is expected to soar in China, particularly among wealthy middle- and upper-class families who can afford to pay a premium to give their children an advantage.
One mother in Shenzhen said her son's English teacher is leaving China because of the new regulations, but she intends to keep allowing her son to learn from his teacher online.
"Learning English is vital for my children, especially from a foreign teacher who can give them insight into Western culture and society and even help them learn to think more critically," the mother said. "This is what local public schools cannot offer.
"Some native-speaking foreigners are also still part-time tutoring. They even earn much more … because of the authorities' crackdown. The demand is huge."
Not all tutors are able to stay, however. And others are not willing to take the risk of working in a profession that has been banned.
"I worked almost five years in China as a teacher," said a Canadian woman in Guangdong who declined to give her name. "I can speak Chinese – not really good, but enough for kids … I had a lot of students, and my heart is crying because I need to leave."
She left China on Friday.
"I was trying to renew my job visa but was rejected," she lamented, adding that she was not given a reason, but assumes it was because of the new crackdown. "Maybe it is just time to go back home, because I have not seen my family for more than two years, since before the coronavirus started here. That's OK, but I want to keep my students with me. I want to continue because I know that kids in China really want to learn English."
She said she plans on keeping in touch with them when she returns to Canada, but it won't be the same.
This article appeared in the South China Morning Post print edition as: tutors, investors, parents count cost of crackdown