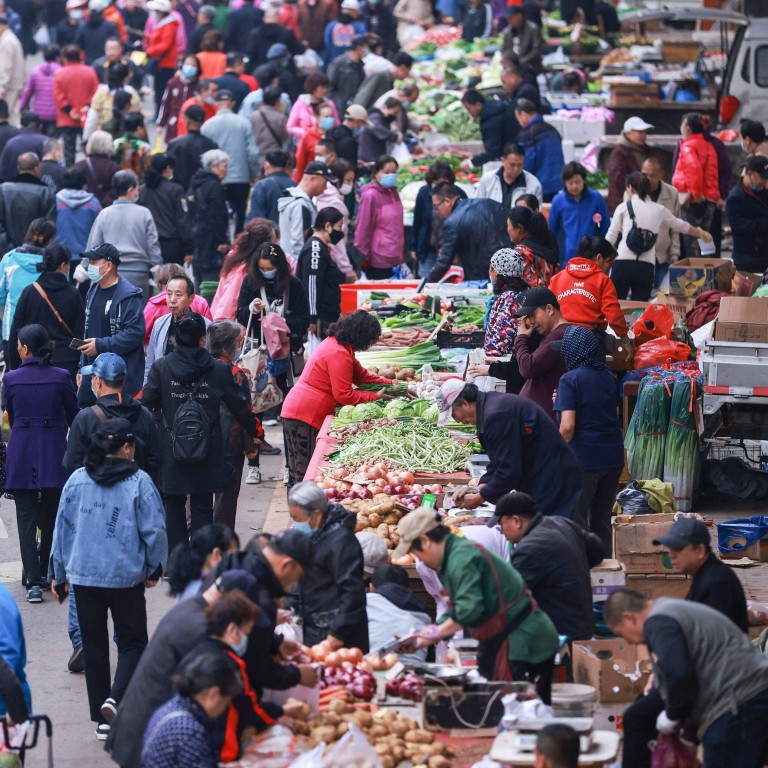 China GDP: economic recovery stalls, growth slows to 4.9 per cent in third quarter
China's economy grew by 4.9 per cent in the third quarter of 2021 compared with a year earlier, down from the 7.9 per cent growth seen in the second quarter
Retail sales and industrial production rose by 4.4 per cent and 3.1 per cent, respectively, in September from a year earlier
China's economy grew by 4.9 per cent in the third quarter of 2021 compared with a year earlier, the National Bureau of Statistics (NBS) announced on Monday.
This was just below expectations in the median survey of Bloomberg analysts, which had predicted 5 per cent growth between July and September, and down from the second quarter growth rate of
7.9 per cent.
It is the weakest pace since China's economy grew by
4.9 per cent
in the third quarter of 2020.
China's economy had staged an impressive recovery from the impact of the coronavirus, but is now faced with numerous headwinds, including a property slump,
energy crisis,
weak consumer sentiment and soaring raw material costs.
Some analysts had said China's third-quarter economic growth could drop to as
low as 4.9 per cent,
with others predicting growth as high as 5.2 per cent.
In the first three quarters of the year, China's economy grew by 9.8 per cent, year on year.
Consumption contributed around 64.8 per cent to China's economic growth in the first three quarters of the year, investment around 15.6 per cent and exports around 19.5 per cent, said NBS spokesman Fu Linghui.
"The overall national economy maintained the recovery momentum in the first three quarters … however, we must note that the current uncertainties in the international environment are mounting, and the domestic economic recovery is still unstable and uneven," Fu said.
Last week,
Premier Li Keqiang said
China had "adequate tools" to tackle the economic challenges facing the country, including the nation's current power crisis and high commodity prices.
However, analysts still expect growth to easily surpass that target, growing by more than 8 per cent this year despite the current pressures.
In other figures released by the NBS on Monday, industrial production, a gauge of activity in the manufacturing, mining and utilities sectors, grew by 3.1 per cent in September from a year earlier after a
5.3 per cent rise in August.
This was below the median forecast of the Bloomberg survey for a rise of 3.9 per cent.
Retail sales, a key measurement of consumer spending in the world's most populous nation, grew by 4.4 per cent in September, up from the 2.5 per cent increase in August, and above the projection for a 3.5 per cent rise estimated in the Bloomberg survey.
Fixed-asset investment – a gauge of expenditures on items including infrastructure, property, machinery and equipment – grew by 7.3 per cent in the January-September period compared with a year earlier. For the January-August period, fixed-asset investment had been up 8.9 per cent.
The surveyed jobless rate, an imperfect measurement of unemployment in China that does not include figures for the tens of millions of the nation's migrant workers, stood at 4.9 per cent in September from 5.1 per cent in August.
"The third-quarter data showed further signs that the
risk of stagflation is rising.
[Gross domestic product] growth, year on year, dropped below 5 per cent. The quarter-on-quarter growth dropped to 0.2 per cent. The quarter-on-quarter growth is at the slowest level except for the first quarter of last year when Covid broke out," said Zhang Zhiwei, chief economist at Pinpoint Asset Management.
"Yet, the unemployment rate declined, which is puzzling. This suggests the government may not feel the urgency to launch stimulus and boost growth. The [People's Bank of China] press conference last week also sent signals indicating that monetary policy stance will not change significantly. Without a meaningful policy change, growth in the fourth quarter will likely slow further."
China has set a target of creating 11 million new urban jobs and a surveyed urban unemployment rate of 5.5 per cent for this year.
According to figures released Monday, China created 10.45 million new urban jobs in the first nine months of the year, achieving 95 per cent of the annual target.
"The Covid-19 recurrence, supply-chain disruptions and power strains have weighed on economic activity in the third quarter of 2021. Recent tightening policies in the property market and the power crunch have cast a shadow over industrial activities," said Yue Su, principal economist at The Economist Intelligence Unit.
"These pressures seemed to have eased, compared with September, but the impact of these developments on China's broader economy should not be underestimated and will be a major downside risk in the fourth quarter. The slowdown in the property sector will affect the activities of firms in areas such as construction contracting, building materials and home furnishing. Energy-intensive industries will face a rise in costs as well."