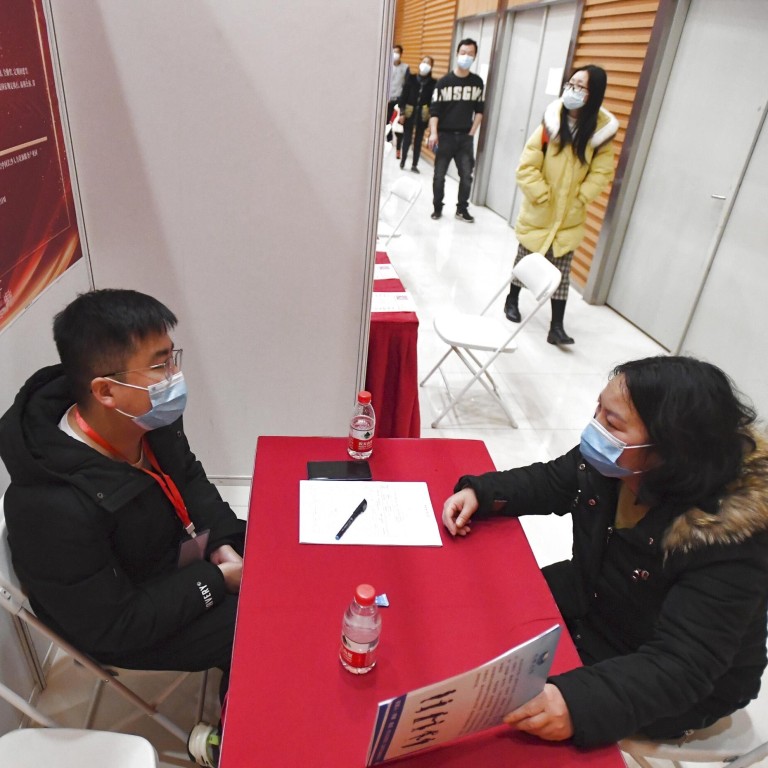 China's education, tutoring industry posts 10 available jobs for every applicant amid crackdown, study finds
K-12 tutoring companies have 'transitioned their businesses', but millions of jobs were affected after Beijing said firms 'violated the laws of education'
CIER index that gauges China's labour market also shows that jobseekers are leaving some competitive top-tier job markets for greater stability in lower-tier cities
Employment prospects in China's education and tutoring sector vastly outweigh those in other industries due to the reduced competitiveness in the sector's job market amid a regulatory crackdown in recent months, a new report says.
In the year's third quarter, the sector held the highest ratio as measured by the CIER index – a gauge for China's labour market that reflects the number of job openings for every applicant. The ratio is jointly provided by the China Institute for Employment Research (CIER) at Renmin University in Beijing and Zhaopin, a job recruitment website.
At 10.72 for the education and job industry, the ratio is considerably higher than the 2.15 for China's entire job market.
A higher index means that there are more jobs available for each applicant, and that the environment is less competitive for jobseekers. In the case of education and tutoring, the number of jobs fell while the number of jobseekers fell even more.
Coming in second on CIER index was intermediary services with a ratio of 9.28, followed by logistics jobs with a ratio of 6.90.
The crackdown included prohibitions on the tutoring of school curriculum subjects after school, as well as on investments in various tutoring companies and start-ups.
"Many K-12 tutoring companies have already transitioned their businesses to quality education, such as painting or music lessons, against the backdrop of the regulatory crackdown," Wang said. "As a lot of the recruitment ads stay posted for a period of time, we can expect to see further declines in the coming quarter as the sector adjusts and stabilises."
The indexes in big cities also show an upward trend, due to a falling number of jobseekers as many workers leave competitive job markets in favour of a more comfortable lifestyle and greater stability in second- and third-tier cities, the CIER findings show.
Although job markets remain competitive and buoyant in China's top-tier cities such as Beijing or Tianjin, there was a downturn in the number of jobseekers in big cities in the Yangtze River Delta region, including Shanghai, Hangzhou, Nanjing and Suzhou.
"Young people are more rational about employment opportunities nowadays," Wang said. "They are not blindly flocking to big cities any more. Rather, they are placing more and more importance on work-life balance."
Intermediary services, which includes outsourced jobs, has been showing greater job potential since the start of the pandemic, the report said.
According to the third-quarter figures, the total job openings in China's job market dropped by 14.64 per cent while jobseekers declined by 16.71 per cent, compared with the second quarter.
And compared with the same period last year, the number of job openings was up 8.52 per cent, while the number of jobseekers dropped by 4.22 per cent.