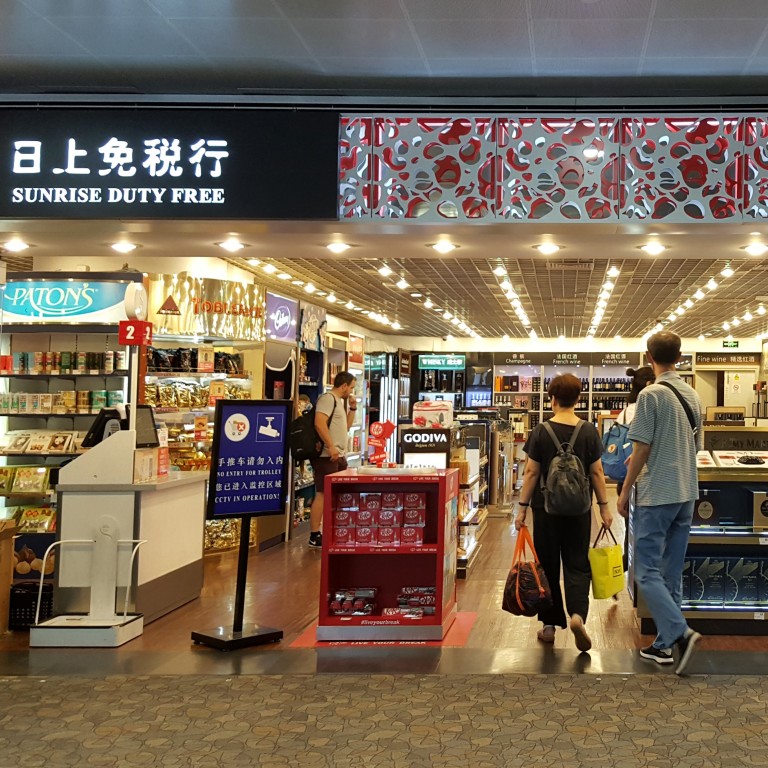 China steps up plans for 'duty-free economy' with 5 city metropolises leading domestic consumption charge
China is exploring more ways to support its so-called dual circulation strategy, which aims to boost the economy with more domestic consumption
Beijing, Shanghai, Guangzhou, Tianjin and Chongqing will play a leading role as international consumer centre cities
Duty-free shopping will play a more prominent role in plans to boost China's economy with more domestic consumption, but various ongoing regulatory crackdowns could turn off international brands and restrict the development of proposed consumer cities, according to an analyst.
As part of its 14th five year plan and 2035 vision, China will spend five to 10 years developing a number of international consumer centre cities, with Beijing, Shanghai, Guangzhou, Tianjin and Chongqing playing a leading role.
Both Beijing and Shanghai said last month they had already laid out plans to attract more international brands, increase the number of duty free shops, allow more categories of duty-free goods and increase duty-free shopping quota per consumer. Last week, vice-commerce minister Wang Bingnan confirmed all five cities had already all stepped up their plans.
The expansion of duty-free shopping can lift spending as it appeals to both local shoppers who enjoy shopping as one of the perks of international travel and also attract future shoppers from overseas.
"While full details from the central government are not available at this time, the outline indicates a proposed pooling of international market entities, goods and services together with domestic entities to encourage the development of a 'duty-free economy'," said Heron Lim, an economist at Moody's Analytics.
"The saving on taxes can be significant, and for the savvy shopper, it can be a deal-breaker to pay more for the same type of goods."
Chinese consumers spent more than 180 billion yuan (US$28 billion) overseas on duty-free products in 2019, accounting for 40 per cent of total global duty-free sales.
But China's duty-free market only accounted for 8 per cent of total global duty-free sales, showing the limitations of what the domestic market offers compared to the massive spending power of Chinese consumers.
To fill this gap, Beijing is exploring more ways to support its so-called dual circulation strategy, which aims to boost the economy with more domestic consumption, in addition to strengthening its global connections.
But ongoing Chinese regulatory crackdowns could turn off international brands and restrict the development of consumer cities, added Lim.
"With limitations placed on what is deemed to be acceptable, international brands may be reluctant to deal with the changing regulatory landscape," he said.
"This may mean that the development of Chinese cities may still lag behind other international cities that offer a more stable regulatory landscape."
China's final consumption expenditure in 2020 only accounted for 54.3 per cent of gross domestic product, according to the National Bureau of Statistics, significantly lower than developed countries and even neighbours such as Vietnam with 75.2 per cent or Indonesia at 68.3 per cent.
During the
"golden week" seven-day national holiday
at the start of October, sales at nine duty-free shops in Hainan increased by 359 per cent to 1.64 billion yuan (US$257 million) compared to same time in 2019 before the outbreak of the coronavirus, according to Hainan's department of commerce.
In May, a government official from Hainan province also claimed Chinese people spend around 1 trillion yuan (US$157 billion) on duty-free products every year.
"When Chinese people travel overseas, our spending power on luxury brands is very potent," said Wu Liyun, a tourism professor at Beijing International Studies University.
"The development of our own duty-free shopping industry is based on the need to redirect the spate of overseas spending into domestic markets."
While not included on the list of pioneer international consumer cities, the likes of Shenzhen, Fuzhou and Changsha have also announced plans to increase duty-free shopping.
"With expectations that the worst of the pandemic is over, duty-free shopping can also unlock a plank of international tourist spending power once international travel resumes after the pandemic restrictions are lifted," Moody's Lim said.
"China is hoping that duty-free shopping can attract part of the pent-up demand by international shoppers who are hungry to travel."
Wei Jianguo, vice-chairman of China Centre for International Economic Exchanges and former vice-minister of commerce, told The Beijing News in June that China will become the world's largest consumer market once the 14th five year plan has been implemented, with the middle class taking the spending lead.
Wei predicts that China will have five to 10 international consumer centre cities over the next five years, which would not only be concentrated in coastal provinces, but in central and Western regions as well as near the borders, including Urumqi, Chengdu and Kunming.