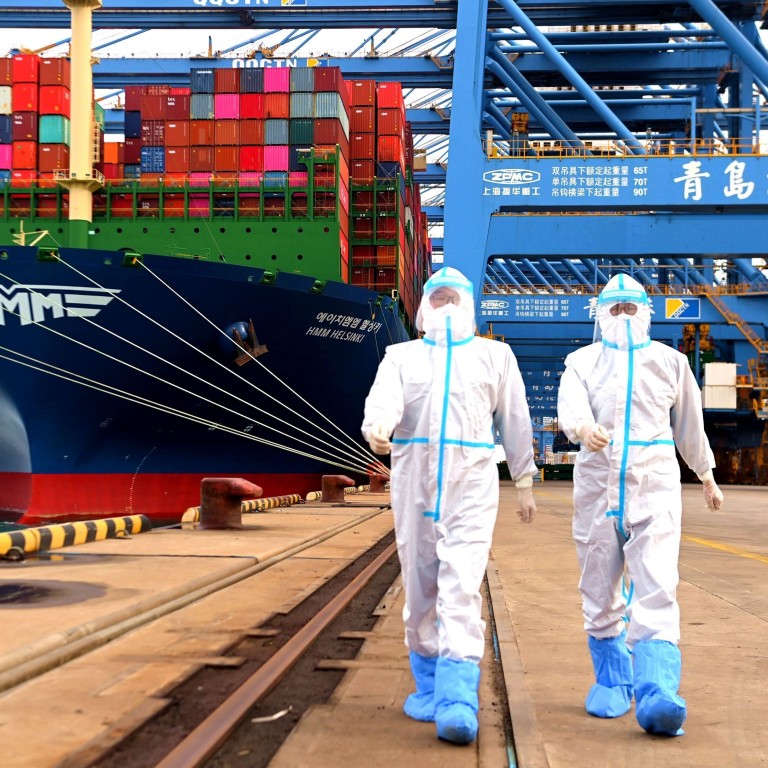 China trade: surging export prices mask falling volumes, but turning point looms as Christmas orders dry up
China's exports in October again beat expectations by growing 27.1 per cent from a year earlier
But analysts say surging prices have propped up the value of exports and concealed declining export volumes for some products
China's exports have continued to defy expectations and warnings of a slowdown amid coronavirus outbreaks, power shortages and rising shipping costs, but data has shown that while export values have increased, volumes of many goods have not.
Murmurings of slower export growth started in June due to evaporating positive comparison-base effects from previous months and the reopening of alternative overseas manufacturing bases, but after a month of softer shipments in July, growth has since gone from strength to strength.
Data released on Sunday showed China's exports in October again beat expectations,
growing by 27.1 per cent
from a year earlier.
But surging prices of exports, such as manufactured products due to strong foreign demand, have driven and propped up the value of exports and concealed declining volumes for some products, analysts said.
"From July to September, the contribution of volume to the growth of exports declined to around 16 per cent from 30 per cent in the first half of this year," said Zhong Zhengsheng, chief economist at Ping An Securities.
Export volume of mobile phones in October dropped by 7.31 per cent compared to the same time last year, while the export value rose by 12.11 per cent in US dollar terms, said Donghai Securities' analyst Li Pei.
Overall, continued strong external demand for Chinese intermediate goods – a product used to produce a final good or finished product – due to increased opening up have kept China's exports buoyed.
From January to October, exports of mechanical and electrical equipment increased by 22.4 per cent year on year, contributing 58.9 per cent of the total exports.
But a turning point may be around the corner, and potentially weakening external demand may catch up and soften China's export growth, analysts said, as exports of consumer goods have started to swing due to changing factors globally.
Demand for holiday-related products, such as toys, slowed in October compared with a month earlier, as uncertainties caused by global logistics disruptions have moved this year's Christmas buying season forward, with buyers anticipating longer shipping times due to congestion at major ports around the world, analysts said.
But the export of clothing, footwear, furniture and home appliances remained strong in October, as the other world's major manufacturing powerhouse of Southeast Asia has yet to recover from its own Covid-19 outbreaks and strong property sales in the United States also prompted demand for homeware, according to Luo Zhiheng, chief macroeconomy analyst at Yuekai Securities.
Demand from the US, though, is likely to decline in the coming months with the suspension of fiscal subsidies to residents and the upcoming stimulus reduction, he said.
Also, as most other countries have started to adopt a "living with the virus" approach, new outbreaks also increase the export of medical and disease prevention products.
But, an infection rebound would also stymie industrial recovery in other countries, therefore decreasing demand for Chinese intermediate products, Luo added.
Additionally, a falling official headline manufacturing purchasing managers' index (PMI), a survey measuring sentiment among factory owners in the world's second-largest economy,
indicates contracting factory activity.
In line with the PMI figures, small and medium-sized enterprises have also been struggling with lockdowns, high raw material prices, soaring freight costs and a power crunch that has affected more than half of the country since mid-September.
"A large number of export companies are still facing operating pressure," Luo said. "If most of the companies' export orders are weak, but orders for a small number of companies have increased significantly, it is possible that exports go up and PMI's new export orders go down at the same time."
Luo, though, warned a strong yuan could also derail exports.
"If [the yuan] remains strong, China's export companies would face greater exchange losses, and their willingness to take new orders would further weaken," he said.
Additional reporting by Su-Lin Tan
This article appeared in the South China Morning Post print edition as: China's surging export value masks falling volumes