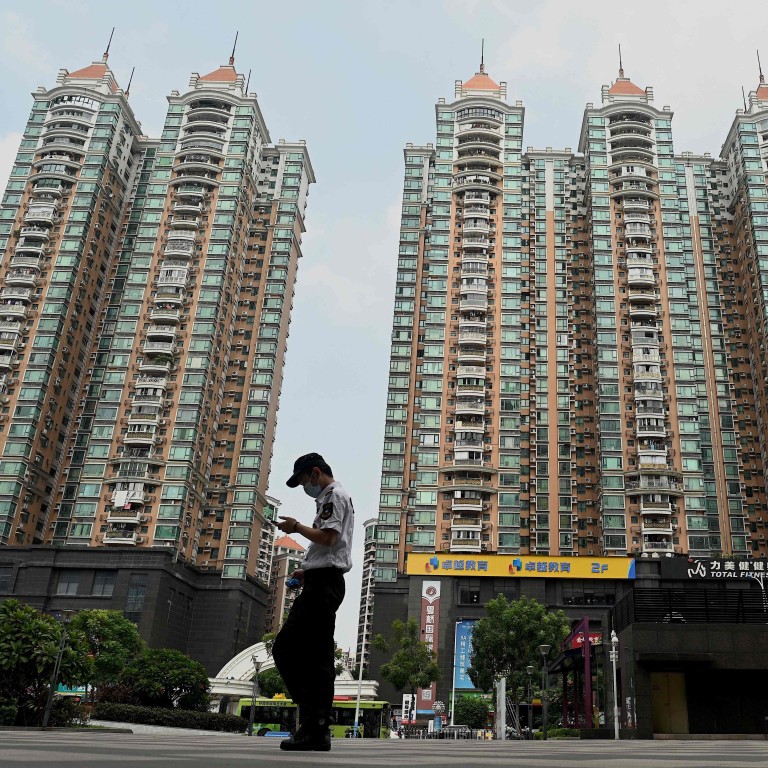 China's crackdown on education, property leave wealthy in crisis mode, and some are looking for an escape route
Beijing's 'common prosperity' movement calls for citizens to share the wealth, but attitudes towards recent dramatic changes have diverged among different social classes and ages
Studies suggest that investor sentiment is becoming more cautious in China, and the public's willingness to give birth remains sluggish
Wealthy and middle-class Chinese families have long shared a common perception of what constitutes a successful life.
At the forefront of those criteria are the ownership of a home – an asset that will continue to appreciate – and the means to provide their children with a better education than most of their peers receive, with an eye on being admitted to a prestigious university.
Attitudes towards these recent dramatic changes are beginning to diverge among Chinese of different social classes and ages, while institutional surveys and ground-level observations suggest that investor sentiment is becoming more cautious, and the public's willingness to give birth remains sluggish.
Although there are no detailed rules for common prosperity, its discussion has sparked a sense of crisis among many wealthy and high-net-worth individuals, prompting them to act. This includes consulting domestic and overseas tax experts and family-trust advisers, as well as rearranging assets under their names, Liu added.
"Many now feel they still need to continue to relocate their wealth overseas and obtain overseas green cards, but now the scope for doing so has narrowed considerably, and the costs are much higher," he said.
"Many high-income young people [who are engaged in] digital currency speculation and fintech are keen on getting foreign citizenship through so-called citizenship by investment programmes such as those offered by Malta and Turkey, to open a bank account abroad, which can help them move and hold onto their assets and cash flow."
Upper-middle-class parents also worry because the number of private schools that can provide international teaching materials and courses is also decreasing, which greatly increases the cost of preparing children to study abroad in the future.
"A growing number of high schools in first- and second-tier cities are cancelling their international departments, and foreign teachers are finding it increasingly difficult to obtain work visas," said Alice Tan, who runs a workshop on overseas schooling consulting.
"Recent changes [in property prices and inflation] have come too suddenly and too fast, making us feel like we have lost our way in terms of investments or spending … What will the next few years or even decades look like here," asked Xie Ping, a private business owner in Zhejiang.
"It's risky to use earned profits to expand production capacity, profit margins keep falling, and real estate is no longer a safe and secure market," Xie said. "The trend looks to be spreading – home prices will fall in most parts of the country, and only places with a large inflow of migrants will be more stable.
"Many of us have already mortgaged our properties to banks for additional cash flow. In this way, even if home prices drop, the bank will share the risk together with us."
Even in first-tier cities, property prices have started to fall as people anticipate a property tax and a decline in the population.
"Those who have multiple properties in hand are now trying to sell some and keep only those in valuable lots. But the volume of second-hand housing transactions continues to be depressed, with worsening liquidity," said Zhu Feng, a Shenzhen property agent.
Households' expectations for economic development in the coming year deteriorated in the third quarter of 2021, according to the China Household Wealth Index Survey 2021Q3 report released by the Survey and Research Centre for China Household Finance at Southwestern University of Finance and Economics.
The proportion of households with "very good" expectations for economic development in the coming year dropped from 37.5 per cent in the second quarter to 28.4 in the third quarter, while those with "fair" expectations increased from 24.5 per cent in the second quarter to 30.8 per cent in the third quarter.
Meanwhile, young people generally seem to be on board with the idea of common prosperity and property taxes, but they also believe that marriage and parenting would force them to downgrade their consumption and quality of life.
The report from Southwestern University of Finance and Economics showed that 79.4 per cent of interviewees said they were never planning on having children. Among interviewees with a child or more, 13 per cent expressed a desire to give birth, but that figure was just 38 per cent among the interviewees without children.
"I really think that spending power depends on getting married and having kids or not. For me and my friends who are single, we are optimistic about income and career promotions. But once they get married, many people I know have to pay off their mortgages and downgrade their consumption a lot," said 25-year-old Liu Zi, who works with a Shenzhen-based health tech company.
"I don't think there are good investment opportunities or channels for us young people, either. I had planned to buy a flat in Qingdao, a second-tier city, but now I feel that home prices will not rise in the future, and the investment value will be low."
----
This article appeared in the South China Morning Post print edition as: Crackdowns spur wealthy to look for an escape route