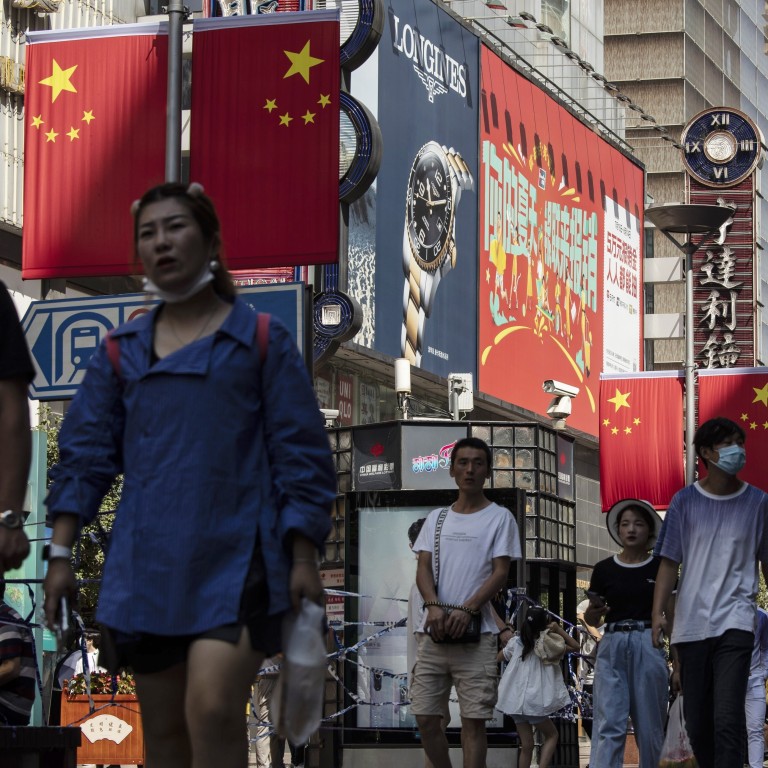 China's economic recovery stabilises as retail sales, industrial production growth beat expectations
Retail sales and industrial production rose by 4.9 per cent and 3.5 per cent, respectively, in October from a year earlier
Fixed-asset investment grew by 6.1 per cent in the January-October period, while the surveyed jobless rate remained at 4.9 per cent last month
Retail sales growth in China bounced back in October, data released on Monday showed, while industrial production also beat expectations.
Retail sales, a key measurement of consumer spending in the world's most populous nation, grew by 4.9 per cent in October compared with a year earlier, up from the
4.4 per cent increase in September,
and above the estimate for a rise of 3.8 per cent made in a Bloomberg survey of analysts.
Industrial production, a gauge of activity in the manufacturing, mining and utilities sectors, grew by 3.5 per cent in October from a year earlier after a 3.1 per cent gain in September, according to the National Bureau of Statistics (NBS). The figure was also above the median forecast in the Bloomberg survey for a rise of 3 per cent.
"China's trend of sustained economic recovery has not changed, and the positive factors are growing. However, it should also be noted that there are still many factors of international instability and uncertainty, there are still constraints on the recovery of the domestic economy, and the upwards cost pressure on enterprises is increasing," said NBS spokesman Fu Linghui.
In terms of sectors, the value added by mining was up by 6 per cent year on year, while manufacturing rose by 2.5 per cent, and the production and supply of electricity, heat power, gas and water rose by 11.1 per cent. The value added by the hi-tech manufacturing sector rose by 14.7 per cent year on year.
The output of new energy vehicles rose by 127.9 per cent year on year.
Fixed-asset investment – a gauge of expenditure on items including infrastructure, property, machinery and equipment – rose by 6.1 per cent in the January-October period, compared with a year earlier. This was just below the median of the Bloomberg survey, which forecast a rise of 6.2 per cent. For the January-September period, fixed-asset investment had been up by 7.3 per cent.
The surveyed jobless rate, an imperfect measurement of unemployment in China, stood at 4.9 per cent in October, unchanged from September.
China set a target of creating 11 million new urban jobs and a surveyed urban unemployment rate of 5.5 per cent for this year. According to the data, China created 11.33 million jobs in the first 10 months of the year.
China's economy had staged an impressive recovery from the impact of the coronavirus, but faced with numerous headwinds, including a property slump, energy crisis, weak consumer sentiment and soaring raw material costs, its economic growth slowed to
4.9 per cent in the third quarter.
Last week it was confirmed China's consumer prices
rose only slightly last month
amid public concerns over food shortages, but factory-gate inflation surged to the highest level in 26 years.
"The imported impact of rising international commodity prices and the tight supply of some domestic energy and raw material products have led to a higher increase in [the producer price index], which seems to show some signs of stagflation, but on the whole, this should be a phased situation caused by some short-term impact factors," added Fu.
China's exports have continued to defy expectations and warnings of a slowdown, but data has shown that while export values have increased,
volumes of many goods have not.
Within the data released on Monday, retail sales in urban areas rose by 4.8 per cent year on year, while retail sales in rural areas rose by 5.2 per cent compared to the same period last year.
Retail sales of grain, oil and food rose by 9.9 per cent, while beverages rose by 8.8 per cent year on year, with the NBS commenting that "basic living consumption grew steadily".
Sales of telecommunication equipment rose by 34.8 per cent year on year, while gold, silver and jewellery rose by 12.6 per cent and cultural and office appliances rose by 11.5 per cent.
"We think consumption growth will slow further this month given that the latest virus outbreak hasn't been brought under control yet. Movement restrictions have been tightened following a jump in cases in Dalian in Liaoning province. There is also a risk of fresh disruptions to supply chains given that the city houses the second largest container transshipment hub in China," said Sheana Yue, assistant economist at Capital Economics.
"Any near-term virus-linked disruptions should prove temporary. But the current strength of exports is unlikely to be sustained over the coming year as global consumption patterns normalise coming out of the pandemic and backlogs of orders are gradually cleared.
"And the property downturn is likely to deepen further as developers continue to cut back on new projects in response to weaker demand and growing financial strains."