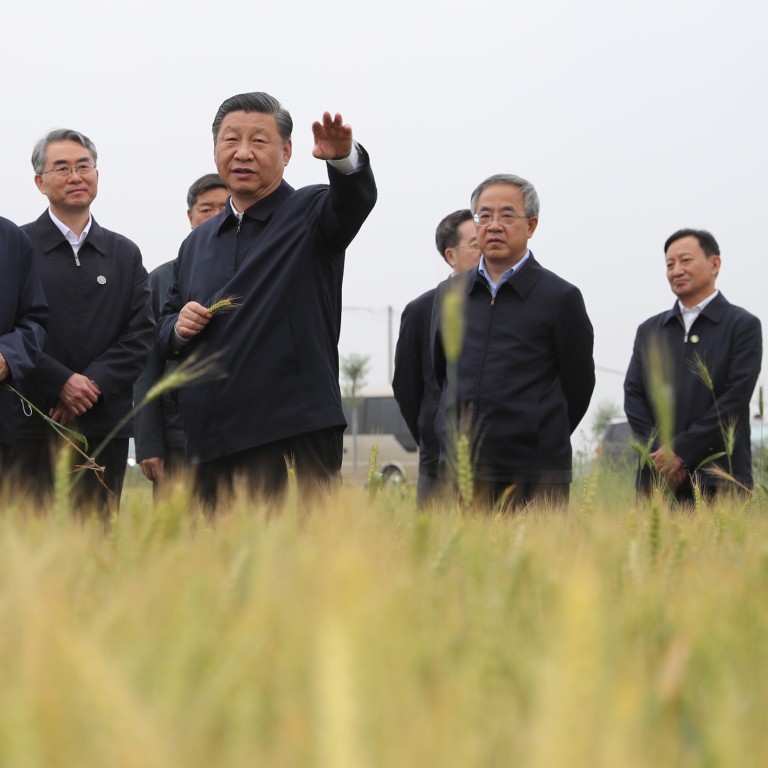 Safeguarding China's grain supply 'an eternal task' for authorities as geopolitical tensions weigh on trade
With prices rising amid soured international relations, China's top economic planner and a state mouthpiece commentary stress the importance of food security
Current level of grain reserves deemed 'stable', but a key task for the NDRC is improving its reserve-management capabilities
China intends to boost international cooperation to acquire critical farm produce while trying to diversify sources of grain, as food-supply security remains a pressing concern for the top leadership.
The call by the National Development and Reform Commission (NDRC), the country's top economic planner, came at a time when grain prices are rising and relations with some exporting countries have turned sour.
"We'll improve imports and also optimise domestic supplies," NDRC spokeswoman Meng Wei said at a media briefing in Beijing on Tuesday.
China can largely sate its domestic appetite for rice and wheat, two staple foods, and runs a quota-based system for imports. It bought 2.94 million tonnes of rice and 8.38 million tonnes of wheat from overseas last year, compared with domestic production of 147 million tonnes and 134.3 million tonnes, respectively.
The spokeswoman did not elaborate on grain imports.
The world's second-largest economy relies heavily on products such as corn, cotton, soybeans and sugar. It imported a record high 11.3 million tonnes of corn last year, while soybean imports, mainly from the United States, Brazil and Argentina, jumped 13.3 per cent year on year to 100.3 million tonnes, customs data showed.
A commentary on Tuesday in Communist Party mouthpiece People's Daily called for further efforts to ensure food security.
"Safeguarding grain security is an eternal task that can't be relaxed at any time," it said. "We must ensure domestic supplies to counter external uncertainties."
The NDRC, which oversees the country's commodities prices and grain stockpiling, said that the current level of grain reserves was sufficient, and that its key task in the future is improving its reserve-management capabilities.
"China's grain production has been stable, above 650 million tonnes, for seven straight years, laying a solid foundation for domestic supplies," the spokeswoman said. "We'll have flexible arrangements for releasing reserves and will take targeted measures at an appropriate time."
Currently, commercial stockpiling of wheat and rice has jumped 50 per cent, whole grain reserves in 36 major Chinese cities can guarantee supplies for more than 15 days, the commission said.
Beijing's added emphasis on food security is reshaping national policies related to farmland protection, the seed industry, import quotas and the government's minimum purchasing prices.