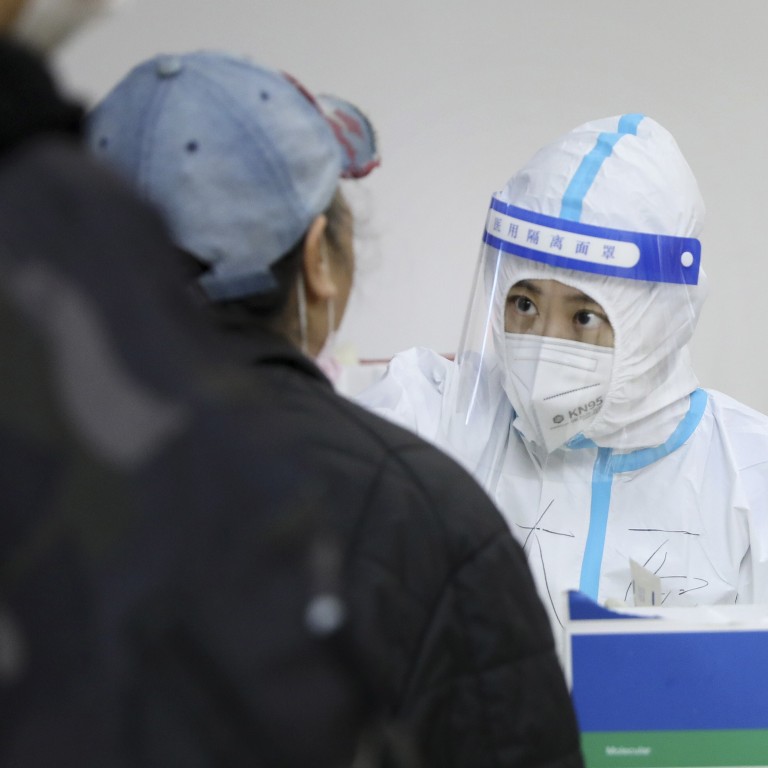 Property, Covid-19 challenges to remain with China's economic slowdown to continue in 2022
China's economy grew by 4.9 per cent in the third quarter of 2021 compared with a year earlier, down from the 7.9 per cent growth seen in the second quarter
Fitch Ratings has cut its forecast for China's growth in 2021 to 8.1 per cent, while the US ratings agency has also lowered its 2022 GDP growth forecast to 5.2 per cent
China's economic growth is likely to deteriorate further next year as rising risks of a fallout from the property market and Beijing's zero tolerance approach to the coronavirus could weigh on conditions in the coming months, analysts said.
Recent outbreaks of the Delta variant have prompted travel restrictions and lockdowns in some cities in China, damping economic activities, while Beijing's tough stance to
deleverage the property sector,
which contributes 14 per cent to China's gross domestic product (GDP), will further slow growth in the coming months, according to Andrew Fennell, a senior director at Fitch Ratings.
"Many countries have started to treat Covid-19 as an endemic disease, while China continues to eliminate the virus, there will be more challenges in the future [for the economy]," said Fennell on Thursday.
China's economy
grew by 4.9 per cent
in the third quarter of 2021 compared with a year earlier, down from the 7.9 per cent growth seen in the second quarter.
Fitch has already cut its forecast for China's growth in 2021 to 8.1 per cent from 8.4 per cent, while the US ratings agency has also lowered its 2022 GDP growth forecast to 5.2 per cent from 5.5 per cent.
"In recent months, the government is gradually loosening macroeconomic policies, but it is a cautious move to respond to the reaction in the property market," added Fennell, who conceded a crash in the housing market was unlikely.
US investment bank Morgan Stanley also warned that China's fourth quarter growth could fall to 3.3 per cent, which would drag down the two-year average growth rate to 4.9 per cent from 5.2 per cent in the first three quarters and below China's growth potential.
"We think Beijing will hit a pause to balance growth and debt management … and we expect more pro-growth policies in 2022," said Robin Xing, the chief China economist at Morgan Stanley, on Thursday.
"Beijing has never missed its growth target in a year of political reshuffle."
A major leadership reshuffle is expected during next year's National Congress, which is one of the most important meetings within the Chinese Communist Party, and is held once every five years.
Analysts are also looking for clues whether Beijing will make a policy U-turn or ease its measures following the renewed push to control rising debt levels in the upcoming Politburo meeting and the central economic work conference in December.
Xing, who has put China's 2022 growth forecast at 5.5 per cent, believes Beijing will implement tax cuts and pro-consumption subsidies, while also promoting investment in clean energy projects, such as wind and solar.
Capital expenditure in infrastructure and manufacturing could also help offset the slowdown within the property sector, he added.
Fitch expects there will be additional macro policy support measures by the end of the year, including a further cut to the reserve requirement ratio, to release liquidity into the interbank system to boost credit growth.
Earlier this month, Nomura also revised down its 2022 GDP growth forecast to 4.3 per cent from 4.8 per cent, citing the
impact of the power crisis,
recurring waves of Covid-19, Beijing's zero-tolerance approach to Covid-19, a likely slowdown in export growth and declines in the property sector as the key factors.
Yu Yongding, a prominent economist and senior researcher with the Chinese Academy of Social Sciences, said that China should aim for at least 6 per cent GDP growth and focus on infrastructure spending in 2022.
"I believe that China still has room for further expansion of its macroeconomic policies. Through expansionary fiscal and monetary policies to increase the growth rate of infrastructure investment," Yu told a closed-door seminar in Shanghai last month in comments published on Wednesday by the Beijing-based think tank, China Finance 40 Forum.
In a break from tradition, China did not set an economic growth target for 2020 due to the impact of the coronavirus, but in March, set a
target of 'above 6 per cent'
for 2021.
A reasonably high growth target for 2022 could boost confidence in the markets, and given China's state-directed economy, would also set clearer directions for local governments and ministries to consider when planning investments, added Yu.
"Why do we need to set growth goals and not set them too low? Geopolitical issues are also involved here. Our country is competing with the United States. Is it better to grow faster or slower? [The answer is] self-explanatory," Yu said.