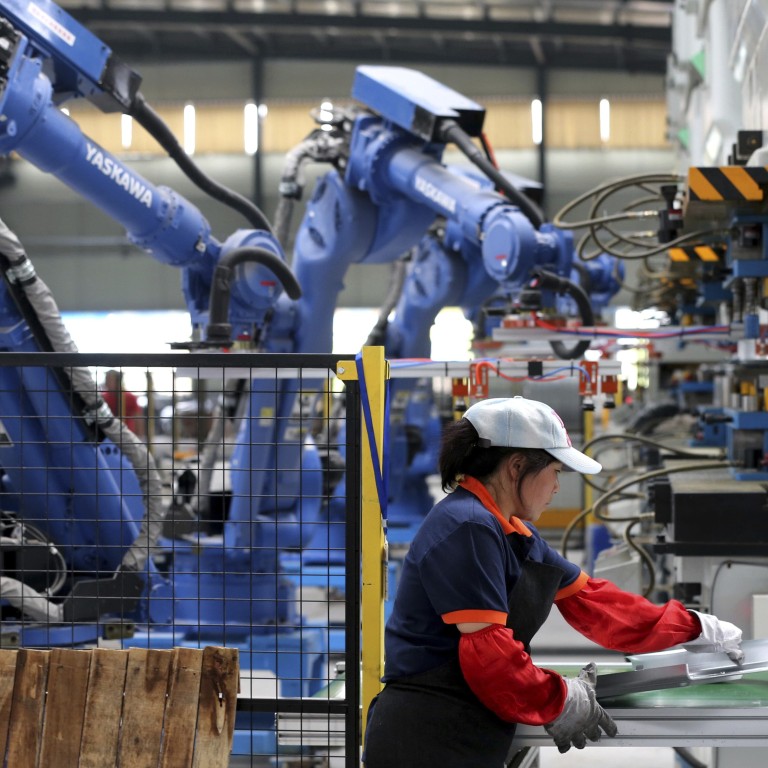 US businesses in China must be transparent, with more restrictions in place, congressional advisory panel says
'If it makes you look bad, maybe you shouldn't be involved in it,' member of US-China Economic and Security Review Commission says of American firms in China
However, panel says its recommendations are not meant to prevent US businesses from operating in China or from investing in Chinese businesses
The US government's leading advisory panel on China policy is calling for more transparency from American businesses operating in China, and it has recommended further restrictions on investment in US-listed Chinese stocks, as well as comprehensive sanctions on Chinese companies and their subsidiaries when it comes to "sensitive" technology.
The US-China Economic and Security Review Commission's annual report, released on Tuesday, outlined 32 recommendations to Congress, including new legislation to screen the offshoring of critical supply chains and production capabilities to China.
Kerr Gibbs, president of the American Chamber of Commerce in Shanghai, asked what the commission expects from the American business community, given the changing nature of
US-China relation
s.
Several commissioners from the US-China Economic and Security Review Commission responded during the live-streamed discussion on Tuesday, saying that greater transparency was needed from US businesses when it comes to drafting laws to regulate US investment and trade with China.
"Stop getting in the way of transparency," said Derek Scissors, one of the commissioners who spoke following the release of the annual report. "Stop saying, 'I don't want to disclose this'. Stop saying, 'I don't like the light shone on my activities in China because it makes me look bad'. You know, guess what, if it makes you look bad, maybe you shouldn't be involved in it."
"When a business says, 'I don't like these restrictions', I understand that," Scissors added. "But when businesses say, 'I don't want to tell you what's going on' – that's the problem."
According to the 2021 Business Climate Survey by the American Chamber of Commerce in China, nearly 85 per cent of respondents were not considering relocating their manufacturing or sourcing away from China. However, some respondents acknowledged that they had concerns, including about data security and increasing protectionism in China.
"Our recommendations are not designed to prevent American businesses from investing in Chinese businesses, nor for American businesses to not operate in China. A lot of those businesses are extremely profitable, making Americans lots of money," said Bob Borochoff, another commissioner who spoke at Tuesday's event.
"But they are designed to give Americans an opportunity to know what they are investing in and to prevent Americans from investing inadvertently in forbidden businesses that transfer to entities that shouldn't get money, or from putting money into businesses that are simply unstable, and we have no way of knowing that."
The report also recommended that Congress consider banning investment in US-listed companies operating Chinese businesses through so-called variable interest entities (VIE).
Many Chinese companies use the VIE structure, as these entities are often incorporated in tax havens such as the Cayman Islands to skirt China's restrictions on foreign investment in certain industries and to raise capital from overseas stock markets.
Another suggestion was that a "technology transfer review group" be set up under the executive branch, which is headed by President
Joe Biden
. The group would identify emerging and foundational technologies, and direct the Department of Commerce's Bureau of Industry and Security in the implementation of export controls.
Commissioner Michael R. Wessel said it was important to "harmonise" US sanction lists, to ensure that a company cannot skirt US laws by being on one list but not another.
Additionally, the report said that subsidiaries supporting China's military-industrial ecosystem – including state and non-state firms, research institutes, and investment funds – should be identified and evaluated.
"If the parent has done something we really don't like, and it's justified US sanctions, all of the subsidiaries should be sanctioned," Scissors said. "Similarly, if the subsidiaries have done something we really don't like that deserves US sanctions, you don't leave the parent out. That is an obvious step in US policymaking that we have not implemented yet."
He added that such considerations should apply to US investment in Chinese companies that are developing what is deemed "sensitive" technology under US export-control laws.
"If the technology is restricted, then the money that supports that technology should also be restricted," Scissors said. "That's just sensible American policy."