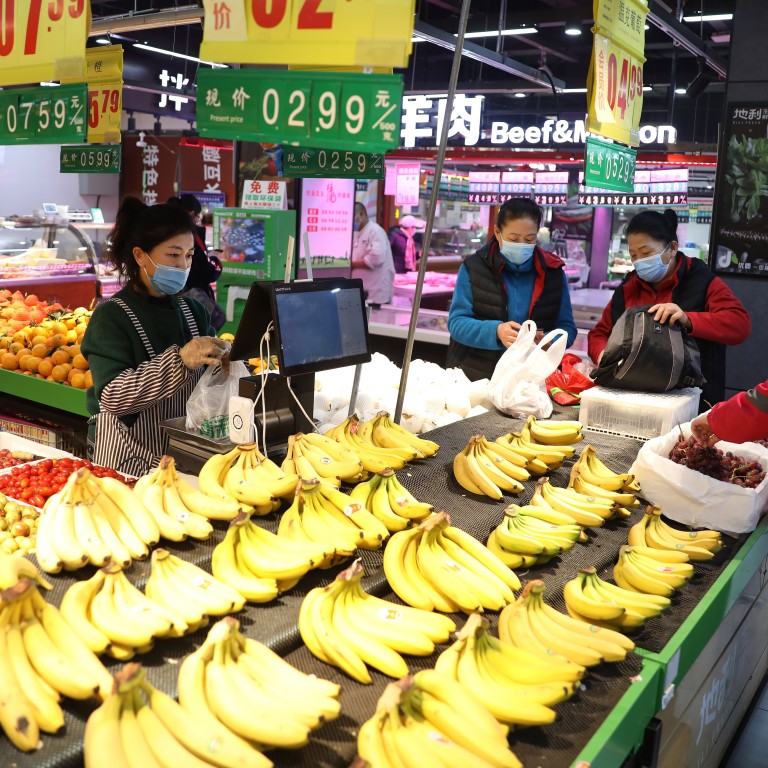 China facing 'quasi-stagflation' risk as rising factory prices increase pressure on slowing economy
China's official consumer price index (CPI) rose by 1.5 per cent in October, but its producer price index (PPI) rose by 13.5 per cent last month from a year earlier
China's economic growth slowed to a rise of 4.9 per cent in the third quarter compared with a year earlier, down from 7.9 per cent growth in the second quarter
With the economy facing "periodic, structural, and cyclical constraints" amid rising concerns over upcoming growth prospects, China could enter into a period of "quasi-stagflation", a central bank adviser has warned.
Liu Shijin, a member of the monetary policy committee at the People's Bank of China (PBOC), said that while inflation risks are under control, a persistently high producer price index (PPI) – which reflects the prices factories charge wholesalers for their products – may add pressure to the overall risk of inflation.
China's consumer inflation has remained subdued recently, with prices rising by just
1.5 per cent in October
from a year earlier, up from a rise of 0.7 per cent in September, but the PPI rose by 13.5 per cent last month from a year earlier, up from 10.7 per cent in September –
the highest since July 1995.
"It's possible that the speed of economic growth is too slow, along with high prices, I am referring to mainly PPI, but whether it will spill over to [the consumer price index], we need to monitor," Liu said on Sunday at an online event organised by Renmin University of China, adding that China could enter into a period of "quasi-stagflation".
Stagflation is a situation in which low economic growth and high inflation occur at the same time, potentially leading to higher unemployment and lower wage growth.
In its third quarter monetary policy implementation report, released on Friday, the PBOC said that it will continue to strike a balance between economic growth and risk control, but acknowledged that it is becoming increasingly difficult to keep the economy running smoothly as a result of "periodic, structural, and cyclical constraints".
The PBOC said that it will keep liquidity reasonably ample and will "handle the relationship between economic development and risk prevention, make cross cycle adjustments, and maintain the overall stability of the economy".
Policymakers and advisers are becoming increasingly concerned about China's growth prospects and Beijing has stepped up its efforts to deleverage the property sector and curb the risks posed by off-balance borrowing, the
so-called hidden debt
by local governments.
Last week, Premier Li Keqiang told business executives that there are now "new" downward pressure on the economy, stressing that the government needs to focus on keeping employment steady and providing support for
China's small manufacturers,
which are seeing their profit margins squeezed by high commodity prices.
Liu suggested an "appropriately long" time frame to address structural problems, such as
local government debt
and the rapid expansion of property developers, and recommended targeting a "soft-landing" to minimise negative consequences.
The central bank said that it will adopt various measures to respond to external changes, including making the yuan more flexible.
The pressure on consumer inflation is still manageable, but the PBOC report said that high prices of imported raw materials are likely to persist in the short term due to increased commodity prices.
Larry Hu, chief China economist at Macquarie Capital, said on Sunday that
PPI may have peaked in October,
but uncertainty surrounding inflation prompted the PBOC to remove a key phrase from its third quarter monetary policy report that the basis for long-term inflation or deflation does not exist.
"All these changes [in the report] suggest that those technocrats in the PBOC are increasingly concerned about the economy," Hu said.
"While only the Politburo can determine the future policy direction, the chance is rising that the December meeting will shift the priority from regulatory tightening to economic growth."
A meeting of the 25-member Politburo – the government's main decision-making body headed by President Xi Jinping – as well as the central economic work conference – a key annual meeting that sets the national agenda for the economy – are both expected to take place in December.
Even if policymakers set "supporting economic growth" as the priority for next year, it does not mean that they will immediately stimulate the property sector, and instead, the easing will be gradual and they may first opt to increase the loan quota for banks, Hu said.
This article appeared in the South China Morning Post print edition as: 'Quasi-stagflation' feared as slowdown grips mainland