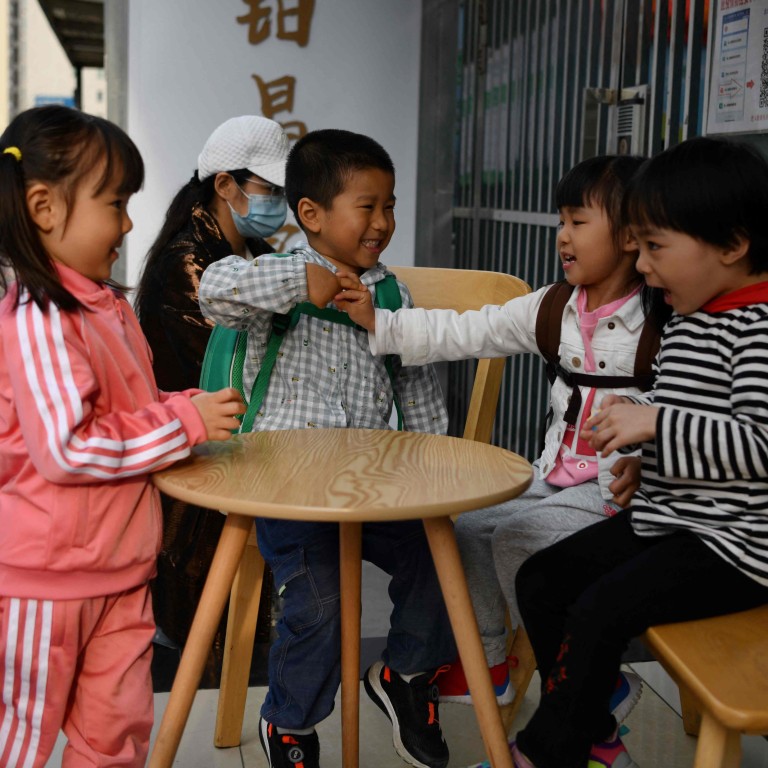 China population: 'dire reality' of crisis underlined as coronavirus blamed for tumbling 2020 births
Chinese mothers gave birth to just 12 million babies last year, down from 14.65 million in 2019, as the overall population grew to just 1.412 billion in 2020
Researchers at Renmin University found the coronavirus particularly dampened the willingness of women under 30 to give birth last year
The number of Chinese newborns dropped by 45 per cent in the last two months of 2020 compared to the final year of the notorious one-child policy five years earlier, according to a new research paper, as the coronavirus particularly dampened the willingness of women under 30 to give birth.
Chinese mothers gave birth to just
12 million babies last year,
down from 14.65 million in 2019, marking an 18 per cent decline year on year and continuing the descent to a near six-decade low, while the national birth rate dropped to a record low of 8.52 births for every 1,000 people.
This represented the first time the birth rate had fallen into single figures, according to the China Statistical Yearbook 2021, recently released by the National Bureau of Statistic (NBS).
An already existing downward trend in China's number of newborns resulting from a declining population of women under the age of 30 was exacerbated by the outbreak of the coronavirus at the end of 2019 and resulting lockdowns and nationwide restrictions in the first few months of last year, the research paper showed.
Researchers at Renmin University used China's birth data in 2015, the last year of the
one-child policy,
as a baseline and found that an uptick in births only lasted two years as the monthly number of newborns in 2018 and 2019 remained below the levels seen in 2015, with a monthly decline of 10 to 15 per cent.
According to the article published in Population Research, a national academic journal, the number of births in the first nine months of 2020 fell by 20 to 30 per cent from the same period in 2015, with the pandemic having the most influence on women under 30, compared to older women.
According to the seventh national population census conducted at the end of last year, China's overall population rose to 1.412 billion in 2020, from 1.4 billion a year earlier, the NBS confirmed in May.
Childbirth plans for women under 30 last year were largely disrupted and delayed due to the pandemic, with births dropping by 23.26 per cent compared to 2019, with a 22 per cent decline in the number of women having their first child and a 26 per cent drop in the number of women having a second child.
In November and December last year, the number of births for women aged under 30 dropped by 30 to 40 per cent compared to the previous year.
China's one-child policy started in 1980 and was strictly enforced with punishments including fines for violators and often forced abortions. It officially ended in January 2016 in favour of a two-child policy before China
introduced a three-child policy
in May 2021 following the results of the 2020 census.
While the number of second children rose in the four years after the one-child policy was lifted, the growth slowed, and in 2020, the number of second children was 19.4 per cent below the 2015 level.
"Despite economic development and existing stimulus to encourage childbirth, the momentum of second-child births has been waning and the untapped potential is nearly used up," the research paper said.
China should launch welfare and stimulus policies to encourage childbirth and make the public have more positive views on giving birth, said Huang Wenzheng, a demographer with the Centre for China and Globalisation.
"China's pronatalist measures are not urgent nor comprehensive enough for the dire reality," said Huang, who has written extensively on China's population.
It took China 12 years to grow its population from just over 800 million in 1969 to just over 1 billion in 1981, and then another 14 years for another 200 million to be added by 1995. It then took China 24 years for its population to grow from just over 1.2 billion in 1995 to just over 1.4 billion in 2019, according to government data.
The average size of family households in China also declined to 2.62 people last year, from 3.44 in 2000 and 4.41 in 1982, according to the seventh national population census released in May.
Consistent
falls in the number of births in some regions
in China of more than 10 per cent this year have prompted further concerns of a deepening population crisis and calls for more national attention to the country's deepening population crisis.