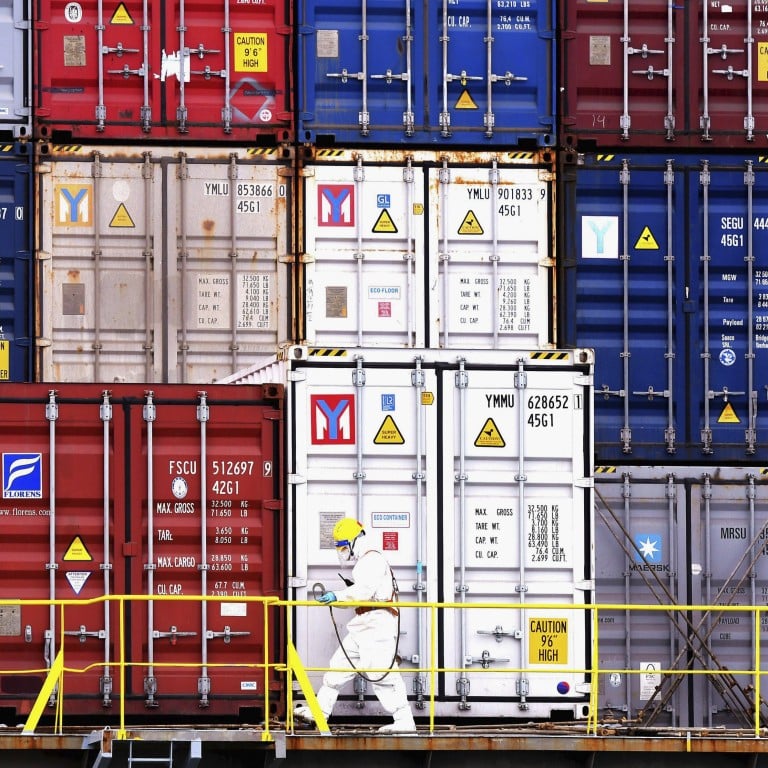 China to roll out trade support amid 'increasing pressure' behind the scenes
Beijing has promised new policies to stabilise trade, including credit support for small firms and help diversifying markets
Exporters face high raw materials prices and shipping fees, and more competition as other economies recover from Covid-19
China has no reason to be "blindly optimistic" about trade amid increasing headwinds, the country's vice commerce minister has said, in the latest warning from Beijing about challenges facing the world's No 2 economy.
"Behind the scenes of China's rapid growth in trade, we must be clear that many trade companies, especially small firms, are facing increasing pressure and difficulties," Ren Hongbin told a press conference on Wednesday.
"It is common for them not to take orders and they are seeing profits rise less."
The central government will introduce new policies to keep trade stable, including greater credit support and help to diversify markets for exporters, Ren said.
The minister's comments, the latest in a string of cautious economic announcements by Beijing, come as expectations grow of a deeper deceleration in China's economic growth rate during the final three months of the year.
Roaring exports have been driving a strong post-pandemic economic recovery since mid-2020, but observers have warned the trend is unlikely to be sustained due to a declining base effect and the resumption of production in other major economies, which will eat into demand for Chinese goods.
Once the export sector, which accounts for 180 million jobs, runs out of steam, it will cast a long shadow over the
Chinese economy
, experts say.
"A significant slowdown in export growth could be a real game changer, possibly dealing a heavy blow to the economy and forcing Beijing to revise its policy stance on property curbs, green measures, zero-Covid strategy, and the currency," Lu Ting, chief China economist at Nomura, said in a note on Thursday.
"With a high base, a slowdown in exports is inevitable when the world gradually returns to normalcy," he said, noting that exports' contribution to China's real economic growth might soon fall to zero from about a half in the third quarter.
Although exports grew by 27.1 per cent in October and beat market expectations, analysts have argued the exaggeration from price inflation should not be ignored, especially as the country's export freight volume growth weakened to 0.8 per cent from a year earlier last month, from 23.1 per cent in February.
Ren said Chinese trading firms are facing rising raw materials prices, high sea shipping fees and protracted port congestion around the world.
Exporters are also getting fewer orders, while still suffering from the global semiconductor shortage and insufficient manufacturing labour, he said.
"Domestic and international challenges are both here, while short term and medium-to-long term risks are piling up," Ren said.
Chinese Premier Li Keqiang said the economy is facing "new downward pressure" in meetings with several provincial heads, economists and entrepreneurs over the past week.
He urged provincial policymakers to pass more tax and fee cuts for small businesses hurt by soaring raw material prices, power shortages and recent coronavirus outbreaks.
The State Council, the country's cabinet, has also issued a raft of measures to provide more support to small firms, which contribute about 80 per cent of China's urban jobs and 60 per cent of gross domestic product.
On Wednesday, in an article published by the People's Daily, the official newspaper of the Chinese Communist Party, Vice-Premier Liu He said a reasonable amount of infrastructure construction should be brought forward to boost domestic demand
Ren said on Wednesday the commerce ministry would intensify credit support for trade companies and enhance their resistance against exchange rate risk.
Authorities will also tap existing free-trade agreements and national-level trade expos to help companies diversify their markets.