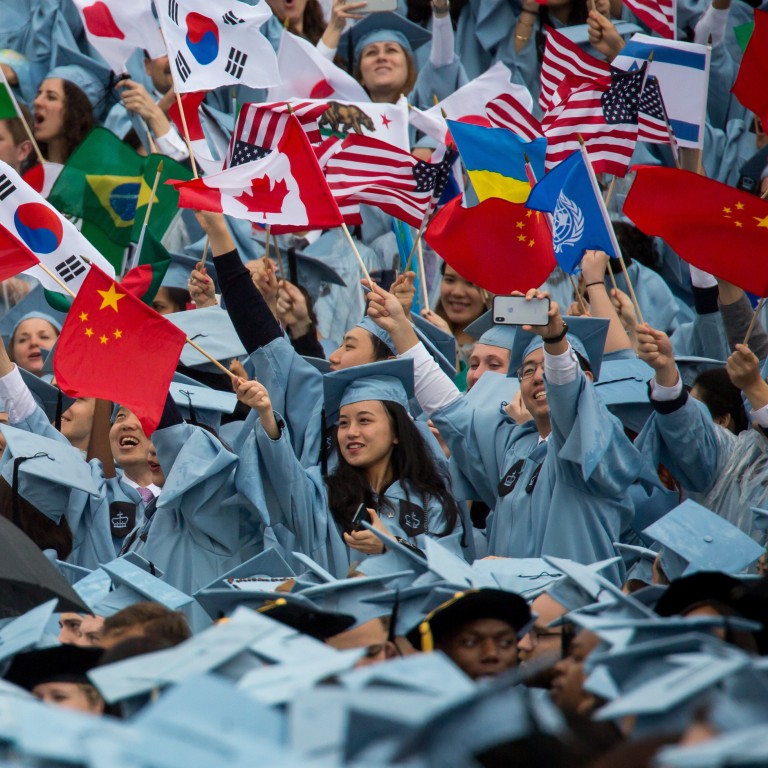 Chinese graduates lament Western degrees no longer a fast track for top jobs
As Chinese universities climb up world rankings, Western degrees are not as prized by employers as they once were, according to overseas graduates
Hiring departments are often more familiar with elite Chinese universities and certain professions require strong local networks, young jobseekers say
As degrees from overseas universities lose their competitive edge in China, graduates returning for work are getting mixed signals from employers, with some concerned the job market favours candidates who obtained local qualifications, despite an enduring "West is best" mentality in certain parts of society.
The total number of Chinese nationals studying overseas in 2019 was 703,500, according to the Ministry of Education. In the 2019-20 academic year, China sent more than 100,000 new university students to Britain alone, marking a 20 per cent increase from the previous year, according to the England-based Higher Education Statistics Agency.
While Britain remains a popular destination for Chinese students from relatively well-off households, long-held assumptions that Western graduates are better equipped with social and language skills, and therefore more sought after in China's job market, are starting to be eroded, experts and young jobseekers say.
"It is a stereotype or general perception that students who have studied overseas are more eloquent, confident and aggressive," said Professor Aaron Koh Soon Lee from the faculty of education at the Chinese University of Hong Kong.
"Employers tend to think that experience of a different education system makes them more liberal and creative.
"Most regard the West as the best, so graduates from branded Western universities get some kind of an endorsement – it's like a passport."
But as Chinese universities climb up world rankings, overseas graduates are returning home to find they are no longer the top pick for jobs.
"I don't think we have much advantage over graduates who studied here, especially if we're applying to local or small-sized companies, where hiring departments are more familiar with universities in China, such as those in the 985 and 211 projects" said Lea Chen Hei Yu, who graduated with a degree in sociology from the University of Bristol, a leading British university, in 2018.
The 985 and 211 projects were launched by the central government in 1998 and 1990 respectively to support schools across the country in becoming world-class educational institutions. They include the prestigious Tsinghua, Peking and Fudan universities.
"The person in charge in my previous company had no idea what the [London School of Economics] was. Renowned universities in the West are not as widely recognised here as some may have expected," added Chen, who now works at fintech company JD Digits as a finance news editor.
Larissa Wu Wenxi, Chen's junior in Bristol's School of Sociology, Politics and International Studies, said the gap between domestic and overseas universities was narrowing.
"Those who can get into schools in the 985 and 211 projects are truly the most capable and dedicated bunch in the country," she said.
"Some domestic companies may even assume that those who pursue postgraduate degrees abroad are trying to avoid China's postgraduate admission test because they're incapable or unequipped," she added, referring to the standardised examination that all applicants must take for entrance to mainland graduate schools.
Chinese universities are becoming more valued when measured by employability.
China was ranked No 5 in the world for graduate employability over the past decade, according to the Employability Rankings 2020, a survey conducted by French consultancy Emerging and British magazine Times Higher Education.
Britain, for example, was only one spot ahead of China, which jumped six places from 2010. Furthermore, all mainland institutions ranked in the top 100 have either maintained or improved on their previous positions.
Because Western university degrees are no longer rare in China, Koh said many graduates pursue numerous internships and further qualifications to build highly competitive portfolios, a practice known as "credential inflation".
"Employers and parents all know that simply getting a degree is common and therefore not enough," he said.
"The situation in the graduate market, at the moment, is looking very gloomy. But this is the reality for them."
Young jobseekers are also finding local connections can count for just as much as where a degree was earned. Koh said certain professions require strong Chinese networks and employers prefer graduates of local elite universities over those who have been away for years.
Despite studying abroad, Guangzhou-based Wu still managed to secure internships without much trouble.
"It usually only takes me two weeks to secure a placement," she said.
"I think the most important factor is the reputation of the school, followed by credentials of the individual. As my university is somewhat recognised amongst Chinese employers, I'd normally be shortlisted."
Over the summer, she has received invitations for interviews from the "Big Four" accounting firms - Deloitte, PricewaterhouseCoopers, Ernst & Young, and Klynveld Peat Marwick Goerdeler - as well as technology conglomerate Tencent.
More than 6.5 million Chinese studied abroad between 1978 and 2019, and nearly 90 per cent returned home after finishing their courses, according to the Ministry of Education.
Last year,
graduates faced stiff competition
for jobs due to a historic economic contraction caused by the pandemic, but there are signs the employment market is recovering.
China created 11.33 million jobs in the first 10 months of this year, according to the National Bureau of Statistics, and the surveyed unemployment rate has been 4.9 per cent since September, the lowest since September 2018.
While overseas degrees are becoming less competitive, some Chinese are choosing to study at home for personal reasons, including unpleasant experiences shared by past graduates.
Koh said international students are frequently exploited by the "education industry", where efficiency and predictability are valued above quality.
"International students are always treated like cash cows, unfortunately," he said. "Western universities rely a lot on the fees that overseas students pay for their income, but some don't provide the kind of service that is of equal value.
Graduates like Chen and Wu said ultimately they felt more comfortable in China, something that influenced their decision to return.
"I prefer China's living conditions and environment, people are friendlier to me and easier to deal with," Chen said.
Wu said she wanted to be close to her parents and capitalise on her local contacts.
"I'm not a very aggressive or extroverted person, so I don't think there's much advantage for me to stay in the UK, especially as I've already built a professional network at home from my internships," Wu said.