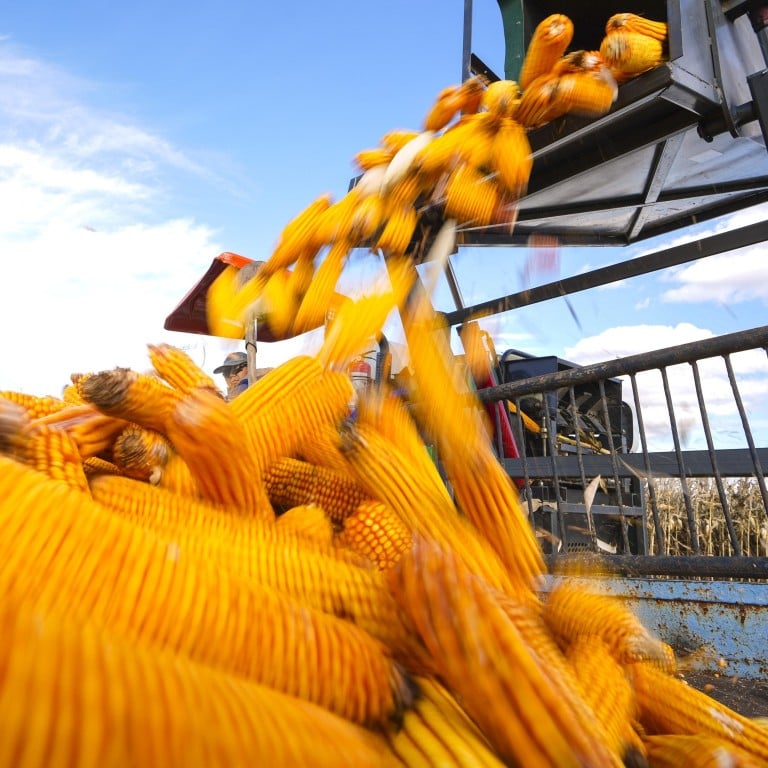 China urged to be 'vigilant' to rising grain prices in battle for food security
China should boost policy support, monitor global grain prices and diversify imports to maintain food security, state media says
Rising food prices are driving inflation concerns and putting average people under more economic pressure, analysts say
China is under pressure to
stabilise grain prices
and should roll out more support to counter price volatility in domestic and international markets, state media said in the latest warning on food security.
Domestic prices of corn and wheat are high, while rice has fallen below the minimum purchase price, the state-run Economic Daily said in a commentary published on Thursday.
High corn prices caused by production shortages could be made worse by continuous rainfall and an unusually cold winter in northern China, it added.
"It is necessary to continue boosting policy support, increase rewards to counties with large yields, strengthen agricultural subsidies, and fully mobilise the enthusiasm of local governments and farmers," the commentary said.
"China should also stay vigilant to rising global grain prices, [and] diversify the sources of grain imports to better cope with global food supply chain disruptions."
To maximise summer harvests, the Economic Daily said local governments should minimise losses caused by natural disasters.
Beijing has repeatedly underscored the
importance of food security
in recent months, as grain prices have increased and relations with some exporting countries have soured.
Concerns about rising corn and wheat prices have been compounded because the rest of the food basket, including
pork
and vegetable prices, has also been going up, said Even Pay, an agricultural analyst with Trivium China, a Beijing-based consulting firm.
"On top of that, the price for a wide range of normal daily goods is getting pushed up due to higher energy and raw materials prices," Pay said.
"From a financial perspective that raises concerns about inflation, and from a political perspective it means average people are under more economic pressure just to secure their necessities."
A combination of factors has caused the spike in corn and wheat prices, including tight supply and demand for animal feed, a sharp rise in international food prices, and the increasing costs of agricultural products such as fertilisers. Weak rice prices are the result of oversupply and high rice inventory.
Since last year, wheat and rice have been used to feed animals as a substitute for corn, but that is not sustainable long-term, and domestic
food security
needs to be stabilised, the
Economic Daily
said.
Early this month, global food prices surged to the highest level since 2011, according to the Food and Agriculture Organization of the United Nations (FAO). Prices increased for the third consecutive month in October, rising 3 per cent from September, driven by strong demand and low harvests.
The FAO Food Price Index, a monthly tracker of price changes across a range of food commodities, has jumped by more than 30 per cent over the past year.
China relies on imports of corn, cotton, soybeans and sugar. It imported a record high 11.3 million tonnes of corn last year, while soybean imports, mainly from the United States, Brazil and Argentina, jumped 13.3 per cent year on year to 100.3 million tonnes, customs data showed.
The Economic Daily said local governments should stabilise plantation areas for wheat and the government should monitor rising prices of soybeans, which China remains a major importer of.
The nation's supply of agricultural products is often influenced by geopolitics – such as tensions with the US, Canada and Australia.