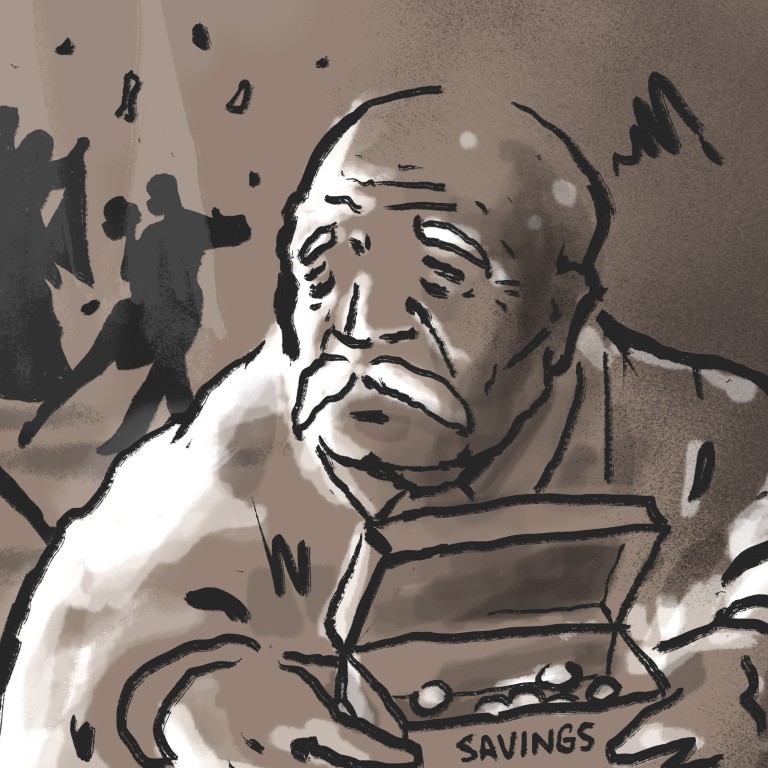 China population: without adequate pensions, more elderly say goodbye to their golden years
Compared to developed countries grappling with an ageing population, China is not equipped with a comprehensive welfare system
For many rural residents, including migrant workers, retirement is a fantasy due to limited savings and pension plan coverage
Six days a week for 13 hours a day, 56-year-old Chen Qingling and her husband clean the corridors and bathrooms of an office building in Beijing to feed themselves and their son's family.
While their wealthier peers spend retirement travelling, taking dance lessons and classes in Chinese tea culture and painting, Chen – who hails from the countryside in Henan province – does not have savings or a pension to live out her golden years in comfort.
"My son is still recovering from an injury and his wife stays at home to take care of their three young children," Chen said. "If I don't work, who will feed the five mouths? My father-in-law is 89 years old and visits the hospital a lot, which also costs a lot of money.
"There's no spare money I can save up. It's difficult, but I have to hang in there to keep living."
China has been transformed from an agricultural backwater into the world's No 2 economy over the past four decades, but as its population rapidly ages, the country has found itself unequipped with a comprehensive welfare system.
Some 264 million Chinese people were aged 60 and above in 2020, accounting for 18.7 per cent of the total population, according to the seventh national census released this year. Ten years ago, that figure was 178 million, or 13.3 per cent of the population.
With fewer workers contributing to the public pension system and a growing number of seniors to support, the state retirement fund is expected to face a shortfall within the next two decades as contributions from workers are outweighed by payouts to retirees.
The Chinese Academy of Sciences (CASS) in 2019 projected that China's urban state pension fund would
run out of money by 2035.
China's mandatory retirement age is 60 for men and
55 for women
– or 50 for blue-collar female workers.
But for many rural residents, including migrant workers in cities like Chen, retirement remains a fantasy, due to a lack of savings and limited pension coverage.
China's ageing crisis is most severe in rural areas, where 23.81 per cent of the population are aged 60 and above, up 10.6 per cent from a year earlier.
In 2018, 19.5 per cent of the population aged above 60 still lived in poverty, according to data from the Survey and Research Centre for China Household Finance at Southwestern University of Finance and Economics.
Wealth and pension inequality, especially between urban and rural areas, has forced many approaching retirement age in China's countryside to keep working to support themselves and their families.
"I gave my first son 400,000 yuan (US$62,700) when he got married in 2014, and that was seven years ago. It will only cost more when my second son gets married," said 55-year-old Guo Youmi, from Datong in Shanxi province.
"I drove a taxi for 20, 30 years, and never planned for retirement," said Guo, who moved to Beijing last month to work as a guard at a flat complex.
"I don't think too far ahead, now I have to keep working so I can feed myself and save up for my son's marriage."
Many elderly people from rural areas lack education, but some companies prefer hiring them to save costs, said Yang Guofa, who runs a labour dispatching company and helps older and retired people find jobs.
"It's cheaper for companies to hire these people, they don't have to pay insurance, benefits or pension," Yang said. " These older people are mostly from rural areas and are often hired for low-skilled jobs such as gate guards, cleaners, shelf stockers etc."
Unlike many developed countries, most Chinese rely on the public pension system.
Chen and Guo pay annually for the new Rural Social Endowment Insurance, a government social insurance scheme launched in 2009.
But they will receive less than 100 yuan (US$16) a month when they turn 60, which hardly covers three meals in Beijing, and is not nearly enough to cover monthly expenses.
"The government needs to increase the pension of Rural Social Endowment Insurance, to improve the living conditions of the elderly in rural areas," said independent demographer He Yafu.
Excluding civil servants, who receive healthy pensions, and highly-skilled intellectuals still hired after retirement, not all urban retirees are out of the woods either – especially those with only one child to count on.
Under the urban pension plan, workers contribute up to eight per cent of their wage, while employers' contributions vary in different regions, mostly falling between 14 and 20 per cent. An average urban retiree can receive between 2,500 to 4,900 yuan per month.
While some work after reaching retirement age to avoid boredom and to stay connected to society, most are still faced with lower monthly incomes and bigger financial burdens when their health deteriorates.
"Urban workers can retire and get pensions at a certain age, but whether the pension can afford a decent life in old age with dignity is a different question," He said.
The average monthly pension in Beijing was 4,365 yuan in 2020, while a medium-priced nursing home in the capital could easily cost more than 5,000 yuan a month, excluding food and medical expenses. It could be much more if special care is needed.
Even in cities, a lot of retirees still want to work because they do not want to burden their children, said Zhang Jing, a silver industry expert and founder of "80 yanglao", a platform that educates people about retirement and pensions.
"Housing, rising food prices, their second and third grandkids, what doesn't cost money?" Zhang said. "Some retired parents are still financially supporting their adult children, or offering free childcare, which is also a way of creating value."
According to a joint survey published by insurance company AIA Group and CASS in October, 64.5 per cent of urban middle class Chinese had no retirement plan or had not taken any concrete actions towards it. Only 28 per cent had taken steps towards retirement.
Some 30.8 per cent of respondents said they were counting on their children to look after them.
Inability to retire due financial pressure is not just China's problem.
In South Korea, 34.1 per cent of people aged 65 and older are in the labour market, according to data published last month by the Organisation for Economic Co-operation and Development. Many of them work to survive, with 43.4 per cent living in poverty.
In Japan, more than one in four people aged 65 and above are still working.
"Without a quality pension support system, young people would be reluctant to get married and have children, middle-aged people are double burdened to care for the young and the elderly," said Zhang Jingwei, a researcher at Chongyang Institute for Financial Studies at Renmin University.
"Only when the elderly can enjoy the fruits of the reforms and are guaranteed institutionally happy twilight years, anxiety at different age groups can be solved and all of society's energy can be released."