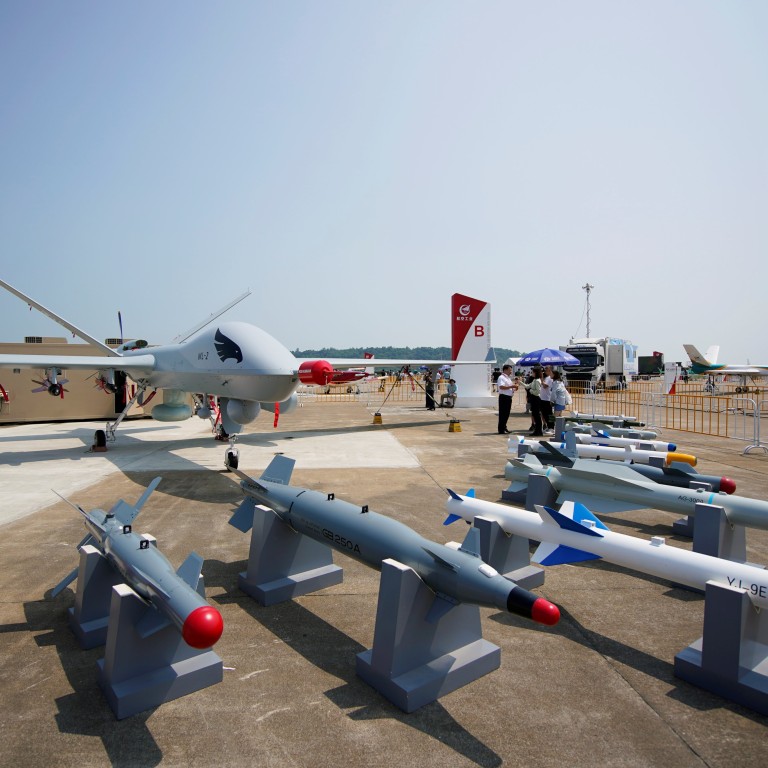 Chinese aviation firms vulnerable to financing restrictions due to US embargo on dual-use exports
US sanctions have not only made it harder for Chinese aviation companies to buy technology, but they have made financing more difficult too
China was once the biggest export destination for US aerospace and aviation products, but its position has slipped amid worsening bilateral ties
As the US expands its sanctions lists, Chinese companies in the aviation sector are facing increasing restrictions on financial services as well as American technology, according to trade lawyers and defence experts.
Washington is deeply concerned with China's
military-civilian fusion
strategy, which aims to modernise the country's defence forces by integrating civilian research and the commercial sector with military-industrial players. The plan is a central component of President Xi Jinping's vision for China's long-term security and development.
Former US president Donald Trump began limiting China's access to dual-use products – technology that can be used for both military and peaceful means – by designating Chinese aerospace and aviation companies, including the Aviation Industry Corporation of China (Avic) and Aero-Engine Company of China (AECC), as "military end users".
Companies that fall under the designation are banned from buying certain items, such as sensors, lasers, avionics and navigation products – unless the exporter secures a licence.
The Chinese Military-Industrial Complex Companies List includes more than a dozen aviation and aerospace companies, as well as telecommunications equipment manufacturer Huawei.
"Those companies will also likely have issues with banking services, although the list is not intended to cut them off from financial services," said Nick Turner, a lawyer at Steptoe & Johnson in Hong Kong, who specialises in economic sanctions and compliance.
"In that sense it is a similar issue to the one encountered with the military end user list."
If the US government wanted to cut a company off from financial services, it had other tools, such as the List of Specially Designated Nationals administered by OFAC, Turner said.
While some financial institutions may have low risk tolerance for customers on US sanctions lists, the banking sector is investing resources to understand Washington's restrictions given the growing number of Chinese companies affected by them, Turner said.
"However, the rules are complex and changing, with new companies added all the time," Turner said. "This means that companies on the lists are likely to continue to face difficulties in obtaining some financial services, although the situation could improve as banks become accustomed to the regulations over time."
The US has sanctioned Avic and many of its subsidiaries.
Dr Brendan Mulvaney, director of the China Aerospace Studies Institute at National Defense University, said the Biden administration has largely kept Trump's policies on Chinese defence companies in place.
"Additionally, the US Congress is now more involved than they had been and is paying attention to Xi's current incarnation of military-civil fusion," he said.
"So I think we should expect to see the current policies continue, and perhaps even be gradually expanded."
China was once the biggest export destination for US aerospace and aviation products, but its pole position has slipped since 2019, according to annual reports by the Aerospace Industries Association.
Advances in aviation and aerospace technology have blurred the lines between commercial and military use in areas such as systems, parts, software and integration, Mulvaney said.
"The commercial-security balancing act is always a challenge," Mulvaney said. "What has changed is that corporate America is being exposed to the negative aspects of dealing with China in some cases."
On top of long-standing issues like intellectual property theft, media freedom and business regulation, global firms in China have to take into account Western restrictions.
"In the United States' context that means more [reviews] from the Committee on Foreign Investment in the United States, more export license reviews, and more scrutiny in general," Mulvaney added.