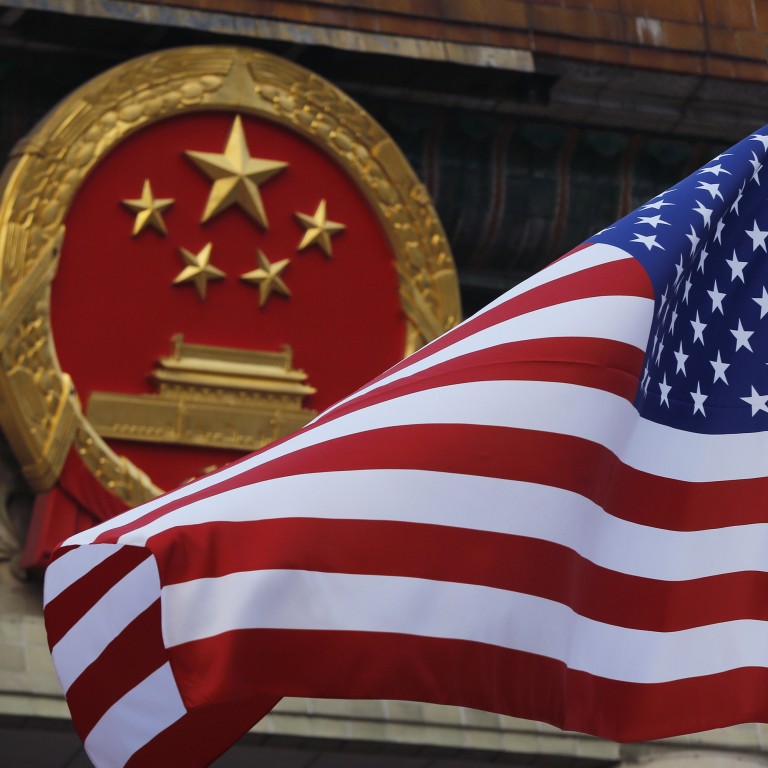 China calls on US businesses to play 'bridging role' as trade talks stall
Deputy foreign minister Xie Feng has met with influential members of the American business community
Xie outlined Beijing's view on bilateral ties, while pledging to protect foreign firms and continue 'opening'
American businesses should play a "bridging role" between China and the United States and "actively" contribute to a healthy and stable bilateral relationship, Beijing says.
The comments from deputy foreign minister Xie Feng come as dialogue stalls between the world's two largest economies, with little recent progress in trade negotiations despite President Xi Jinping and his US counterpart
Joe Biden
holding a
virtual meeting
a month ago.
Instead, the two sides continue to spar over a variety of issues, including Biden's invitation of Taiwan and not China to the
Summit for Democracy
earlier this month, and Washington's lead role in a boycott of the upcoming Beijing Winter Olympics.
In a rare move, Xie last Wednesday met with Timothy Stratford, a former Assistant US Trade Representative for China Affairs and chairman emeritus of the American Chamber of Commerce in China; and Sean Stein who previously served as US Consul General in Shenyang and Shanghai.
Both are well regarded and influential in the American business community. Stratford heads the Beijing office of global law firm Covington & Burling LLP, while Stein is a senior adviser to its public policy practice group.
At the meeting, Xie outlined Beijing's position on bilateral relations and the decisions made at the central economic work conference in early December, which focused on
economic stability
and high-level opening.
"American businesses should play a bridging role and actively contribute to the healthy and stable development of China-US relations," he said, according to a statement released by the foreign ministry on Monday.
Xie said he hoped the American business community would continue to invest in China so they could progress together.
"[We'll] strengthen intellectual property protection and the respect for contracts, and create a better environment for overseas companies, including American businesses, to invest and operate in China," he said.
"We'll expand high-level opening to the outside world, implement the national treatment of foreign-funded enterprises, attract more investment from multinational enterprises, and accelerate the implementation of major foreign-funded projects."
The comments reiterate previous overtures from Beijing to foreign investors, who have long been viewed as key to stabilising relations with major economies.
The Ministry of Commerce has regular meetings to address their concerns over market access, the business environment, intellectual property rights, cybersecurity and other issues.
The US has built a huge business presence in China over the past four decades, but investment has declined amid economic tensions and the coronavirus pandemic.
US foreign direct investment dropped by about a third to US$8.7 billion in 2020, a 16-year low, according to the Washington-based Rhodium Group. Two-way investment fell to US$15.9 billion last year, the lowest since 2009.
The bilateral rivalry shows no sign of abating, with eight more Chinese companies put on the US blacklist list last week and many
Chinese firms listed in the US
heading for Hong Kong.
"Trade and economic links used to be the ballast of bilateral relations. Now it's more like an airbag or extinguisher," said Chen Fengying, a research fellow with the China Institutes of Contemporary International Relations.
Despite the variety of economic issues lying ahead, such as how to handle retaliatory tariffs or manage spillover from US tapering and the
Evergrande debt crisis
, no contact has been reported between Vice-Premier Liu He, China's chief negotiator with Washington, and his US counterparts in the past month.
Washington might prefer forming an Indo-Pacific economic alliance against Beijing instead of engaging in bilateral talks, or trying to tackle supply chain problems on its own, Chen said.
"We must unite as many friends as much possible and first do our own things well, because we know little about what card [the Biden administration] will play next," she said.