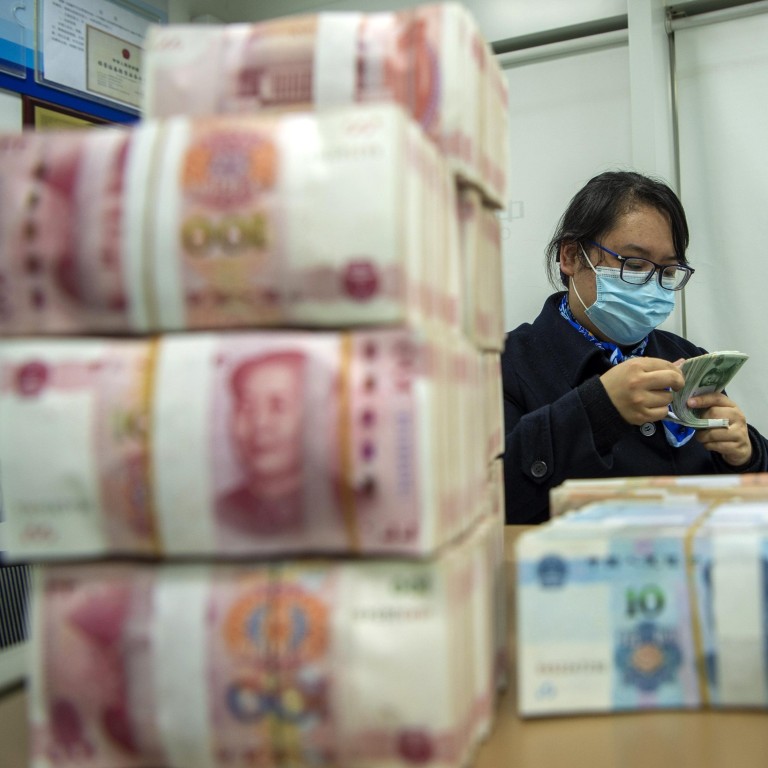 China yuan: Beijing sets out policies to stem fast appreciation to support exporters amid economic headwinds
Beijing also called on banks to sign more long-term foreign exchange settlement agreements with trade firms
Moves by the central government on yuan come hot on the heels of Beijing's warning about the "threefold pressure" on the economy
China has pledged to keep the yuan exchange rate "basically stable" amid a recent appreciation, as it assembles a set of policies to counter the risks of slowing exports and rising economic headwinds next year.
Beijing also called on banks to sign more long-term foreign exchange settlement agreements with trade firms in a targeted manner, to empower the latter in offsetting exchange rate risks, according to the notes from a Thursday meeting of the State Council, the country's cabinet, chaired by Premier Li Keqiang.
"The uncertainties, instability and imbalance facing trade at present are increasing," the central government warned in Thursday's meeting.
The onshore yuan closed at 6.3702 against the US dollar on Thursday, 19 basis points, or 0.03 per cent, stronger than the previous day, and hitting a week high.
The State Council said that the country will open up wider to the outside world and strive to help trading companies, especially smaller firms, secure orders and stabilise their outlook expectations.
"Stabilising foreign investment and trade are key tasks this year and will be the same next year … the most important issue is to get various costs under control, especially now that the [yuan] exchange rate is rising fast," said Ning Jizhe, deputy head of China's National Development and Reform Commission, the country's top economic planning agency, earlier this month.
"It has become common for [exporters] not to take orders and they are seeing profits rise less," China's vice commerce minister Ren Hongbin warned in late November, noting that the authorities would aim to bolster the ability of trading companies to resist exchange rate risks.
China's outstanding yuan funds for foreign exchange expanded to 21.26 trillion yuan (US$3.3 trillion) at the end of November, up 35.44 billion yuan from the previous month, the largest gain since October 2015, according to Chinese central bank data released last on Wednesday.
"We expect net purchases of foreign exchanges by the People's Bank of China (PBOC) could increase significantly in the coming months," Lu Ting, chief China economist at Nomura, wrote in a Monday note.
"First, it could prevent the yuan from appreciating further. Second, it could raise the PBOC's FX reserves in a time of rising market fear of Chinese companies' offshore dollar bond defaults. Third, it could add liquidity to the economy, which is slowing at a worrisome pace."
The State Administration of Foreign Exchange said in a meeting last week that the regulator will guide more companies to build a concept of "exchange rate risk neutrality" and to make wider use of hedging tools next year.
"The Chinese yuan will weaken in 2022 as softer external demand for Chinese products and a diverging trend of monetary policy stances between China and the US will support the US dollar against the yuan," analysts at Fitch Ratings wrote in a note on Tuesday.
Among the policy measures rolled out on Thursday, the State Council also said it will shorten the average processing time of export tax rebates to within six working days, enlarge the import list for cross-border e-commerce and temporarily exempt the tax-deferred interest on domestic sales for processing trade companies in 2022.
The meeting also set up a to-do list for implementing the Regional Comprehensive Economic Partnership agreement next year.