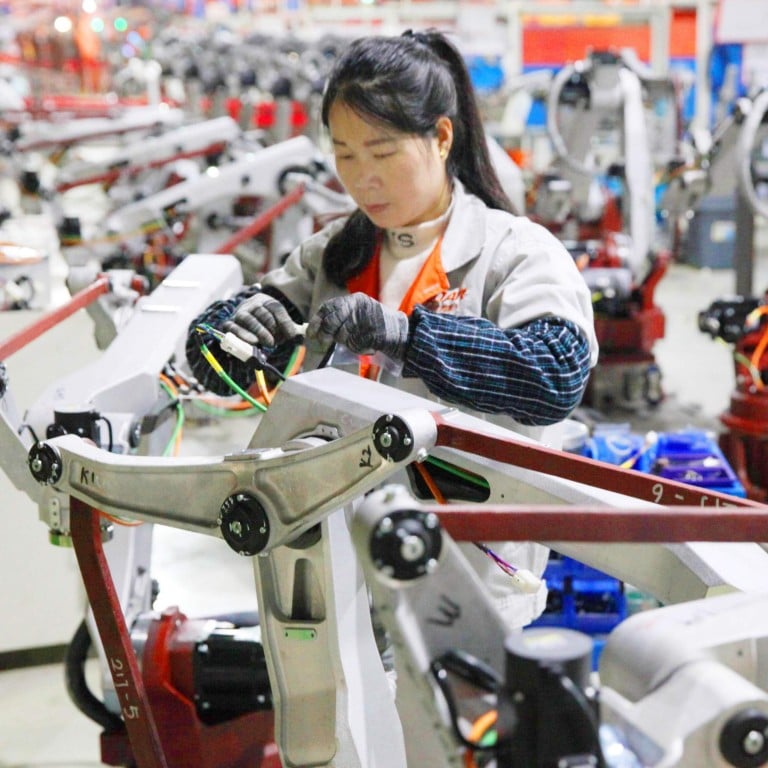 China's smallest firms failing at historic pace as 4.37 million close up shop and registrations plummet
Ex-finance minister has said official economic indicators failed to paint accurate picture of economy, and publicly available data did not show how many firms vanished
Only 1.32 million new micro and small firms opened in China during the first 11 months of this year, compared with 6.13 million last year
About 4.37 million of China's smallest businesses permanently shut their doors in the first 11 months of the year – more than three times the number of new ones that opened during the same time, according to data obtained by the Post.
Figures from a public registry tracking firm also show that, for the first time in two decades, the rate of deregistration among micro and small businesses surpassed the number of those newly registered in China.
The data is particularly relevant given that Beijing considers the nation's
more than 40 million
micro and small firms the "backbone" of China's private sector, underpinning the national economy. Their struggles are a reflection of broader economic headwinds that analysts say could see gross domestic product (GDP)
drop below 4 per cent
in the fourth quarter of this year.
During the annual central economic work conference earlier this month, Beijing warned that growth was facing "
threefold pressure
" of contracting demand, supply shocks and weakening expectations.
It is likely that the number of deregistered companies this year will also exceed that of last year – 4.45 million – which was already a historical high at almost double the rate in 2019 and about 10 times that of 2018, the data showed.
Each month this year, an average of 397,435 micro and small companies closed in China, surpassing the monthly average of 370,782 last year, when the country was hit hard by the initial outbreaks of Covid-19 that led to widespread lockdowns and the nation's
first quarterly GDP contraction
since the end of the Cultural Revolution in 1976.
Nonetheless, 2020 still saw more micro and small firms opening – 6.13 million – than closing, even though that figure marked a sharp decline after several years of growth. And the decline was exacerbated in 2021, as only 1.32 million new micro and small firms opened in the first 11 months of this year.
In their role as the nation's economic backbone, smaller enterprises account for half of China's tax revenue, 60 per cent of its GDP and 80 per cent of urban employment.
But they have also suffered the brunt of the economic downturn brought by the pandemic, despite tax and fee cuts from the government.
"The general direction that the data points to is quite reasonable and not really surprising," said Zhang Zhiwei, chief economist at Pinpoint Asset Management. "It shows that micro and small enterprises are under great pressure to survive."
China's ongoing
zero-tolerance strategy
for controlling the coronavirus has stifled consumption, and sporadic outbreaks have resulted in lockdowns. Meanwhile, fresh challenges continue to mount, including high raw-material prices; soaring freight costs; regulatory crackdowns on technology, education and property sectors; and a power crunch that has affected more than half of the nation's provinces.
Meanwhile, Zhang noted that there could be a delayed impact on unemployment and bankruptcy rates, which could help explain why the problem is much worse this year than last year.
"Usually those small businesses will carry on at first, but when it comes to the second year, when the cumulative impacts from the deteriorating business environment get even worse, they may see no end in sight, especially amid the zero-tolerance policy," Zhang said. "Then they go ahead and close their businesses.
"So, how to adjust for the impact of the zero-tolerance policy on the macroeconomy, in the medium and long term, is a very important macro issue. There may not be enough discussions about this in China."
He also noted that publicly available data showed only how many companies had been added in China but did not disclose the number of firms that had vanished.
According to the State Administration for Market Regulation, China had 150 million market entities as of November 1 – or about 100 million more than a decade prior. The total included all enterprises, self-employed operations and rural cooperatives.
"[But] among the 150 million entities, at least 40 million are not active," Lou said, arguing that some firms had conducted no business since they were registered, and that others were struggling to maintain operations.
He also said that it can be difficult to deregister a company in China, whereas the registration process is relatively easy, and this can skew the figures.
In China, micro and small enterprises are categorised by their number of employees and annual revenue based on their respective industries. According to the official classification, for example, a retail business with fewer than 50 employees and annual revenue of less than 5 million yuan (US$785,000) is classified as small. Those with fewer than 10 employees and annual revenue of less than 1 million yuan are considered micro firms.
In the industrial sector, small firms employ fewer than 300 people and earn less than 20 million yuan a year.
Besides short-term shocks, there are deep-seated reasons behind the vulnerability of China's smallest firms, including their "weak position in the industrial chain", according to Ren Zeping, chief economist at Dongwu Securities.
"[They] have insufficient bargaining power with upstream and downstream supply chains, government departments and financial institutions, so their cash flow is most vulnerable," Ren said in a report this month.
Ren also said that some of the government's "one size fits all" regulatory policies were unintentionally hurting smaller companies more than bigger ones.
Premier Li Keqiang has
repeatedly said in recent months
that China needs to better support China's small and medium-sized enterprises, including by further lowering fees and taxes.
On Wednesday, Zhao Chenxin, secretary general of National Development and Reform Commission, said the commission will facilitate the flow of financial resources to micro, small and medium-sized businesses by establishing and improving the coordination mechanism for credit information sharing and application.