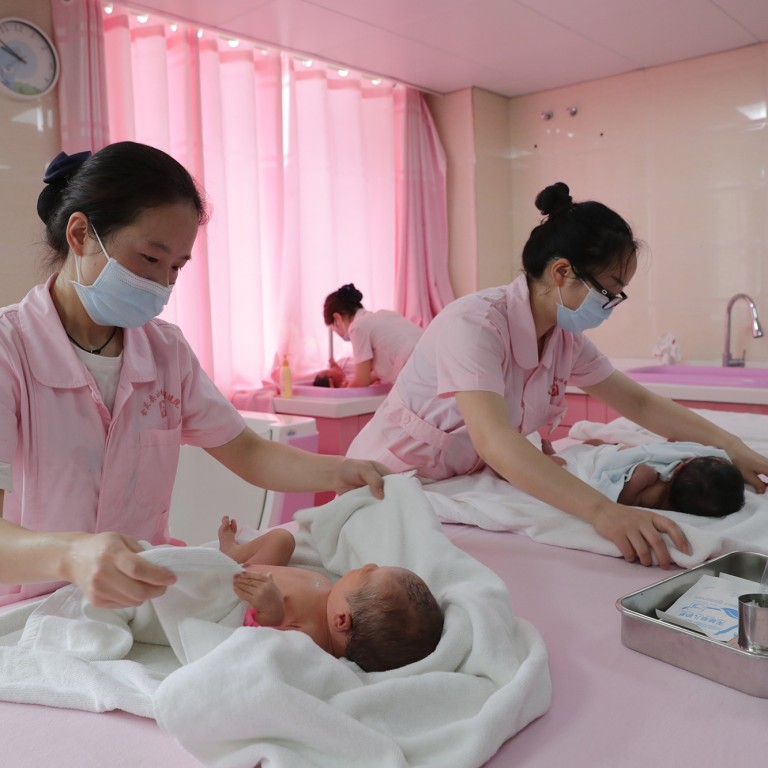 China's population crisis: 5 ways Beijing is trying to tackle a worryingly low birth rate
China had just 12 million babies last year, down from 14.65 million in 2019, marking an 18 per cent decline year on year
Authorities are rolling out a variety of measures to address the issue, from financial incentives to grandparenting classes
A falling fertility rate compounded by an ageing population is a growing headache for China, impinging on nearly every aspect of the world's second largest economy.
China's births fell by 18 per cent year on year in 2020 to just 12 million, down from 14.65 million in 2019 – marking a near six-decade low.
Some regions saw births fall more than 10 per cent, while Chizhou city in Anhui province said the number of newborns in the first 10 months of the year plummeted by 21 per cent compared to a year earlier.
In cities such as Beijing, Tianjin and Jiangsu, birth rates have been below one per cent for more than two decades.
Experts predict China's population could go into decline as early as this year.
More days off
In Henan and Hainan provinces, women can have up to 190 days leave after childbirth, while in Sichuan and Guizhou, mothers are allowed 158 days.
Some provinces have incremental maternity leave corresponding with the first, second and third child.
A mother of one in Zhejiang, for example, can have 158 days off, but that jumps to 188 days after having a second and third child. In Hebei province, women are entitled to 158 days leave after their first and second born child, and 188 days after their third.
As there is no national law for paternity leave, fathers in most regions enjoy at least 15 days off, with men in some provinces such as Anhui and Jiangxi getting 30 days.
However, experts point out there might be a catch. More paid maternity leave could make companies less willing to hire women, further fuelling reluctance to give birth. That is unless the government shoulders more costs.
Financial support
Some local governments have tried to make it cheaper for couples to have children.
In Nantong city, Jiangsu province, families with three children can get a housing subsidy of 400 yuan per square metre if they purchase a home before March 2022.
Ningbo, a port city in neighbouring Zhejiang province, announced it would raise the cap on loans for first-home purchases from the housing provident fund to 800,000 yuan from 600,000 yuan for families with more than one child from next year.
Parents in Linze in northwest Gansu province can claim 5,000 yuan a year for the birth of their second child and 10,000 yuan for their third, up to age three. Couples with two to three children are entitled to a housing subsidy of 40,000 yuan.
The government has also tried to ease financial difficulties for families by cracking down on the private tutoring sector and property market in school districts, as rising education costs are a major deterrent for parents thinking of having children.
Playing cupid
Authorities have been distributing forms since mid-November collecting personal information, including gender, profession, financial status and family background, in the hope of providing citizens with more comprehensive dating services.
One lonely resident posted a note on the official "Message Board for Leaders" website operated by People.cn to request government agencies and state-owned companies host matchmaking events for singles to expand their social circles.
Freezing eggs
The health commission of Hunan province said in August it would recommend legalising egg-freezing and egg donation to the National Health Commission.
In China, unmarried women are banned from freezing their eggs and seeking surrogacy.
"Allowing single women to freeze their eggs with conditions is a practical demand," the provincial health commission said.
"Suggestions that women freeze the eggs first, and thaw them later with a legal birth certificate is a feasible solution."
Grandparenting classes
Shanghai Normal University in October offered classes to teach grandparents how to help childcare responsibilities in a bid to alleviate pressure on parents, who are being encouraged to have three babies.
The courses, which also come with matching textbooks, are designed to enable grandparents to scientifically and systematically care for and educate their grandchildren, and better handle generational relationships.