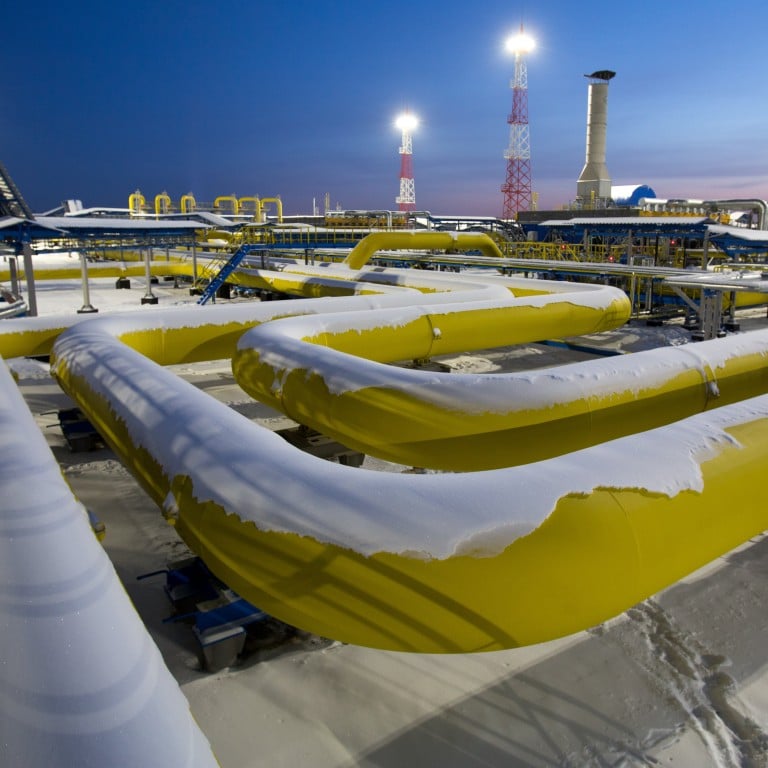 China-Australia relations: more Russian pipeline gas could be 'political hedge' for Beijing
China is becoming increasingly reliant on liquefied natural gas (LNG), and much of it comes from Australia and the United States, putting the supply at risk of trade tensions
Power of Siberia 2 gas pipeline could eventually bring billions of cubic metres of gas to northern China, but 'they can't do it overnight'
China is seeking to fast-track a second channel to double the supply of natural gas from "comprehensive strategic partner" Russia, which could give Beijing an upper hand in dealing with Canberra, according to analysts.
The Power of Siberia 2 gas pipeline, which will be built by Gazprom, could pump 50 billion cubic metres of gas annually to northern China, and
Russian President
Vladimir Putin
said last month that a feasibility study on the pipeline would be finished very soon.
"Just as it makes sense for the EU to use [liquefied natural gas] as a political hedge … it makes sense for China to use Russian pipeline gas as a political hedge or backup for its high reliance on LNG – large amounts of which come from Australia and the United States, with whom Beijing's relations have deteriorated over the past years," said Henning Gloystein, director of energy, climate and resources at Eurasia Group.
The world's second-largest economy imported 43 per cent of its gas requirements in 2020, including 89 billion cubic metres of LNG and 46 billion cubic metres of pipeline gas, according to the General Administration of Customs. About 43 per cent of its LNG imports are from Australia.
China-Australian relations have deteriorated in the past two years. Beijing slapped high tariffs on Australian wine, and China's purchases of Australian coal plunged 89.7 per cent from January-November last year. Canberra hit back by cancelling two deals
between Victoria state and China
in April.
Tensions worsened in September when Australia joined a US-led democratic alliance by signing a trilateral security partnership, the
Aukus alliance
.
Tian Miao, a senior analyst with Everbright Sun Hung Kai, said a second supply channel with Russia "will partly meet China's rising demand and also help diversify its imports".
The first China-Russian gas pipeline, launched in December 2019, transported a total of 13 billion cubic metres of gas in the first two years – an average daily volume of 17.8 million cubic metres – less than the designed annual capacity of 38 billion cubic metres.
Tian warned that the new pipeline would not be able to offset the supply from Australia, and she also pointed to a long construction period and opaque pricing mechanism.
"It won't change its heavy reliance on imports and coal-centric consumption structure before 2030," she said. "Meanwhile, the price of Australian supplies are relatively stable, and they seem a good choice for power plants in southern regions."
The geopolitical dispute between Canberra and Beijing has not yet extended to LNG or iron ore.
China imported 29 million tonnes of LNG in 2020, an increase of 4.2 per cent from a year earlier. The January-November total rose 7.4 per cent to 28.5 million tonnes, customs data showed.
However, market intelligence provider OilChem.net found that Australia received no new long-term supply contract from China last year amid their bilateral tensions, and that some of its market share had been eroded by Qatar, Russia and the US.
In a note last month, the site said that Australia's market share had fallen to 40 per cent, down from 43 per cent in 2020, and from 46 per cent in 2019, while the US proportion jumped from 4 per cent to 11 per cent in the past year.
China signed six long-term LNG agreements with American suppliers last year to honour the purchasing commitments that Beijing made under the
phase-one trade deal
. The US has already become the second-largest supplier of LNG to China, with a January-November trade volume of 8.26 million tonnes.
Richard McGregor, a senior fellow at Australian think tank Lowy Institute, said the long-term supply contracts will help mitigate the potential damage of a cut-off of Australian LNG.
Beijing's policymakers plan on raising the proportion of natural gas in the nation's energy mix to 12 per cent by 2025, up from the current 10 per cent, and the 2030 target is set at about 15 per cent.
But domestic production still falls far short of meeting demand. China's natural gas output rose by about 9.1 per cent last year, to 206 billion cubic metres, while shale gas output grew around 15 per cent to 23 billion cubic metres.
"[In the] long term, obviously, they would like to buy less from Australia to make a political point, but they can't do it overnight," McGregor added.