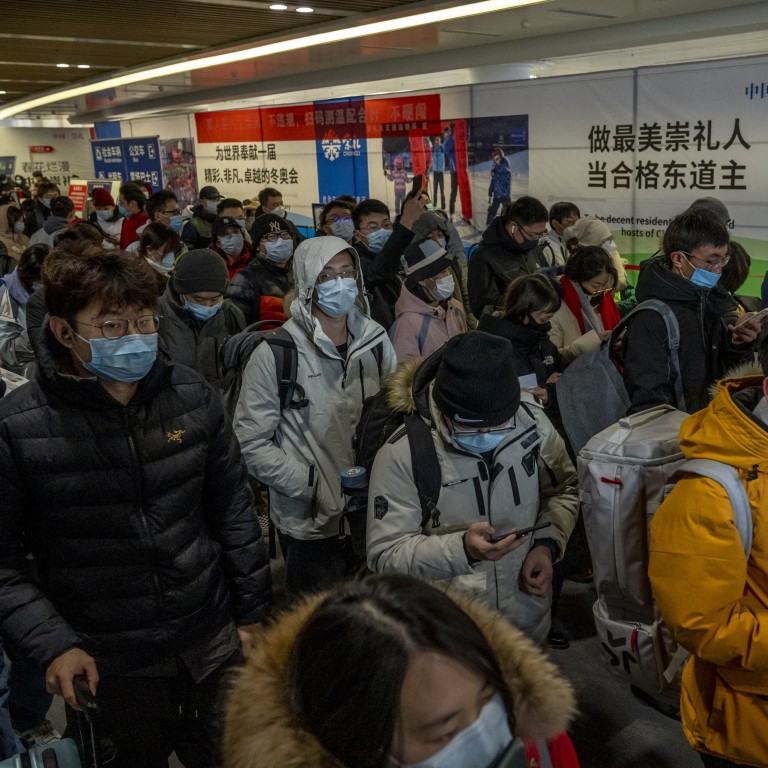 Coronavirus: as Omicron spreads, Chinese cities boost efforts to prevent Lunar New Year travel
Hefei, the capital of central Anhui province, is handing out a coupon worth 1,000 yuan (US$157) to migrant workers who choose to stay in the city over the holiday
Municipal governments including Shanghai, Hebei and Guangxi are encouraging people not to return to their hometowns for a second year due to virus outbreaks
More Chinese regions are discouraging travel during the Lunar New Year holiday for a second year in a row, with one city of nine million people offering cash handouts to people who stay put as the first Omicron cases are detected in the world's second largest economy.
Hefei, the capital of central Anhui province, is handing out a coupon worth 1,000 yuan (US$157) to migrant workers who choose to stay in the city between January 26 and February 9, according to a notice from the municipal government on Saturday.
Omicron cases have already spread from Tianjin to Henan province's Anyang city, where local authorities on Monday confirmed two more infections.
"The current round of outbreaks is close to the Lunar New Year, so some regions are likely to carry out a 'staying put' policy, which may lead to stronger industrial production, weak consumption and declining [liquidity] injections from open market operations," analysts with Shenzhen-based Citic Securities wrote in a note on Sunday.
Mainland China will begin a nationwide public holiday for Lunar New Year from January 31 to February 6, during which time the 2022
Beijing Winter Olympics
will kick-off.
The annual festival typically sees the biggest human migration on earth, known as chunyun, when hundreds of millions of people travel home to visit their families.
But given the potential spread of Omicron ahead of the Winter Olympics, more Chinese cities are expected to tighten social distancing measures and even impose lockdowns around Lunar New Year, said Lu Ting, chief China economist at Nomura.
"Retail sales and the services sector could be severely hit again," he wrote in a note on Sunday, expecting corresponding cuts in growth forecasts for China's economy in the first quarter.
Beijing's municipal government on Monday asked local residents to avoid "unnecessary" travel beyond the city during the week-long holiday.
On Sunday, authorities in Henan, China's largest source of migrant workers, also urged those who work outside the province not to return home without good reason.
The requests were the latest examples of municipal governments, including Shanghai, Hebei and Guangxi, encouraging citizens not to return for a second year due to the virus.
In the lead up to this year's holiday, debate has been growing as to whether China should continue with the stay-at-home approach, especially given the potential economic and social costs that are associated.
"In areas without lockdowns, that is, low-risk areas, citizens can travel home for the Lunar New Year conditionally under the premise of good prevention and control, [we] do not need to completely press pause," Zhong Nanshan, China's top respiratory disease expert, said last Thursday.
Authorities in Beijing expect as many as 22.83 million passengers to travel to and from the city between January 17 and February 25, up 77 per cent from a year ago, according to state newspaper Beijing Daily on Monday.
The coupons in Hefei will be only applicable to migrant workers who work for companies deemed important and have a record of local social insurance payments, according to the local government.
A similar incentive was issued by the government of Ningbo in Zhejiang province last December, offering 100 yuan per day – with a maximum of 500 yuan in total – to each non-local employee who stayed in the city.