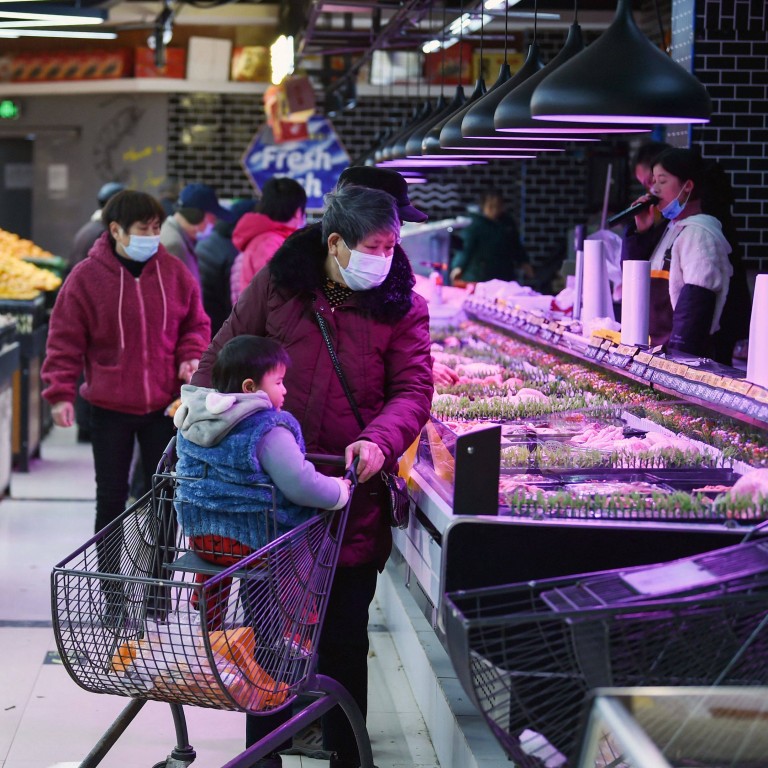 China's retail sales set to grow 6 per cent in 2022 as focus shifts to green living and rural consumption, Hong Kong think tank says
The overall trend of consumption upgrade in China will continue to aid the recovery of retail sales, says Chang Ka-mun of Fung Business Intelligence Centre
China wants domestic retail sales to reach 50 trillion yuan (US$7.85 trillion) by 2025, up from 39.2 trillion yuan in 2020.
China's economy has shaken off the impact of the coronavirus, with retail sales likely to grow by some 6 per cent in 2022 as the government strengthens measures and policies to boost consumption, according to a Hong Kong-based think tank.
The focus, however, will be on green living and rural consumption.
"Consumption remains a key pillar of China's economic growth," Chang Ka-mun, managing director of Fung Business Intelligence Centre (FBIC), said at the release of the "Ten Highlights of China's Commercial Sector 2022" report on Friday.
"Though regional resurgences of Covid-19 have restrained consumption, the overall trend of consumption upgrading [in China] will continue to aid the recovery of the consumer market," he added.
FBIC collaborated with the China General Chamber of Commerce for the report, gathering views and insights from over 160 Chinese experts. The report highlighted the central government's efforts in facilitating comprehensive green transformation and building a modern rural distribution system.
From January to November, retail sales jumped 13.7 per cent compared to the same period of 2020, according to the National Bureau of Statistics. China wants to see about 50 trillion yuan (US$7.85 trillion) in retail sales by 2025 powered by domestic consumption to counter external headwinds, according to to a five-year document released on December 31. Retail sales totalled 39.2 trillion yuan in 2020.
China is committed to reaching peak carbon dioxide emissions before 2030 and achieving
carbon neutrality
before 2060, which has prompted various consumption platforms to opt for "green operations".
Commercial green transformation in China is already under way, with companies implementing changes in store design, energy saving standards, product packaging, waste treatment, logistics and consumption philosophies.
As the 'green' label becomes an industry standard, enterprises should understand green philosophies and translate them into concrete actions, said Helen Chin, vice-president at FBIC.
"Hopefully the government can provide clearer guidance regarding commercial green transformations and lead the efforts to realise the goals of carbon peaking and carbon neutrality," she said.
To make the domestic economy sustainable and robust, the government is working on integrating the rural and urban markets to unlock the potential of the vast rural areas, in a nod to China's
common prosperity
and
dual circulation
strategies to boost domestic demand, according to the report.
As first- and second-tier cities have seen their markets saturated, lower-tier cities and rural areas open up new commercial opportunities supported by a large population and increasing income, the report said.
"If China really wants to talk about economic development, it must develop all the rural areas," said Chang. "And one of the most important ways is to let the farmers have income."
Rural residents have lower living costs and they are often less burdened by mortgages and rent than their urban counterparts, which leads to higher consumer confidence, the report said.
Specifically, the government is upgrading the infrastructure and promoting e-commerce in rural areas. Industry giants have rapidly expanded their coverage in the countryside, opening new distribution channels for agricultural products, such as live-streaming platforms and community group buying.
"As agricultural products become increasingly available to urban consumers, rural residents are earning more income," said Chin. "The increase in rural disposable income, alongside the upgrading of rural commercial logistics outlets, will speed up the two-way flow of goods between rural and urban areas, promoting the integration of urban and rural consumer markets into one unified domestic market."
In the year ahead, FBIC said that foreign enterprises and investors should keep up with the government's carbon neutrality policies and explore potential in rural areas.
They should also focus on new consumer preferences, including lifestyle services and domestic brands, and grasp the next wave of growth in the community-based businesses by leveraging technology and digitalisation, the report said.