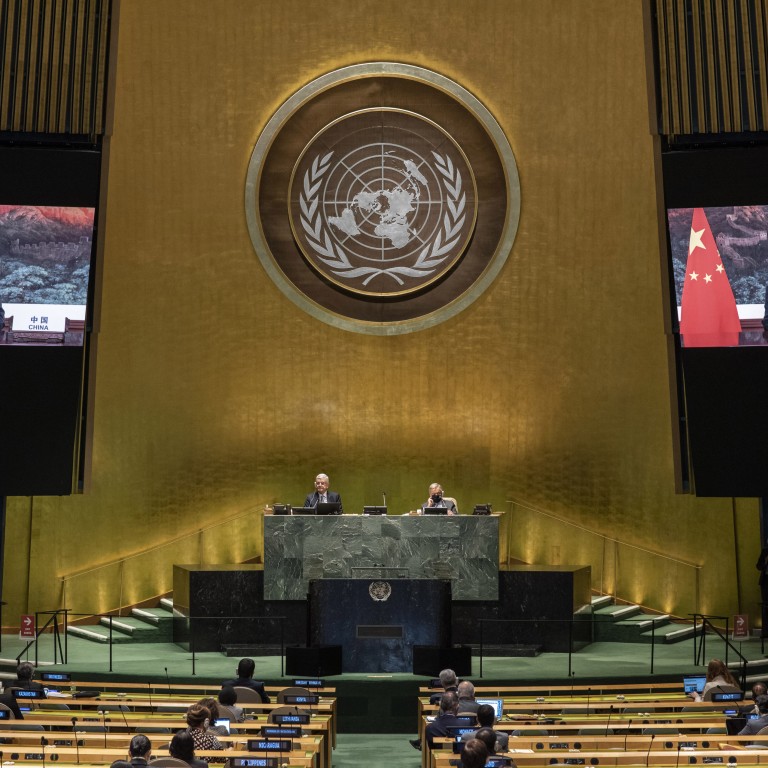 China-West tensions raise questions about limits of Beijing's influence at WTO, UN and World Bank
China's representation in international bodies, especially at an elite level, still lags behind major Western economies
Underrepresentation is constraining China's efforts to reform the global governance system, Chinese experts say
Five decades after returning to the United Nations, China is expanding its presence in international institutions at an unprecedented pace, but heightened tensions with Western powers have raised questions about the limits of its institutional influence.
Since Margaret Chan Fung Fu-chun was appointed director general of the World Health Organization in 2006, dozens of Chinese nationals have worked in key roles at multilateral organisations.
The US-China Economic and Security Review Commission, which tracks competition between the two countries, listed 32 Chinese nationals as serving in leadership positions at prominent international bodies last year.
Three headed United Nations (UN) specialised agencies, including Qu Dongyu who was elected director general of the Food and Agriculture Organization in 2019; Zhao Houlin, director general of the International Telecommunication Union; and Li Yong, who has led the United Nations Industrial Development Organization since 2013.
Nine Chinese nationals served as deputies at the World Bank, the International Monetary Fund (IMF) and the
World Trade Organization
(WTO), key institutions in the Western-dominated Bretton Woods financial system that emerged from the second world war.
But China's overall representation in world governance bodies, especially at an elite level, still lags behind other major economies, Chinese experts say.
Robert Rogowsky, a professor of Middlebury Institute of International Studies, said it was appropriate that China, which now accounts for about 18 per cent of the global economy and is the second largest donor to the UN, takes a more prominent international role.
However, he added: "We have a 21st century clash of civilisations: liberal democracies with market-based capitalism and a rapidly growing, extremely wealthy single party government with a heavily state-influenced capitalism and many globally competitive state-owned enterprises.
"How can the Western democracies and China develop enough trust to coexist peacefully and work productively together? How can they avoid military conflict long enough to come to accept the other, trust one another, and develop a system of rules that can accommodate each other."
Cui Shoujun, deputy dean at Renmin University's school of international governance, said that China's underrepresentation in multilateral institutions was limiting its influence in global governance.
"The number and rank of Chinese nationals in international organisations are incompatible with China's high membership fees and its status as a major power," he wrote in an article published on iFeng.com, a Chinese media platform, in October last year.
The number of Chinese employed in the UN system was 1,384, or 1.2 per cent of the total, according to data from the intergovernmental organisation released in October. That was much fewer than the 5,459 American staff and even lower than the African nation of Mali – which has a population of just over 19 million – with 1,433 staff.
Of the 378 positions at director-level or above, which are supposed to be allocated by the principle of equitable geographical distribution, only 14 are held by Chinese nationals, compared to 43 Americans, 18 British and 15 Indians.
"This may constrain China's efforts to promote reform of the global governance system and enhance its influence, discourse power and rule-making power in global governance," Cui said. "It also weakens its ability to set agendas in important international organisations."
The WTO is at the forefront of the US-China rivalry and an important institution in which Beijing wants to flex its influence.
Speaking at a forum in December, Yi Xiaozhun, who stepped down as deputy director general of the WTO last summer, said the Geneva-based organisation is going through the most difficult moment in its 70-year history.
"China should strive to provide WTO members with more public products, and actively open the market to promote win-win cooperation under the multilateral framework, so as to win the trust of all parties," he said.
Dong Yan, a senior researcher with the Chinese Academy of Social Sciences, said Beijing should fill the power vacuum left by Washington as it retreats from international organisations and strengthen its role in areas like the digital economy.
"When China participates in global economic governance, especially when participating in WTO reforms, it is more important to reflect the institutional needs of China's economic development in the international trade rule system," she said at a WTO seminar in early December.
Ronald Anderson, a professor emeritus of the London School of Economics, said China's impact on the IMF and the World Bank has been limited, despite a growing presence in the organisations.
"Without adequate discourse power in the global financial system, China's massive merchandise and service trade won't receive effective protection and support," AIIB president Jin Liquan told the state-run Financial News in an interview early January.
Chen Fengying, a senior fellow of the China Institutes for Contemporary International Relations, described the Bretton Woods system as a crowded mansion that was controlled by the first comers.
"Currently we are unable to tear it down. However, we can call for new decorations and demand a relatively comfortable suite," she said, referring to bigger voting rights in international bodies.
Chen added China must make better use of the Group of 20, as it provides a platform for negotiations.
"It's a loose and comfortable space for members to equally bring out discussions and make rules," she said.