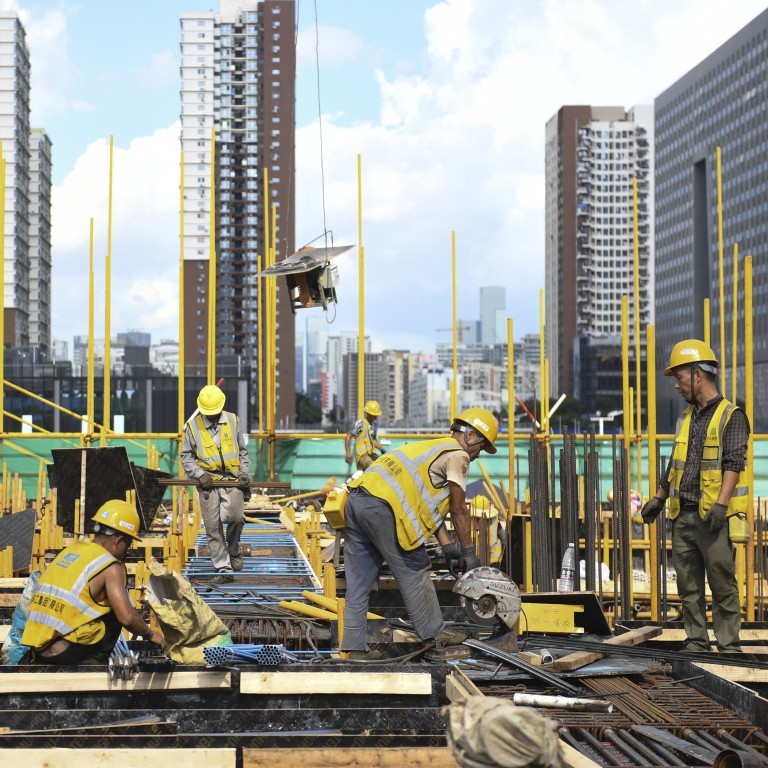 China's Guangdong GDP for 2021 set to top that of South Korea and most other countries
Southern manufacturing powerhouse is not only China's largest regional economy, it would likely rank among the top 10 global economies if it were a country
Annual gross domestic product in Guangdong province grew by 8 per cent, year on year, to 12.4 trillion yuan
The economy of China's southern manufacturing powerhouse of Guangdong likely surpassed that of South Korea for the first time in 2021, and if the provincial economy were that of a country, it would rank in the top 10 globally, according to official local data.
China's largest regional economy has also doubled down on the nation's
"common prosperity" strategy
, which calls for a more even distribution of wealth.
Guangdong's gross domestic product (GDP) grew by 8 per cent from a year earlier to 12.4 trillion yuan last year, or US$1.92 trillion based on the official annual average exchange rate, according to the local government's annual work report, which was released in full on the province's official website on Monday.
That means Guangdong's annual economic size could be larger than the expected US$1.82 trillion of South Korea, and only moderately lower than the estimated US$2 trillion of Canada, according to forecasts by the International Monetary Fund.
The provincial reading came after China said last week that the national economic growth rate was
8.1 per cent for 2021
, which beat expectations and the government's target of "
above 6 per cent
".
Guangdong's local GDP has topped all other provincial-level jurisdictions in the world's second-largest economy for more than three decades. And in that time, thanks to advantages in terms of its policies and geographic location, the region adjacent to Hong Kong has transformed from an
agricultural backwater
to the nation's leader in technological innovations. It has also carved out a critical role as a global trade hub.
However, the province has long faced criticism about its uneven distribution of wealth, as most of its economic output stems from the Pearl River Delta region. The megacities of Guangzhou and Shenzhen have long contributed to nearly half of the province's GDP.
Still, the Pearl River Delta's share of the provincial economy has shrunk in recent years – from 84.85 per cent in 2014 to 80.86 per cent in the first three quarters of last year – as other cities registered faster growth and local authorities put greater emphasis on narrowing the wealth gap.
When discussing the provincial government's work report on Thursday, before its full release, newly elected Guangdong Governor Wang Weizhong said: "We are soberly aware that Guangdong still faces many difficulties and challenges in its development … the problem of uncoordinated regional development still needs to be solved; the gap between urban and rural development is still large; and there is a long way to go to promote common prosperity."
Wang emphasised that cities in Guangdong's east, west and north should "optimise their business environments, attract investment, enhance industrial capacity and make themselves first-choice destinations for industrial expansion" of the Pearl River Delta.
Wang also warned that the province must continue to make progress in the development of key technologies, while further enhancing the stability and competitiveness of its industrial and supply chains.
The province's latest economic reading also further dwarfed that of Hong Kong, whose 2021 GDP in US dollar terms was expected to be about US$360 billion, or 5.3 times smaller, according to the latest forecast by the University of Hong Kong this month. In 2020, Guangdong's economy was 4.6 times larger than Hong Kong's.
Guangdong's work report also said deeper coordination with Hong Kong and the rest of the
Greater Bay Area
is a top priority for this year.
"[We should] conduct high-level planning and construct the Shenzhen-Hong Kong 'port economic belt', actively docking with the development strategy of Hong Kong's '
Northern Metropolis
' plan, and expand [opportunities] for Shenzhen-Hong Kong cooperation," the report said.